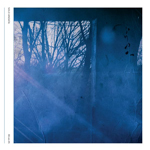 Close the doors and turn up the sound. This is ambiance that needs to be really heard. Quietly chirping submerged engines are silenced by waves of bowed cello. The sound of rippling water seeps through the drones of strings. This is the organic world of Solo Andata – an Australian duo comprised of Paul Fiocco and Kane Ikin. Having previously released their debut, Fyris Swan (Hefty, 2006), the duo got picked up by 12k, and contributed a recording to Live In Melbourne (12k, 2008), appearing among tracks by Seaworthy, and label owner, Taylor Deupree. Solo Andata is their highly anticipated release for the New York minimal and ambient label. The album is mastered by Giuseppe Ielasi and is accompanied by a mini booklet of 8-piece photography by Deupree himself.
This is a warm album, covering you with a blanket of organic materials, natural field recordings, and swells of ambient soundscapes. The restraint and delicate touch within this production stops time, thought, and all of the pain. Solo Andata is the sensual reflexology for the mind. The concept behind the album, reveals "a theme of travel from cold to warm, water to earth, fluidity to stasis, conceptually representing a thread between water and land." The meditative nature of these pieces focuses the inner ear on within, while the outer contemplates without.
At the epicenter lies the focus of the album, Look For Me Here. This is the place that you reach after descending through the laid out paths of an early morning forest, quiet nights, and misty caves. This beautiful track is also available from the label as a single, with remixes by the above mentioned Giuseppe Ielasi and Ryuichi Sakamoto. Make sure to grab that one. And by the time Loom comes out with a crying cello by Louise McKay, you're truly in love. Fans of Hildur Guðnadóttir will melt within.
The duo uses barely any electronic instruments. Most of the heard sounds are resonating from strings, voices, guitar and a piano. The sourced material has been painstakingly captured, post-processed, and folded back into the pieces, often reflecting the origin within the titles.
For example, "Woods Flesh Bone" actually records wood, flesh (from a dead chicken) and bones. "Canal Rocks" contains a recording of wind through the rocks in a small alcove in southwestern Australia called Canal Rocks. "Hydraulic Fluctuations" is a recording of the fluid fluctuations inside a large pump, "Ablation" is ice and wind.
Highly recommended for all wonders of 12k, above mentioned artists, plus Richard Skelton, Lawrence English, and Christopher Bissonnette. Bravo, 12k! Well done! This is a great catch, hold onto this one. And I'll be more than eager to follow this group along its intricately formed path, even if their way is only one way, the solo andata.
myspace.com/soloandata | solo-andata.com
myspace.com/12kline | 12k.com