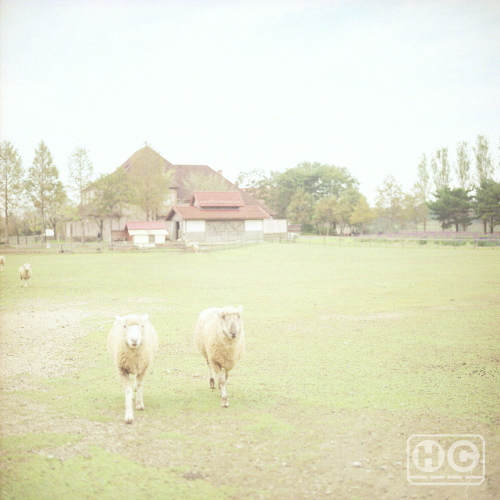 Welcome to another week of beautiful music. Today we turn our attention to one of our all time favorite labels, Home Normal. Curated by Ian Hawgood, this independent imprint running out of Japan has been responsible for many fantastic albums that have been featured in our Best of the Year lists since the inception of Headphone Commute. Two years ago I even published my own tribute to the label, At Home With Home Normal. Today, one of the label's artists, Jara Tarnovski, recording under the alias Gurun Gurun, shares with us another great selection of tunes. Here are some words from Ian:
"Just coming up to Christmas 2010, we finally released our first proper (and last to date really) Japanese weird-glitch-pop album. However, the talented group in question weren't actually Japanese at all, with the main Gurun Gurun members coming from the Czech Republic! The album showed an incredible array of influences despite its kitsch Japanese sound, so it made total sense that they should release their debut with Home Normal. Jara Tarnovski, the talented leader / keyboardist of the band, very kindly put together a mix of Home Normal work for Headphone Commute. Whilst I am always too busy pushing things forward to actually go back and really appreciate the work we have been fortunate enough to put out, Jara has given me the gift of Home Normal hindsight through his sensitive and absorbing mix of our work. I am sat here amazed at the work we have done as a big wild musical family, and this moment to stop, pause and just take in what has been created these past few years, with Jara as our guide, is one of the best presents I have ever been given. Thank you Jara, thank you Headphone Commute (how many times do I say that?), thank YOU. x Ian Hawgood
If you want more, read out our Interview with Ian Hawgood, and then check out our coverage of yet another label Hawgood runs, Nomadic Kids Republic.
Photography by Hitoshi Ishihara.
Tracklisting
01 Félicia Atkinson – Green and Grey (excerpt) (O​-​RE​-​GON)
02 Taishi Kamiya – Calm (excerpt) (Spectra of Air)
03 Daniel Thomas Freeman – Staring Into The Light (excerpt) (The Beauty Of Doubting Yourself)
04 Marihiko Hara – Credo IV (Credo)
05 offthesky – Birds Eye View (Hiding Nature)
06 Machinefabriek & Gareth Davis – Part I (excerpt) (Drape)
07 Greg Davis – Burlington, Vermont (excerpt) (Midpoint)
08 Gurun Gurun – Ano uta (Pimmon RMX) (Gorogoro Garagara Rimikkusu)
09 Two People In A Room – Holiday On Air Force One (Two People In A Room)
10 Chihei Hatakeyama – Within New Trees (A Long Journey)
11 Nicolas Bernier – The Dancing Deer (Short Edit) (The Dancing Deer)
12 The Boats – There Are Tunnels Where We Live (Sleepy Insect Music)
13 Elain – The Happy Cynicism Of A Creative Mind (excerpt) (Whispers, Then Silence)
14 Konntinent – Collo & Orro (Opal island)
15 Isnaj Dui – Mushroom Picking (Unstable Equilibrium)
16 Ian Hawgood – A Film by Library Tapes (Slow Films In Low Light)
17 Michael Santos – Cut Them Loose (Memory Maker)
18 Christopher Hipgrave – Early Morning (Day)
19 bvdub – These Walls Will Always Remember (For Dani) (Tribes At The Temple Of Silence)
20 Autistici – Automated Night Light (Amplified Presence)
21 Le Lendemain – Petrichor (Fires)
[ S T R E A M ] | [ D O W N L O A D ] | [ P O D C A S T ] | [ i T U N E S ]