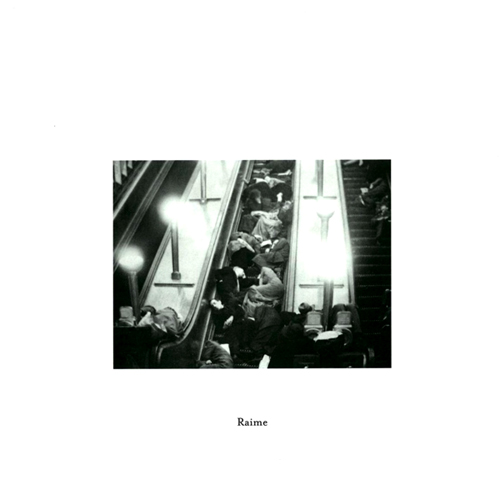 I initially intended to drop a few words in regards to Raime's latest Hennail 12″, but as I began listening to the two tracks for my sixth time I realized that a tour of all three singles is in order, starting with the very first catalog release on the label, the self titled Raime EP. Coming out of nowhere in September of 2010, the UK based duo of Joe Andrews and Tom Halstead, recording under the moniker Raime, released a mysterious three track piece, that sounded like deconstructed industrial, post-dubstep, and the haunting layers of crate diggers all in one. With a sinister undertone, the wailing samples paint an image of sacrificial ceremony, eavesdropped from beneath a burial veil. The earth is still moist from where the shovel made its forceful entrance, and the vibrations of the drums force the maggots to come up for air. The rough edges of this particular EP is what got everyone excited about the release – it is truly something that you've never heard before.
Two months later, Raime followed up the release with a single track 12″, titled If Anywhere Was Here He Would Know Where We Are, featuring a remix by Regis (Karl O'Connor) of a previously appearing "This Foundry" track on the debut release. Here was a refined version of empty void, dread, and tension, as viewed through a prism of minimal techno, dubstep and haunting ambiance. But it is with the latest EP (the fifth release for the label), that Raime really got me excited. The whole movement into the deepest territories of sound by the likes of Actress, Demdike Stare, and Andy Stott got me thirsty for more rhythm driven explorations, and when I finally landed on Hennail, I knew that I just hit the jackpot!
Playing at the loudest possible volume (while my neighbors are still awake), the industrial hits, and hollow percussion rhythms land on the dystopian chords and the detuned treacherous leads. The build up of distorted noises and malignant pads continues until the lo-fi echoes of a vocal appear to be saying something that sounds like "…in your mind…" — and perhaps it's all in my mind anyway, as I'm completely hypnotized and held captive by this fatal tune. The second track on the record is not kind either. Reminiscent of a horror film soundtrack the evil lurks within the sounds begging you to close your eyes for only a minute, so that it can grab your throat. Released on Kiran Sande's Blackest Ever Black, all three EPs are a must to check out, as well as other releases on this exciting label!