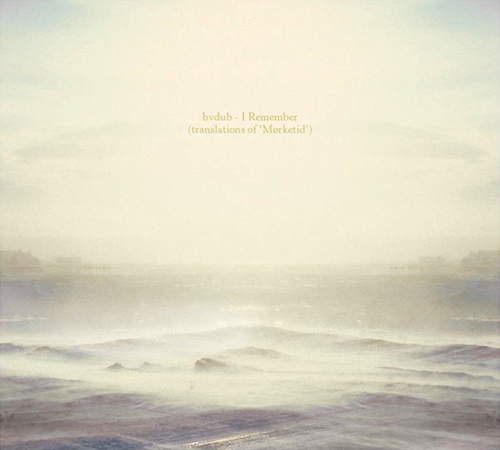 It is difficult to know whether to be more impressed by the sheer size of Brock Van Wey's portfolio as an artist or the level of quality that he manages to sustain. Regardless, Van Wey, or bvdub, surely stands out as one of ambient music's most influential figures. His recent collaboration with Ian Hagwood, The Truth Hurts, for Nomadic Kids Republic, reviewed by Headphone Commute in October, and his curation on the compilation Air Texture Vol 1, speak to bvdub's growing reputation in the industry. His output as a solo artist is showing no signs of slowing down, however, and I Remember is his sixth
release in 2011!
Van Wey's work is laced with emotion, typically drawing on themes seemingly close to his heart. I Remember epitomizes this, and is, for me, by far the most affecting of his recent solo releases. The theme here is nostalgia, with song titles evoking regret and, ultimately, retribution. Musically this approach has the effect of drawing the listener in to bvdub's world; this is not ambient music that blends into the background but rather a shared journey. The opener, "This Place Has Only Known Sadness", sets the stage well. It is less beat driven than many tracks on Tribes at the Temple of Silence (Home Normal, 2011), instead creating an epic soundscape that circles around haunting vocals. "We Said Forever" is similarly crafted and leads in to the album's highlight "The Promise (reprise)".
This is an exquisite example of a track that marches to its crescendo, peaking around the eight minute mark, before lingering, and very, very slowly drifting away (think Autechre's "Piezo" from Amber). It is among the most exhilarating and moving pieces of electronic music I have heard recently and stands out as the centre piece of this album. The remaining songs on the album come together to make this a substantial piece of work, clocking in at just over the hour mark. The final track, "A Taste Of Your Own Medicine", a bracing send off of soaring intensity and energy, ends this journey into bvdub's world in thrilling fashion.
[Ed.: I beg your pardon for including Brock's notes on the album verbatim]
"Alessandro Tedeschi, aka Netherworld, has become a dear friend of mine since his kind invitation to produce an album for Glacial Movements last year, and his vision, kindness, and honesty have been an inspiration. He had sent me a copy of his album 'Mørketid,' and from the opening notes I was mesmerized – not in a typical way, as his music is far too subtle for that, but on a much deeper level, as the music brought a flood of memories surging forth that I had long thought lost. It took me back to those times when ambient music was so pure, and so true… so when he then asked if I would be interested in doing a translation of the album, I couldn't have said yes any faster.

I call them translations, as they are not remixes. I used his original work as a base, and it is indeed interwoven in the translations, but my translations serve more as my own narratives on the memories and feelings his original work evoked. The translations are about memories… memories of dreams lost, and never fulfilled… but also the beauty in knowing that dreams exist… as whether they come true or not, it's in their pursuit that life means anything.

The original album brought back all my memories of my time in the early rave scene, the dreams I (and everyone, really) had for the beautiful utopia that only existed in our minds, and which we were only able to reach but a few times – but also my current surroundings of China, where in a rapidly changing environment, I am constantly reminded of unrealized dreams – deserted buildings that stand as monuments of once-great visions, and echoes of so many voices once yearning to be heard, wanting only for the world to remember them for a moment. And so it has been a strange kind of full-circle experience, as I stand in this place with no connection to my former life, yet in it I realize that every 'scene' is the same – we all just want to be heard, by someone – and to be remembered."
Newcomers to bvdub can be overwhelmed by his extensive catalogue of releases – latest albums include Then (AY, 2011),  Resistance Is Beautiful (Darla, 2011), Songs For A Friend I Left Behind (Distant Noise, 2011), and the very latest, Serenity (Darla, 2012) – but the consistent quality of Van Wey's work is irresistible. I Remember represents bvdub at both his very best and his most personal, similar to how we found him on The Art of Dying Alone, released by Glacial Movements in 2010. For its emotional intensity and electronic craft, this album comes highly recommended!
bvdub.org | glacialmovements.com
©
Review by Ben Rutter exclusively for Headphone Commute.