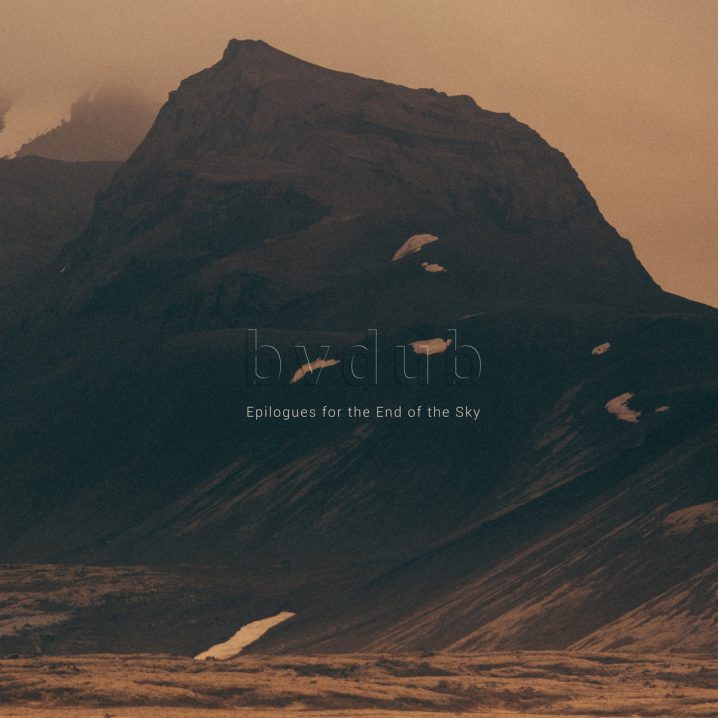 Some album recommendations are easy to kick off, with a mention of an artist's whereabouts, their background, or an enumeration of the recently released records. With Brock Van Wey, recording under his most known moniker, bvdub, it's more than a difficulty. This particular album is probably his 30th (I'm not joking), or, it's even possible that it's the 40th release if one counts all the extended play records, often extending to 45 minutes in length over a few single pieces. Those following Brock's intercontinental moves will be happy to find him back at home, in San Francisco, after having spent many years in China. What's easy to say here, however, is that bvdub's music is simply beautiful, timeless, and grand – which is exactly the reason I keep coming back for more.
For Epilogues for the End of the Sky, we see bvdub returning to an Italian ambient label run by Alessandro Tedeschi, for his third solo catalog release (plus a glorious collaboration with loscil, titled Erebus from 2013). Perhaps not as icy as Glacial Movements' themed publications, this ambient album is nevertheless slow rolling, like a cloud of deep heavy mist, descending over a mountain, and brushing its shoulders for the morning wake. Perhaps my imagery is inspired by the album's cover art, photographed by Tero Marin, or it could be simply that bvdub's music is as always somber, melancholy and serene. A watchful eye will even pick out a rhyming poem written out with titles:
On Deaf Hearts Your Prayers They Fall
With Broken Wings and Giants Tall
Sparkling Legions Turn to Black
Your Painted Armor Aches to Crack
Clouds Besiege What You Remain
Footsteps Fade If Not Your Pain
Love Is Never Asking Why
It All Ends with the Coming Sky
Employing countless layers and loops, Epilogues for the End of the Sky absorbs the listener into its dense textural soundscapes, sonic sceneries, and all-encompassing vapor of sound. Staying here, the listener may be at risk of drowning in a fog, even as he blindly searches for the way to egress, unable to complete the never-ending task of always running from himself. The wistful cinematic passages that fill every hollow breath and envelop residual empty spaces will finally convince one to remain, sit down, and be one with oneself, where all is left are thoughts and music.
If you're just catching up to the works of bvdub, may I also point you to a couple of his most recent albums: Yours Are Stories Of Sadness out on the Greek Sound In Silence, A History of Distance out on n5MD, A Thousand Words and Safety In A Number both self-released on and available on bvdub's Bandcamp, where you can also buy his entire digital discography of 37 releases at about $150 bucks. It's seriously worth it and I promise that you will cherish every single ethereal moment. Thank you, Brock, for sharing your music with us – I may not be regularly sharing these words, but I'm always listening…
bvdub.org | glacialmovements.com
©
Words by HC