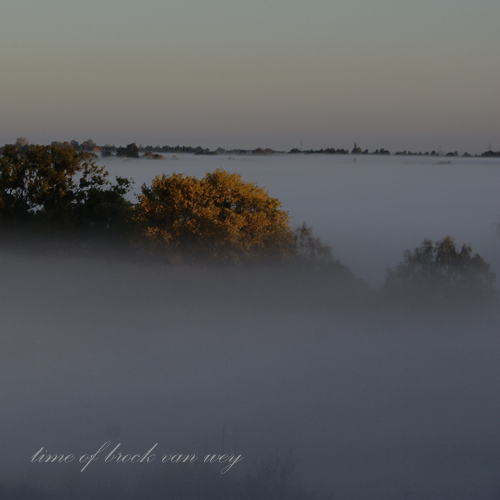 Brock Van Wey is extremely prolific. Any time I share his music with an unsuspecting audience they get drowned in awe. And every time they start the journey across his vast catalog it just swallows them whole. Today's podcast is dedicated entirely to the works of Brock van Wey, showcasing his most known moniker, bvdub, as well as East of Oceans and Earth House Hold. Since Brock's music is like a delicate flower, opening its layers throughout time, this special mix is meant to evolve over two whole hours. It's the only way to appreciate the music of Brock Van Wey. This mix is compiled by Saimon Saimonse who also prepared the following words:
First time I became acquainted with the works by Brock was somewhere around autumn 2009. It was the album entitled "White Clouds Drift On And On". I recall that back then I was absolutely smashed by "Too Little Too Late". I don't know why, but over a year passed since that time when I got to listen to his music again. It was the amazing twenty-minute-plus long "To Live" which was to change my life quite soon 😉 Sometime later I began to collect all the albums produced by Brock. I devoured his music. I have to admit that for the last two years his records are almost the only thing I've been listening to. Never before have I heard music filled with so much emotion. It really appeals to my sensitivity. This two-hour compilation is mainly my way of saying 'thank you' to Brock, as well as a tribute to his creative output.

The cover photo was taken by my sister. It is a view from her window on a beautiful autumn misty day. I think that somehow unknowingly, she created an illustration which fits this mix perfectly.

I dedicate this mix to my dearest wife and to all those who do care.
soundcloud.com/saimonse | bvdub.org
Tracklisting
brock van wey – too little too late
bvdub – without a chance to say
bvdub – only the willow remains
bvdub – to live
bvdub – a sisyphean silence
bvdub – descent to the end
bvdub – my skies cry your name
bvdub – nothing you can say
bvdub – nothing like you
bvdub – serenity
east of oceans – 9 winters to tell you
bvdub – my sun shines through your rain
bvdub – love
earth house hold – make it to tomorrow
east of oceans – 1995 to forever
[ S T R E A M ] | [ D O W N L O A D ] | [ P O D C A S T ] | [ i T U N E S ]