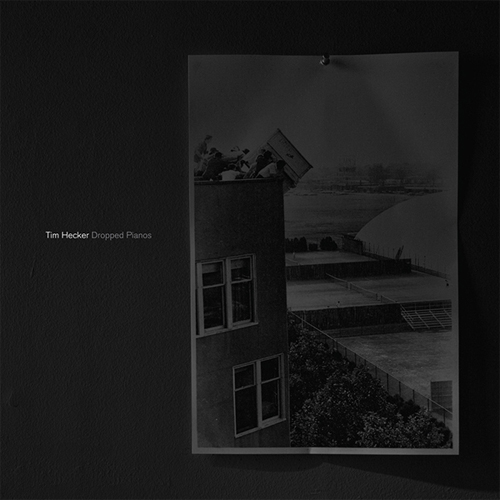 We begin our Kranky label special with one of our favorite artists on this Chicago based label – Tim Hecker. As the press release fairly warns, "this is not a new Tim Hecker album, but rather a peek behind the curtains into the working process." Dropped Pianos is a series of sketches and outtakes from Hecker's 2011 album, Ravedeath, 1972. Though not recorded in an Icelandic church, it is still the perfect haunted house soundtrack, replete with echoing pianos and dripping with creepy atmosphere. Some might say that Dropped Pianos, with all of its gorgeous washes of double and triple tracked piano, is one of the more accessible oeuvres in Hecker's vast catalog. And although that may well be true, neglecting the warnings of the label's press release, Dropped Pianos stands on its own as a significant piece of music.
Its brevity may attract those with a short attention span, but for those of us used to hour long sonic masterworks, the tracks remain a bit truncated. "Sketch 1" is fairly typical of the almost psychedelic whorls and loops of piano that dot the landscape of this record. "Sketch 2" is a perfect companion piece, spiraling into the same orbit as the EP's opener, but laced with sonic hiccups. "Sketch 3" unfurls like a sepia-toned photo, revealing its miniature tale in fits and starts. And when we finally get to the melancholia of "Sketch 4", we are treated to some of Hecker's characteristic sonic overlays, with a stylistic nod to his earlier work, An Imaginary Country (Kranky, 2009).
Video from Tim Hecker's Ravedeath, 1972 (Kranky, 2011)

"Sketch 5" is almost a bold departure from the other sequentially titled tracks, keys boldly played and struck with forceful intention. The repetitive nature of this piece underscores its bleakness and sears itself into your brain. "Sketch 6″ returns to the hazy, twilit notes of earlier compositions, and "Sketch 7" bookends "Sketch 3". The remaining pieces complete the mystery and sense of dread that pervades this ominous but wonderful body of work. Dropped Pianos is a very personal, intimate and moving album. Tim Hecker fans will absolutely love this, and so will anyone who follows Fennesz, Stars of the Lid, or William Basinski.
Be sure to read our review of Ravedeath, 1972
©
Review by Elizabeth Klisiewicz exclusively for Headphone Commute.