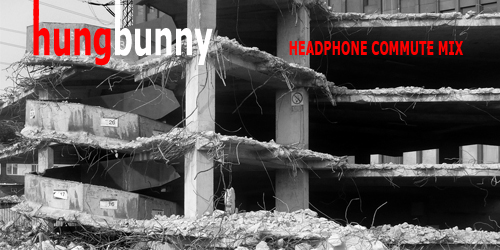 Headphone Commute continues its mission of bringing you a variety of sounds from all corners of the world. Today we feature a podcast from hungbunny, who has tirelessly been releasing his own, bi-weekly mixes, to a slowly growing audience. We hope that you like what you hear, and that this mix will make your morning, as it did ours…
hungbunny started life in 1997 as a small, self-published pamphlet. It was conceived as the antidote to a Goa trance/ambient house fanzine some hippy friends of mine had produced. Naming it after a ten-minute squall of feedback on the Melvins' Lysol album seemed appropriate.

Fourteen years later hungbunny has evolved into a bi-monthly podcast, but its mission remains the same: to offer an alternative to the vacuous pap that most people seem content to fill their ears with. Most of my mixes end up resembling Eraserhead-style film soundtracks. Ideally I'd like people to fall asleep listening to them, and be plagued by bad dreams.

In the words of the late John Peel, "I just want to hear something I haven't heard before". I hope you do too.
Track Listing: [mm:ss] Artist – Title (Version) [Album]
[00:00] Miki Yui – Haap [Magina]
[04:43] AGF and Craig Armstrong – I Opened My Eyes [Orlando]
[09:39] Fovea Hex – Glaze (William Basinski remix) [Three Beams]
[17:03] Jasper TX – White Birds [The Black Sun Transmissions]
[24:42] Dalglish – 8.4.2006 [Benacah Drann Deachd]
[30:06] Kreng – Girl In A Fishtank [Grimoire]
[33:06] Tim Hecker – Studio Suicide, 1980 [Ravedeath, 1972]
[36:08] Leafcutter John – Palm Reader [Tunis]
[43:29] Blood Box – Battles Beneath The Earth [Funeral In The Empty Room]
[50:53] Blindhæð – Segment I: The Other Side Of Jackals [Laguna Sunrise]
[ S T R E A M ] | [ D O W N L O A D ] | [ P O D C A S T ] | [ i T U N E S ]