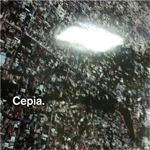 Huntley Miller's 2007 debut, Natura Morta, on Ghostly International as Cepia ends with Untitled II. His sophomore release on his own Cepia Music, self-titled Cepia, begins with Untitled III. Perhaps it is meant to tie the three years together, perhaps it's nothing more than a lack of words for the titles, or maybe there is no coincidence at all, and I'm reading into something that is not actually there. Afterall, Miller doesn't seem to be lost when it comes to naming tracks – there is the exclaiming "You Don't Know What It Means To Win", "Incurvatus in se", and "Me And My Gin" (sounds delicious). So let's pretend we didn't have this conversation and skip right to the music.
Cepia is an album that grows on you with every listen. The only logical comparison I can make is to that one single event in your life – the first time you ever heard Autechre. Do you remember? Were you, like, huh, you know? But then grew up a bit and realized the beauty hidden in the layers? Miller's evolved sound relies on meticulously engineered sounds, micro programmed synthetic percussion, and patiently designed acoustic spaces. The sound is incredibly abstract, and indeed experimental in nature, showcasing ever molding branches of electronic music.
Yes, I hear a bit of Autechre influence in there, as well as maybe some melodic flavors of Arovane, the synth folding lines of Wisp, and a little glitch hop from Lusine. But these comparisons only draw parallels of an invisible web of auditory nodes, colliding at the hub of Cepia's sound. Here's a blurb from a previous press release, courtesy of Ghostly:
Cepia (pronounced "SEP-ee-uh") is the sound of industry meeting with the vague memories that rest somewhere in the back of everyone's mind. Processed bells lilt and chime at their whim, while kick drums skitter and scramble to catch up. Infinite layers of clicks and drones provide the glue that holds it all together perfectly.
Miller's discography consists mainly of the above mentioned Notura Morta, a few EPs on Ghostly Inernational, and a remix compilation, Atlantic Blood, on The Flashbulb's Sublight Records from 2006. The latter collects Cepia's reworks of tracks by Mr. Projectile, Tiki Obmar, Tim Koch, and others, while being mastered by Richard Devine – it feels like a gathering of good ol' friends from the era of Merck. Cepia's 30-minute tightly packed 10-track release is a little puff of fresh air into the community of IDM explorers, a bit fatigued from following a beaten path. Just what the doctor ordered.
Read Two and a Half Questions with Cepia