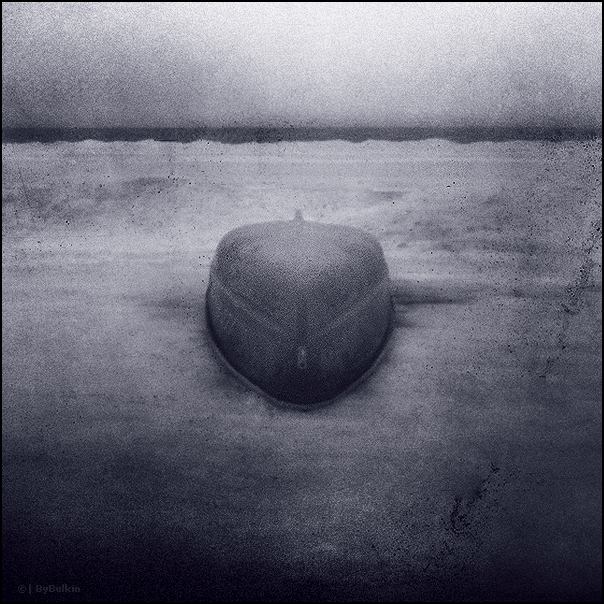 Born in Riga, Latvia, Andrew Eigus has been producing electronic music as Selffish since 2002. Laced with field recordings of the Baltic landscapes, his releases have appeared on +371 Records and one of the most popular electronic net labels, Thinner. For this special Headphone Commute podcast, Eigus creates a cinematic mix, featuring his favorite releases from Thinner and its now defunct sublabel, Autoplate.
Through the years I've been pretty much into recording nature and city sounds and decided to drop some of these recorded sounds into this mix as well. Most of this music is available from archive.org and scene.org for free. It is an attempt to prove that there is some good music out there that doesn't cost money to enjoy. It is also an attempt to create visual imaginary pictures through perception of the variety of sound textures present in this mix.

The cover image is photographed by Dmitry Bulkin in 2007 and is called "Engure". This image appears to me as the actual reference point of some sort in my own life, when I think of it. Despite the featured dark colours, I find this image talking of important matters and there I also see it as a good connection with the music.
Drop by the label's site, where you will find free releases from Selffish, as well as many other favorite artists, such as Vladislav Delay, Jason Corder (aka offthesky), Krill.Minima (aka Marsen Jules), Motionfield, and many others…
selffish.org | thinner.cc


[ S T R E A M ] | [ D O W N L O A D ] | [ P O D C A S T ] | [ i T U N E S ]
Track Listing:
[00:00] Off The Sky vs. Gyges – Polaroidmanteaux [thn100]
[03:39] Fern – Morgen [apl040]
[08:18] Daniel Blomqvist – Risk För Ras [apl044]
[10:46] Off The Sky – Her Soft Circumference [apl033]
[18:00] Segue – Vista [apl039]
[21:14] Falter – Nachtflug [thn039]
[28:08] Dighom – Kunthai [apl009]
[32:24] Digitalis – Port.able [thn022]
[39:06] Off The Sky – Coriolis Effect [apl014]
[40:58] Daniel Blomqvist – Tjuvlyssnat [apl044]
[43:40] Fern – Stratos [apl040]
[44:58] Hans Appelqvist – Full The Moon [apl020]
[48:06] Segue – Wind Through Trees [apl039]
[53:44] Selffish – I Came To Leave [unreleased]

selffish.org | thinner.cc


[ S T R E A M ] | [ D O W N L O A D ] | [ P O D C A S T ] | [ i T U N E S ]