What started out as a Sound Bytes column featuring Hibernate Recordings latest releases, ended up growing into a three week label special. I just couldn't hold back sharing with you the music that has been warming up my speakers and my soul. Here's the last entry in this Sound Bytes installment, and be sure to check out [ part one ]  [ part two ] and a Headphone Commute Mix by the man behind the label, Jonathan Lees.
Offthesky – The Beautiful Nowhere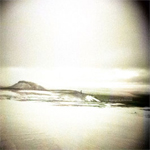 Jason Corder's moniker, offthesky, needs no introduction. He has previously released albums on labels such as Home Normal, Experimedia, Tokyo Droning, Symbolic Interaction, Somnia and many others. With The Beautiful Nowhere, Corder arrives at Hibernate Recordings. For the album, the label goes the extra mile, and packages the limited edition CD in a hand-cut, textured organic mulberry paper sleeve, which in turn is cradled in a hand sewn hessian bag. Unfolding this beautifully presented physical release offers a hint of nostalgia for the process of carefully peeling open vinyl records, a unique experience destroyed by the unlimited supply of digital reproductions. Unfolding the music through headphones offers a familiar offthesky sound of electro-acoustic exploration, experimental field recordings, and gentle strumming guitar. Throughout the album, ambient swells carry the bowed string vibrations forward into the open fields, where plucked strings and piano chords offer a sense of a rhythm, stretched and contracted with the passage of time. For The Beautiful Nowhere, Corder attempts to avoid much of electronic processing, and instead concentrates on purely acoustic instruments. Thus, besides his favorite guitar, we welcome an appearance by harmonium, cello, toy piano, kalimba, vibraphone, and voice. Recorded in a cabin near Carter Lake, Colorado, the title of the album and its music explore the subjects of isolation, remoteness, and seclusion. Fans of 12k artists (and of course, Hibernate) will find inner beauty in the abstract subjects explored within.
Offthesky – Whittling You Little Lights

Wil Bolton – Time Lapse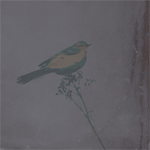 Listening to Wil Bolton's ambient drones, synthetic bleeps, and organic chimes, is like sitting in a crowded public space with a pair of open headphones – the internal guitar loops leak out, while the external plate clanking leaks in. These sounds all mix up and create an atmosphere of their own, a sense of a live performance in an outdoor setting, a feeling of a whole city living in your head. Although Time Lapse is the debut album for Wil Bolton recording under his real name, his past releases on labels such as Unlabel, U-Cover and Kahvi Collective may be familiar to people following his alias, CHEjU. Based out of Liverpool, UK, Bolton has been producing melodic electronica since 2004. Besides the numerous EPs on a handful of netlabels, Bolton has put out a few recordings on Boltfish Recordings, an independent experimental label that he runs together with Murray Fisher (aka Mint). Certain passages on Time Lapse remind me of Celer's Engaged Touches – that eerie feeling of pulsating waves penetrating lo-fi field recordings with saturated frequencies. They do, however, have a more upbeat feel, scattering the dark clouds with a gentle breeze of wind-chimes. Blending electro-acoustic tonalities with processed organic sounds, Bolton creates an atmosphere of subtle environmental soundscapes and vast synthetic oscilations. Time Lapse is a perfect fit for Hibernate's already astounding catalog of music to keep you warm throughout the winter.
Listening Mirror – Outside Heaven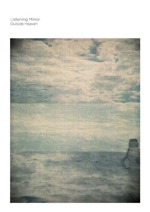 Listening Mirror is the ambient project of English artist, Jeff Stonehouse. Though not formally trained in music, Stonehouse's grounding in the recording, generation, and manipulation of sound has produced stellar results. With Stonehouse furnishing field recordings and treatments, and Kate Tustain's guest appearance on the delicate piano keys, the two-track EP turns into a textured meditation on soothing atmospheres and sounds. Awake But Still Adrift cracks open this release like dawn's light poking through my window blinds. Gentle but persistent, it tugs at my senses like a child, breaking through the somnolence to become fully alert. Yet, even as I face the day, I am cocooned and lifted up by gentle washes of frequencies. Multiple layers unfold as the music swirls around me, suffusing joy and peace through my anxious being. Outside Heaven is spacey ambience, punctuated by bird calls and piano motes drifting in and out of the mix as it meanders to its fine conclusion. Be sure to pick up Listening Mirror's recent releases: Spires, Spirals And Stones (Heat Death, 2011), Wet Roads (Audio Gourmet Netlabel, 2011) and …from dreams… (Entropy Records, 2011). Stay tuned for a full length release on Bathetic Records, titled The Heart of the Sky". All physical releases in the Postcard Series are strictly limited to 100 copies. Although digital versions are available for download (some even for free), I recommend you reserve your physical copies well in advance! Recommended for fans of quiet, ambient drones and contemplative work.
Listening Mirror review prepared by Elizabeth Klisiewicz.
Rest of the text by HC.