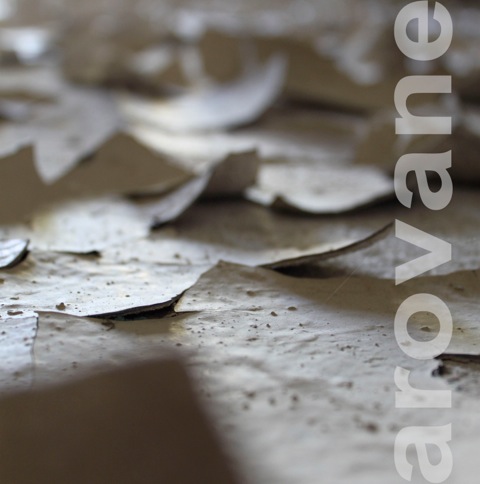 On today's program, we are honored to host an exclusive mix by Arovane, whose return to the scene we're currently celebrating with his  latest release, Ve Palor, out on n5MD. There is much I can say about Uwe Zahn, yet I think I have said most of it in my review. So instead, I'll let Uwe tell you about this particular selection:
"the selection of tracks you will hear on this mix has greatly influenced my music. back in the 80's I listened to minimal and gamelan music by brian eno, steve reich, and john adams. the experiments of brian eno, taking two reel to reel's for producing music, playing two tracks shifting to each other, exploring the phasing resulting of the different speed, remind me of my first explorations with tape recorders. i placed the recorders in two rooms in the cellar of my parents' house and put the microphones in different positions to record. i used a cheap casio keyboard to produce electronic sounds, combined with my voice and self-built acoustic instruments to make music.
the most crucial experience occurred in 1974 when i listened to kraftwerk's autobahn on the radio. i have never heard those sounds before. and i was electrified.
in 1985 i bought a korg ms20 with an analogue delay and explored the world of electronic music. i listened to tuxedomoon,  steve brown, joy division, frank zappa, the residents, yello, laurie anderson, severed heads and pop music, which was more and more influenced by electronic music. i was blown away by the sonic possibilities of  the fairlight sampler used by kate bush and art of noise. in 1983 i found a yamahas dx7 in a small electronic shop in hameln. in 1987 i bought the esq1 from ensoniq. it had a very straight forward sequencer with which i could draw my musical ideas.
i've heard these electronic sounds everywhere in the contemporary music and explored the compositions of klaus schulze and tangerine dream. i bought all of the records by klaus schulze and listened for hours and hours. i was also captivated by the pictures shown on the covers , the big moogs, arps, etc…
this mix is like a journey for me, full of memories triggered by sounds. you will hear some unreleased arovane tracks i've produced in the 80's and 90's with the waldorf microwave, emu sampler (sequenced by a yamaha qy700) a delay and a four track recorder."
Tracklisting
morton feldman:samoa
mark hollis:a life (1895-1915)
bali:le gong gede de batur
nocturnalemissions:t'cows yed
arovane:october
spk:palms crossed in sorrow
severed heads:advertisement/prototype pop
remote viewer:a fielder
snd:system medley
signer:from low light dream
casino vs japan:via rouge
labradford:twenty
snd:+44.114.296.2575
arovane:toocer/swing/music from nowhere/erval
[STREAM] | [DOWNLOAD] | [PODCAST] | [iTUNES]