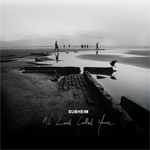 When I first heard Kosta K's release on Tympanik under the alias Subheim, I knew right away that I'd be following this artist. With his lush atmospheres, deep beats and experimental glitchy goodness, Subheim managed to weave all of my favorite elements into one cinematic journey. I later learned that Kosta was one of the co-founders of the now defunct Spectraliquid label, based out of Greece. So the label may have perished, but the music survived. And so, I am ecstatic to announce that Subheim got picked up by none other than Ad Noiseam, home to many of my favorite artists like Hecq, Roel Funcken, DJ Hidden, Detritus, Broken Note, The Kilimanjaro Darkjazz Ensemble and many others!!!
Here's a preview track, taken from Subheim's second full length album, No Land Called Home, out on Ad Noiseam in October of 2010!
The project led by currently Athens-based Kostas K. has made some waves (in both senses of the word) with a first album published by Tympanik Audio in 2008. The new one ups the ante of this sharply produced atmospheric material, is a work to be reckoned with, and should open many doors to this very promising young act and his dystopian ambiences.
Here's a short video teaser of material from the upcoming album.