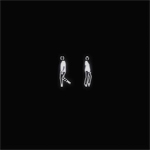 Falling in love with Max Richter's music is easy. Lovers of electronica, modern classical, and simple piano music alike, follow Richter's releases, and gobble them up with their ears. The music of endless dreams and cinematic wakefulness, sprinkled with electric pulses of shortwave radio transmissions and somber tones, rises above the ground like a waterfall of fog, falling into the abyss of subconsciousness and repressed memories. Beautiful and simple melodies soar through the air with orchestral precision, neo-classical progression and heartbreaking execution.
Infra is actually a soundtrack. Commissioned by the Royal Ballet, Infra is a score for the same titled ballet as choreographed by Wayne McGregor, which originally premiered at The Royal Opera House in London in November 2008. Being more than a studio album, the work on Infra is comprised of recurring themes and a central concept. The latter is inspired by T.S. Elliot's "The Wasteland", building on a travelogue of desolate lands, populated by the sounds of piano, electronics and a string quartet. Here's a quote from Richter:
"I started thinking about making a piece on the theme of journeys. Like a road movie. Or a traveler's notebook. Or like the second unit in a film – when the scene has been played, and the image cuts away to the landscape going by. This started me thinking about Schubert's devastating and haunting "Winterreise" (Winter Journey), so I used some melodic material from Schubert as a found object in parts of my new piece."
I must be honest – I wouldn't recommend this album to the heart broken. The sweeping melodies will pull your soul apart and squeeze the last remaining tears from your withered heart. Saturated in sadness to the point of total and complete desperation, some of the tracks become contenders for Music for my Funeral – a collection of tracks I have been preparing for… well… that one final farewell.