It's a lazy Sunday afternoon. It's that hour when the weekend is almost over, but the work week has not yet begun. How do I stretch the remaining hours in peace and tranquility, cherishing the hours that are left for me to enjoy? Sheffield (UK) based Audiobulb Records, run and operated by David Newman, aka Autistici, comes to the rescue. Since the early part of the last decade, Audiobulb has been releasing experimental, electro-acoustic, and emotional electronic music among the spectrum of minimal, glitch, and micro-tonal frequencies, allowing your brain to relax and be active at once. "Audiobulb has always been about the spirit of exploration. The aim is to stay with the moment and exploit the possibilities of sound." I hope you enjoy this installment of Sound Bytes, peeling away at the latest layers of Audiobulb.
Autistici Reworked : Resonating Wires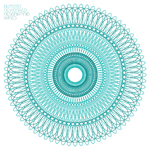 First up is a remix album from David Newman himself, comprised of reworks and interpretations by an incredible roster of artists. The contributors include Simon Scott, Sawako, Jimmy Behan, ISAN, Ian Hawgood & Danny Norbury and Richard Chartier, among the many in this 10-track release. This is a glitchy, hissy, lo-fi collection of tracks, drenched in field recordings and electro-acoustic noise. All accomplices on this recording remix Newman's single track: Resonating Wire, from Autistici's 2009 album, Complex Tone Test (KESH) [see our selection in Headphone Commute's Best of 2009 : Music For Bending Light And Stopping Time]. At the center of the album is an 11+minute concoction, ripped and torn by Francisco López, with deep rumbling drones, background synth swirls, and a rhythmic noise checkpoint. Ian Hawgood & Danny Norburry's piece incorporates soaring strings, double bass plucks, and a confetti of crackles and jitters. And then Richard Chartier rolls up his sleeves. A skillfully executed descent into a place where sound becomes air and noise becomes wind. Resonating Wires is an excellent compilation of minimal, experimental and electro-acoustic soundscapes that stands high on the shoulders of contemporary reductionist giants.
Milinal – Honey Meredian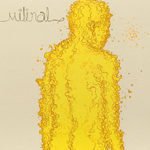 St. Petersburg (Russia) based Valentin Yakovlev creates warm emotional electronica with triggered glitches and tweaked out bleeps. And emotional electronica can not exist without emotion. With this in mind, this 23-year old Russian sailor, releasing his debut full length under the moniker Milinal, enters the scene, drenching your neurons in thick cerebral cocktail as prescribed by the IDM doctor. Haunting vocals ping-pong around the stereo field, beneath the deconstructed guitars and soft synth pads. Micro programmed percussion pushes the rhythm forward, while plucked guitar strings and processed sounds swirl around in a smoky whirlwind. Fans of that Telefon Tel Aviv sound, looking for another treat in this post-glitch-everything world, will be especially delighted. Other quoted influences for this record include Tim Hecker and Radiohead. Be sure to also check out Yakovlev's first 6-track EP, Folgefonna released by Siberian Electronica netlabel in 2009. This album deserves much more attention, and it should be surely considered for everyone's Best of 2010 lists!
Autistici – Detached Metal Voice – Early Works (Vol I)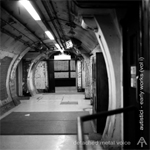 Early Works, as the title suggests, is a collection of previously unreleased compositions recorded by David Newman within the last decade. This is a rasterized array of sounds, bleeps, clicks, and field recordings, ala musique concrète digitalis. The first volume, subtitled Detached Metal Voice, is a selection of early works "exploring the anxiety of disconnected elements striving to find connection in a world of digital  communication." These are experimental pieces with many exploratory techniques and tools, like sinewave oscillators, home-made tone generators, and works with ASY, a synthesizer based on vocal tract models developed at Bell Laboratories in the 60s. Be sure to check out Whispering Mongo Man, featuring an audio interview with John Lennon, composed entirely out of edited-out speech, leaving behind the space occupied by his breath. "The tracks encourage the listener to consider the complex question of how meaning, relationships and connections are constructed, communicated and perceived."
Autistici – Slow Temperature – Early Works (Vol II)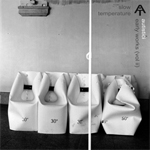 The second volume, subtitled Slow Temperature, contains more archival material from David Newman, featuring "abstract ambience, a focus on microsounds and digital sculpting of audio from everyday objects." In this selection, Autistici explores silence, space and sound, reflecting on individual parts of his own life. The composition is heavy with elements requiring your full listening attention, further decomposition, and reflective analysis, worthy of sound installation in a museum, or an exclusive performance at this sound technician's audio lab. The last piece, Workshop for Ambitious Dreamers, is a study into the "manipulation of sinewaves, oscillators and analogue electro-harp plucks exploring themes of subjectivity and freedom in thought and speech." Truly remarkable, thought-provoking, and deep. You'll need a few hours to absorb… Be sure to also pick up Autistici's lauded Volume Objects, released on 12k back in 2008.
:papercutz – Do Outro Lado Do Espelho (Lylac Ambient Reworks)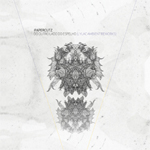 Last year we reviewed Bruno Miguel's debut as :papercutz – Lylac (Apegenine, 2008). Miguel followed up the album with Ultravioleta Rmx's on the same label. Two years later, Lylac still resonates… Do Outro Lado Do Espelho (translated as "from the other side of the looking glass") is a compilation of reworks from yet another amazing selection of artists. After releasing Lylac, Miguel was inspired to allow other artists to extract the foundation beneath the songs and erect upon it a structure of their own interpretations. This is an ambitious project with contributions from Helios, Emanuele Errante, Simon Scott, Taylor Deupree, Rameses III, Autistici, Christopher Bissonnette and Jasper TX. Whew! Are you impressed? Here are twelve amazing tracks by masters of ambient and modern classical composition! The Helios remix alone is worth your attention [watch the music video below]. Taylor Deupree incorporates the vocals into a delicious composition of guitar chords and harmonic song progression [didn't expect that from him], while Jasper TX scratches on the surface of peripheral hearing with his slow paced filtered piano chords and swelling cinematic atmospheres.
Ambient Software Module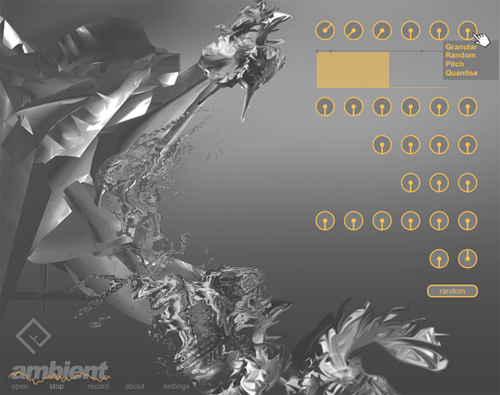 As if releasing beautiful music is not enough, Audiobulb has recently ventured into software, with a standalone Max/MSP Application. Feel like generating some ambient textures? Then Ambient is your tool! Developed by Christopher Hipgrave (yes, the same Hipgrave with releases on Home Normal and Low Point), with graphic interface designed by Mike Podolak, the module can process any file with multiple effects, that will twist your samples into beautiful soundscapes. Unleash your imagination! What's next? iPad?
See also Headphone Commute's Label Profile for Audiobulb Records