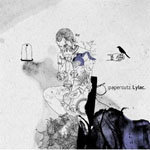 From digitally manipulated recordings of organic instruments, to organic interpretations of abstract digitalism, :papercutz presents his debut album, Lylac, for the fans of experimental leftfield pop music. Broken breathy vocals contributed by Melissa Veras intermix with thematic elements of chords, stabs, and plucked strings, all without taking on the lead in the arrangement; while glitched out beats and sprinkled multi instrumentation take to the forefront instead.
:papercutz is Portuguese Bruno Miguel, who first appeared on the scene with his Ultravioleta EP on Montreal based Apegenine recordings [the same label that introduced us to Emanuele Errante and Julien Neto on Apegenine Volume 1 compilation (2004)].  On his site, among a more interesting explanation behind the concept of the album, Miguel defines:
"To be papercutzed: to pursue your own way, to dream images in music, to like the light as well as the dark, to see all music styles as valid languages in which artists use to describe what's inside them, to find :papercutz's music and ideas a place where you can lose yourself… let's get lost!"
Hmmm. I like that. I've always thought of our five senses as just receptors of various communication protocols through which we all attempt to send or receive a message. Albeit very much unsuccessfully, since all our visual and auditory sensors get corrupted with real and imaginary noise and do not have built in error correction. But I digress [feel free to ping me on this topic though]… On Lylac, Miguel does just that. He fans out the confetti of his shredded thoughts into our ears where they circle, float, and finally settle to cover the empty spaces occupied by silence.
It's nice to finally get to know :papercutz on a more personal level after such a brief introduction via Ultravioleta EP, although be it with a few helpful remixes of The Sight Below, Neotropic, Spandex and Signer.
myspace.com/papercutzed | papercutzed.com
myspace.com/apeg | apegenine.com
more on headphone commute