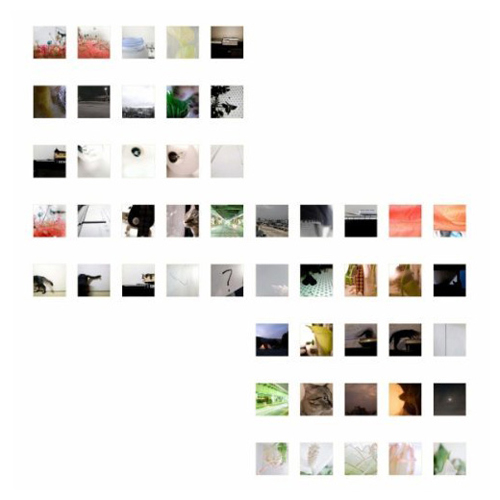 Japanese ambient, electronic and experimental musicians have a cunning skill at bringing inanimate objects to life. Perhaps it is the traditional roots of Shinto and Buddhism that reveal a presence and being in each and every thing. The fact that on a subatomic level, every living thing shares the same particles with non organic form. Through music, the artist is then able to turn into a shaman and let the objects sing their story. This is at least the thought that floats across my mind when I listen to Tatsuro Kojima's debut release, 16g.
For the album, Kojima collects eleven tracks that were composed between 2009 and 2011, each comprised of field recordings and environmental sounds, manipulated into thin layer of crackling micro sound. Diluted to its bare minimalism, the white noise washes and static crinkles are the remnants of the melting snow, newly formed ice, and brisk chilly air. In the foreground of the music are the notes of a sparkling piano, vibraphone and plucked strings, dancing on a surface of the luminous water, like a sun ray on a frozen lake. Glitchy vocals (by Aya Fukaya) break through the crispy coating and quiver with the stuttering texture of sound.
The artist recorded the album's environmental sounds in the field steps crunching on ice or snow, and other sounds. Throughout, the album strives to evoke the feel and sensation of  paper-thin ice or richly-coloured, yet transparent air.
Each limited edition of the album comes with a unique cover photograph by the artist. A signed copy of the photo with a personalized message from Kojima is included inside the digipack, rendering each copy of the album truly unique. Easily falling into a catalog of organic minimalism from 12k records, this album is nevertheless released on David Newman's Audiobulb Records, propelling the Sheffield based curator even further onto the stage of established experimental, micro-tonal and electro-acoustic labels. Thank you for your very personal touch!