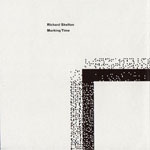 In the past few years I have become a bigger fan of simple and elegant works, sometimes consisting of a single instrument, sometimes of a single theme. I wonder if it is perhaps related to the process of aging and a calming mind. Ambient music begins to make more sense. The silence in between is just as important as the sound around it. On Marking Time, Richard Skelton uses a limited palette of organic instruments to reveal an elementary artistic craftsmanship through slowly drawn out, bowed and scratched strings, plucked guitars, and light touches of piano keys.
In the spotlight of dark themes stands a lonely cello, sometimes agonizing over long lost hours of silence, sometimes sad for settled dust. Surrounded by echoing instruments it cries in monotonic notes, sans any swings in harmony, repeating the oscillating frequencies assigned to each fret of a string. It is like a pendulum on a grandfather's clock that the musicians on Marking Time bow the strings back and forth, back and forth, in a tireless rhythm, while something scratches in the attic, perhaps to gain an entrance, but most likely to escape. It is this tone that tells a story. A story that is neither sad nor happy, neither good nor bad, but is simply just there. Like changing weather. Like cycling seasons. And like life and death.
Marking Time is Skelton's first release under his real name. His previous works were put out under a number of monikers including Clouwbeck, Heidika, Carousell and A Broken Consort. This is also the first album that came out on a label other than his own, Sustain-Release. The latter, is a private press operation full of works by Skelton himself, dedicated to his wife, Louise, who died in 2004. This loss continues to seep through Skelton's works in a sound of sorrow. After Marking Time got picked up by Australian label, Preservation, in 2008, it was well received by the critics. And earlier this year, John Twells of Type Records had put out a beautiful, limited edition, remastered vinyl pressing of the album, featuring Skelton's  own photographs on the cover.
Recommended for all of your modern classical and soul resting needs. Fans of Lawrence English, Elegi, Machinefabriek, Jasper TX, Svarte Greiner, Rudi Arapahoe and of course, Hildur Guðnadóttir, will be delighted.
myspace.com/landingsdiary | richardskelton.wordpress.com
typerecords.com | preservation.com.au