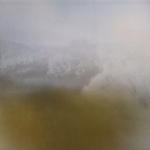 Richard Skelton's songs don't tell a story. They describe a place, a landscape. No… that's not quite right. They're more like a part of the landscape. On Landings, his remarkable new album, the rugged and earthy texture of the strings, gentle guitars and densely layered assorted acoustic instruments, all played by Richard himself, meld with field recordings of babbling brooks, the breeze and bird song. It all feels like it emanates from the same source. The songs on Landings don't contain much in the way of development. No build-up, no climax, no resolution. Instead each song is a portal into a particular setting… or state of mind. You step in, breath in the fresh air, the breeze ruffles your hair and all you can do is marvel at Mother Nature's handiwork.
Landings is the product of four years of recordings that Skelton did in Lancashire's West Pennine Moors in Northern England, close to where he grew up. When originally released on his own Sustain-Release imprint, the CD was accompanied by a book with the same title that collected Skelton's writings, including diary entries, word lists, poetry and prose fragments from 2004 to 2008. Together, the writing and the music were his way of trying to engage with the landscape. Unfortunately, the book appears to be sold out but Type has thankfully rereleased the music.
There's an undeniably mournful undertow to the album, a reflection of the rugged nature of the Moors no doubt, but it probably also has a lot to do with the fact that the album is dedicated to his late wife, Louise. In a recent interview with Title Magazine, Skelton explained that to him his music is an intensely private thing. In addition to being a way to connect with a place, it's a vehicle through which he deals with his loss and memories.
There's a strong sense of ritual about the way he approaches this endeavor. He buries his strings deep in the soil, he takes stones from the ground in a particular place and knocks them against the body of his violin. This may not make a very tangible contribution to the recordings but the ritual is an important part of the act of making the music. There's something so solemn and beautiful about this process, and it displays an incredible dedication and commitment.
Web cam video by Kornushon for Skelton's "Lowe" from Marking Time (2008)

Skelton has released music under a number of guises in recent years – A Broken Consort, Carousell and Clouwbeck. Landings is the second album in a row that he releases under his given name. A sign that he has well and truly come into his own.
– – – – – – – – – – – – – – – – – – – – – – – – – – – – – – – – – – – – – – – – – – – – – – – – – –
Review prepared by Tigon for Headphone Commute.
See also Two and a Half Questions with Richard Skelton
myspace.com/sustainrelease | sustain-release.co.uk
myspace.com/typerecordings | typerecords.com