Release Notes
Label: A Strangely Isolated Place
Release: Konec
Date: August 29th, 2022
Mastered By: Rafael Anton Irisarri
Artwork By: Liz Harris
Fans of my ongoing ramblings must be already familiar with music by Thomas Meluch who records under the alias Benoît Pioulard. And if for some reason you're not, you can begin with his albums on Kranky, starting back in 2006 and working your way up to the present, to follow the trajectory of this composer, singer-songwriter, multi-instrumentalist, and photographer. Be sure to also round your journey with this studio feature, in which I profiled Tom back in 2015. He's done a few collaborations, including one with Rafael Anton Irisarri under the Orcas project name. For this gorgeous release on the one and only A Strangely Isolated Place we find Meluch alongside his long-time friend and collaborator, Luke Entelis, as Viul (pronounced 'vell' which rhymes with 'bell'), a New York-based ambient composer who has appeared on Meluch's own imprint, Disques d'Honoré, reserved mostly for his own self-released works, and Past Inside the Present, with Outside The Dream World in 2019. Their upcoming collaborative album is named after a Czech word for "the end" (you know, those final pronounced striking letters, that often roll up when the film reached its peak), capturing the uncertainty of the world amidst the pandemic. And while the pieces originally began as an exchange of sketches and short lo-fi loops, the music that followed is truly engaging. On my favourite track on the album, which I am honoured to premiere for you today, we find the duo painting with wide brush strokes in pastel colours, deep-textured warmth, and hazy memories. And although this piece at first appears to be a repeating, stretched, and saturated tape loop, the more you listen to its slow decay, the more it makes you feel alive.
The variation in minutia, samples and instrumentation throughout the album cannot be understated amongst its hazy aesthetic and ominous poignancy. It's one thing to notice the details, but another to unstick the melodies from the closing credits of a dystopian city's downfall, from the forefront of your mind.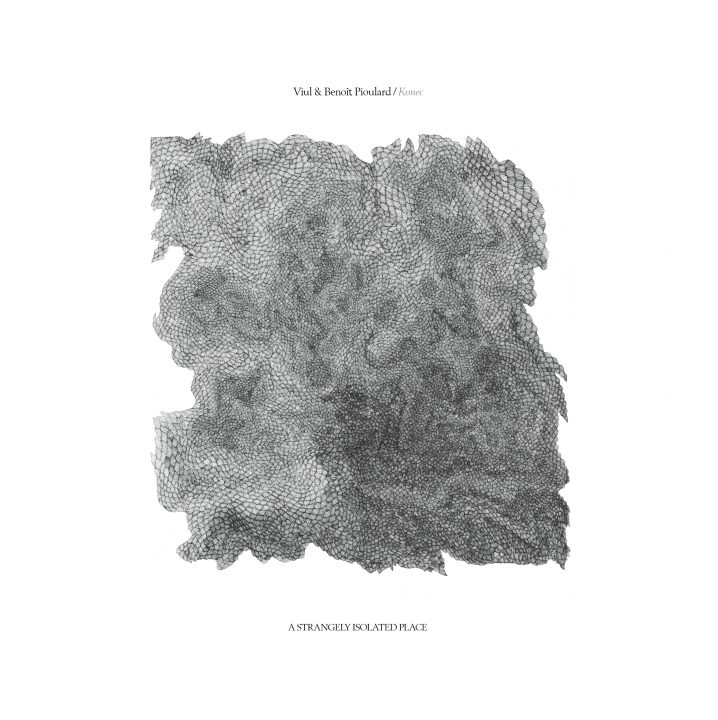 The album was mastered by Rafael Anton Irisarri, featuring artwork by Liz Harris (that's Grouper) and it is available for pre-order on a beautiful, limited edition transparent 2×12″, officially out on August 29th, 2022. Another gem from ASIP. You won't be disappointed!