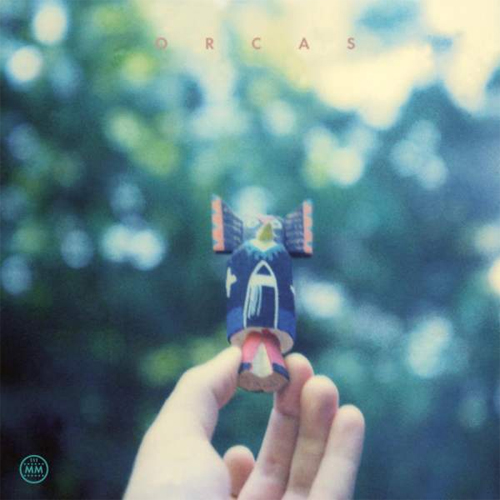 Exactly a year ago, at the end of September of 2011, at 8th edition of Seattle's Decibel Festival, I was lucky enough to attend a world premiere of a live performance by Orcas. Back then I only knew that Orcas was a project consisting of Benoît Pioulard and Rafael Anton Irisarri.  Pioulard, of course, is a moniker of Thomas Meluch, with EPs, singles and album releases on Kranky, Desire Path, Type, and People In A Position To Know. While Irisarri has released multiple albums under his real name on Miasmah, Room40, and Immune, as well as two albums on Ghostly International under The Sight Below alias. So, yes, going into the above mentioned performance I already knew that I was about to witness a new and exciting affair from two of my favorite artists. What I didn't know, is that the self-titled debut would eventually make it onto Thomas Morr's Morr Music, a trend-setting Berlin-based label responsible for output by ISAN, múm, Styrofoam, and many others.
On Orcas, the duo lays down blissful ambient passages, complimented by delicate guitars, minimal electronics, and Pioulard's lulling voice. The group also invites Kelly Wyse to play on the piano [Wyse has previously worked with Irisarri on Reverie (Immune, 2010)], and Simon Scott to contribute additional guitars and Max/MSP treatments. The rest of production credits include Irisarri for recording and mixing the album, as well as Lawrence English for mastering. All of the tracks on the album are original, except the amazing cover of Broadcast's "Until Then". This particular piece has been stuck in my head for days now, maybe because every now and then I play the melody on my baby grand. The compositions on Orcas follow an introspective trajectory, floating between enchanting dream-drone chords and subtle, yet textural, sonic ebb. Pioulard's vocals gently hover above the surface of each track, slightly obscured by his own barely whispering octave-high duet. Together, Pioulard and Irisarri perfectly compliment each other in this new pinnacle of post-drift-gaze-haze-pop, on which soaring ambiance meets lullaby songs.
The courtship of ambient music and traditional songform has been a long and tenuous one, almost to the point that their differences seem irreconcilable. […] Orcas – comprised of haze-pop auteur Benoît Pioulard and post-minimalist composer Rafael Anton Irisarri – is an imaginative return to that narrative. […] Here song and abstraction become one entity, condensing the spaces between to generate an arching trajectory. This co-mingling of contrasts is even coded into their moniker; Pioulard and Irisarri have chosen an iconic symbol of the American Pacific Northwest, a methodical sea hunter that is also a totem of the open oceans' expanse. The so-called 'wolf of the seas' that evokes a quiet, stately, yet powerful nature. Appropriately, their music is a careful balance of chiaroscuro elements, where pop hook and spatial ambience converge. In its environs, lyricism flows as a time-distended dynamic, rising and falling, proceeding almost antithetically to pop's typical gratification ethos.
For more from these two fantastic musicians, may I recommend Pioulard's Précis (Kranky, 2006), Temper (Kranky, 2006), and Lasted (Kranky, 2010), as well as Irisarri's Daydreaming (Miasmah, 2007), The North Bend (Room40, 2010); and Glider (Ghostly, 2008), It All Falls Apart (Ghostly, 2010) as The Sight Below. This year, Orcas will perform at Decibel Festival during Optical 4: Discreet Tones showcase, along with Nils Frahm, Sylvain Chauveau, and CFCF, with visuals by Leo Mayberry, Sean Curtis Patrick, and even Christina Vantzou! Irisarri will also perform as The Sight Below at Optical 3: Touch30 showcase, along with Eleh, Biosphere, and lissom. I have to admit, all of the Optical showcases look absolutely fantastic this year, and you can bet that I'll be present at each and every one of them!
Back in Seattle,  at the end of September of 2011, after Orcas' world premier live performance, drunk on good wine and beautiful music, I ran back into the green room, and half slurring my words exclaimed into Rafael's bewildered and exhausted composure, "that… that was just magical!" Rafael looked at me, smiled and said "Oh, shut the hell up!" Little did he know, I meant those few drunken words… 😉
Read Interview with Orcas