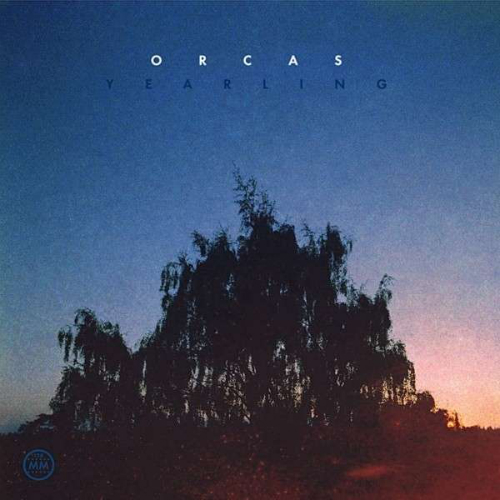 Orcas, the duo of Benoît Pioulard and Rafael Anton Irisarri, return with a new release on Morr Music called Yearling in which they seamlessly blend hazy, dream pop song structures with post-minimalist ambient abstractions into a single intoxicating aural confection. For the new album, Pioulard and Irisarri team up with Martyn Heyne (of Efterklang) on guitar and piano, and Michael Lerner (Telekinesis) on drums to build bold and colorful new structures around the gauzy framework defined by their eponymous debut.
That careful incubation of musical ideas and the creative spark of intercontinental collaboration pay off in spades, resulting in a beautiful record that should resonate equally with indie pop and ambient music fans. Yearling is a generous offering, too. There is nearly 60 minutes of music here, about a third of which I would estimate, is dedicated to ambient soundscapes which either stand alone like the opening track, 'Petrichor', or serve as gentle glide paths into the more structured songs, as in the case of 'Selah'.
"Whereas many songs on ORCAS' first album were built from guitar improvisations and impromptu vocal sessions, most of "Yearling" was constructed from short pieces Pioulard wrote and developed while staying in Germany during the summer of 2012. Working together at Heyne's Lichte Studio in Berlin and Irisarri's own Black Knoll Studio back in Seattle, they brought the album into full form over the course of the following year."
And those songs… 'Inifinite Stillness' with its blissed-out guitars, the balladic 'Half Light,' with its soaring chorus, and 'An Absolute,' with its throwback style organ, are all melodic gems delicately poised between languorous introspection and urgent pop sensibility. The songcraft is exceptional, the performances polished and assured, and the vocals exquisite.
'Capillaries', which also features Sylvain Chauveau and Lucinda Chua as collaborators, and 'Filament' with it's thunderous marching cadence, are more cinematic and experimental in nature, but equally compelling. Yearling then closes out with 'Tell' a fully realized ambient drone that serves as a perfect epilogue and which would also not sound out of place on one of Irisarri's solo works. In fact, I have come to enjoy queuing up his outstanding release The Unintentional Sea (Room40, 2013) to play immediately afterwards.
As the next giant step in the evolution of Orcas' "variations on songform and ambient craft", Yearling is a sophisticated and spellbinding record that delivers a complete and beautiful listening experience. Vinyl and CD copies of the album are distributed through ANOST (both come with instant download). And don't forget to check out the self-titled debut out on Morr Music as well!
For more, read In the studio with Rafael Anton Irisarri, plus our Interview with Orcas and of course Headphone Commute review of Orcas.
weareorcas.tumblr.com | morrmusic.com
©
Words by Brian Housman of Stationary Travels