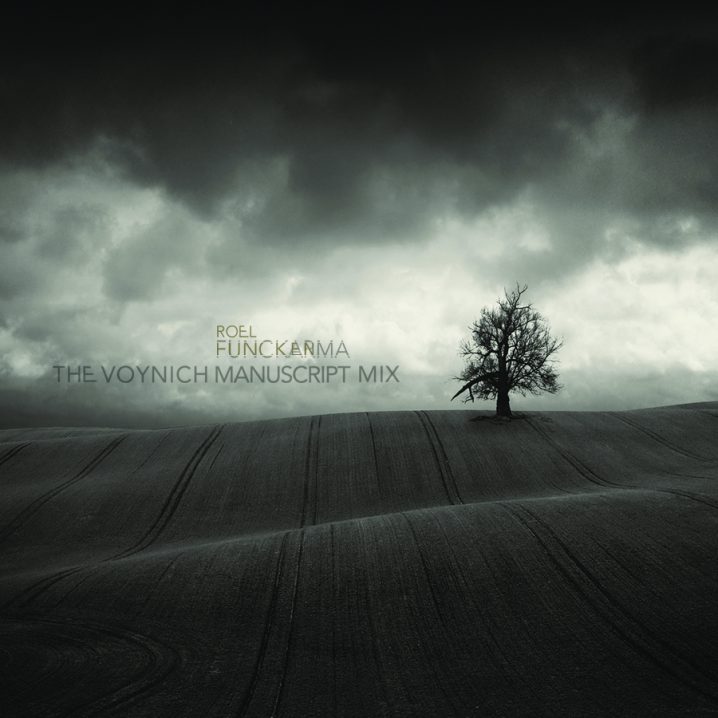 Today I'm honored to present you with Roel Funcken's The Voynich Manuscript Mix, which we will publish in four individual parts, followed by the full, continuous 4:32 hour mix!!! On this amazing journey, Funcken masterfully weaves in his favorite ambient and modern classical pieces with the tracks from The Voynich Manuscript album, an upcoming release on Dronarivm as Legiac. This is a fantastic trip through music, layered with not only skillful selection, but Funcken's expert touch of mixology, blended with a few effects to smooth out your ride. I could honestly go on and on about it, but, as with most cases for these things, the music speaks louder. Enjoy!
Photo by Toni Polkowski. Font by moiCflo.
Check back on this page for the following parts, to be revealed every week, followed by the full tracklisting and mix available for download!
[ part_01 ]

Tracklisting:
Num. Artist – Title – Release
1 Legiac – Conazol Ketamind – The Faex has Decimated
2 Tim Hecker – Black Refraction – Virgins
3 Kane Ikin – The Violent Silence – Sublunar
4 Tim Hecker – Aerial Silver – Mirages
5 Arovane – Lyid Skor 2 – Lyid Skor
6 Legiac – Inzantum Feaner – The Voynich Manuscript
7 ASC – Slow Autumn – Truth Be Told
8 Legiac – Troven Briangular – The Voynich Manuscript
9 Luke Howard – Longplay – Two & One
10 Legiac – Jefre Tropod – The Voynich Manuscript
11 Horizontal Excursions – Garajonay – ASIPV002 – Europe
12 Arovane – Lyid Skor 5 – Lyid Skor
13 Rafael Anton Irisarri – Unsaid – Unsaid_EP
14 Twincities – Dock.Wood – various artists
15 Legiac – The Din Skided – The Voynich Manuscript
16 Nest – Cad Goddeu (Revised) – Retold
17 Ludovico Einaudi – Walk – In a Time Lapse
18 Strië – The Steamer Odin – Struktura
19 Legiac – Occoulg – The Voynich Manuscript
20 Tim Hecker – Rainbow Blood – Harmony in Ultraviolet
21 Arovane & Hior Chronik – Wunderland – In-between
22 Legiac – Vellular Cito – The Voynich Manuscript
23 Hidden Rivers – Sunday's Child – Where Moss Grows
24 Arovane – Quite Music – Eleeve
25 David Wingo – Take Shelter – Take Shelter
26 Legiac – The Voynich Manuscript – The Voynich Manuscript
27 Idlefon – Reminiscence – Intensive Collectivity Known As City
28 Mind over MIDI – Subsolar Point 5 – Subsolar
29 Ólafur Arnalds & Nils Frahm – Four – Loon
30 Western Skies Motel – Homesick – Reflections
31 Sodiufas – Spikes – Soundcloud
32 Purl – Havets Sång – Stillpoint
33 ASC – Deluge Of Thought – Fervent Dream
34 Western Skies Motel – The Quiet Rust – Buried and Resurfaced
35 M. Ostermeier – I Took Out Your Picture – The Rules of Another Small World
36 Islands Of Light – Goerde – Ruebke
37 36 – Stasis Eject – Pulse Dive
38 Jared Smith – Quiet, For a Time – Fjall
39 Legiac – Jefre Tramix – The Faex has Decimated
40 Tim Hecker – Harmony in Blue III – Harmony in Ultraviolet
41 Abul Mogard – Half Light Of Dawn – Circular Forms
42 Deru – Pathologically Bored – 1979
43 Rafael Anton Irisarri – Displacement – A Fragile Geography
44 Legiac – K-type main-sequence – The Voynich Manuscript
45 Islands Of Light – Heimfeld – Ruebke
46 Lawrence English – Forgiving Noir – Wilderness Of Mirrors
47 Luke Howard – Hold Me Through – Two & One
48 Xu – The Man On The Floating Isle – various artists
49 Marsen Jules – skriniya – The Empire Of Silence
50 Shaded Explorer – High Above Water – Between The Blue
51 Nils Frahm – Ode – Solo
52 Autechre – Rettic AC – Chiastic Slide
53 Richard Ginns – Threads Of Light And The Quiet Hum – Until The Morning Comes
54 Legiac – Transcendental Sea – The Voynich Manuscript
55 Parks – When The Last Ferry Left Helsingborg – Europe
56 Steinbrüchel – 04 04 – Parallel Landscapes
57 Benoit Pioulard – That Wounded Weathered – Sonnet
58 Lawrence English – Graceless Hunter – Wilderness Of Mirrors
59 Legiac – Bycam Fosfane – The Voynich Manuscript
60 Siavash Amini – Unreal city – Till human voices wake us
61 Porya Hatami – Firefly – The Garden
62 Legiac – Keplerian Orbit – The Faex has Decimated
63 Pascal Savy – Ghost Echoes – Adrift
64 Western Skies Motel – Distances – Buried and Resurfaced
65 Legiac – Bognitive Cypass – The Voynich Manuscript
66 David Andree + Josh Mason – (in) – Call, Response
67 Legiac – Hannabinoid Cyperemesis – The Faex has Decimated
68 Tim Hecker – Apondalifa – Norberg / Adondalifa, ep
69 Benoît Pioulard – Remind – Noyaux
70 Arash Akbari – All is Gone – Cracked Echoes
71 Clark – Petroleum Tinged – Clark
72 Richard Ginns – Warm Now – Fall, Rise
73 Benoît Pioulard – VI – Stanza
74 Legiac – Sirius of Procyon – The Voynich Manuscript
75 Abul Mogard – Android Manouvres – Abul Mogard
76 Loscil – Phantasmata – touched two
77 Benoit Pioulard – Shut-Ins On Sunday See – Sonnet
78 arovane – lyid skor 11 – lyid skor
79 Deru – Black Beach – Outliers, Vol. I: Iceland
80 tim hecker – kaito – mirages
81 Christopher Bissonnette – Epoch – Pitch, Paper and Foil
82 Hidden Rivers – Flying The Nest – Where Moss Grows
83 ASC – (Event #4) – Imagine the Future
84 Markus Guentner – Baryon (Feat. The Sight Below) – Theia
85 Tim Hecker – Sketch 9 – Dropped Pianos
86 Trdlx – No Hay Banda – Dystopia
87 Steve Hauschildt – Vicinities – Where All is Fled
88 Ludovico Einaudi – Fly – Intouchables
89 Brother Blue – Summoning UFOs – The Wandering II Compilation
90 Kane Ikin – Compression Waves – Sublunar
91 Ard Bit – Brizal – Ellioth
92 Tim Hecker – Live Room – Virgins
93 ASC – If Only for a Minute – Time Heals All
DOWNLOAD : part_01 | part_02 | part_03 | part_04 | ENTIRE MIX