Let's start at the very beginning. Can you tell us how you got involved in composing, and what was your very first piece of gear?
When I was little, in my house there was a room dedicated to music. It was a very suggestive place because it was a kind of glass greenhouse inside the living room. There was an Erard piano from the end of the 19th century, and it was said that Wagner had played on it during his stays in Venice; there was also an upright Petrof, a violin, music sheets and lots of vinyl records. When it was not occupied by my older brothers who were studying at the Conservatory, it was transformed into my playroom: I spent hours playing, or rather pretending to play, composing while listening to music. From there my passion was born and then my mother asked me if I would like to study music and I have never stopped. Composing was part of my training and I don't remember a specific time when I started.
– How many different studio iterations have you been through, and what does your final setup look like right now?
For a very long time, my training was mainly classical and acoustic, so I changed grand pianos a lot and recorded in many historical theaters in search of the perfect acoustics and the perfect piano. Since 2017, however, I have approached the world of restored ancient instruments or uprights and also of contemporaries such as Una Corda. Only very recently have I discovered 70s and 80s synths. So today my personal studio consists of several keyboards, a felt upright Bechstein, a C7 (which is currently in another room) and microphones, audio interface, cables and so on but there is no shortage of pencils, erasers and sheets of music… these form the basis of my notes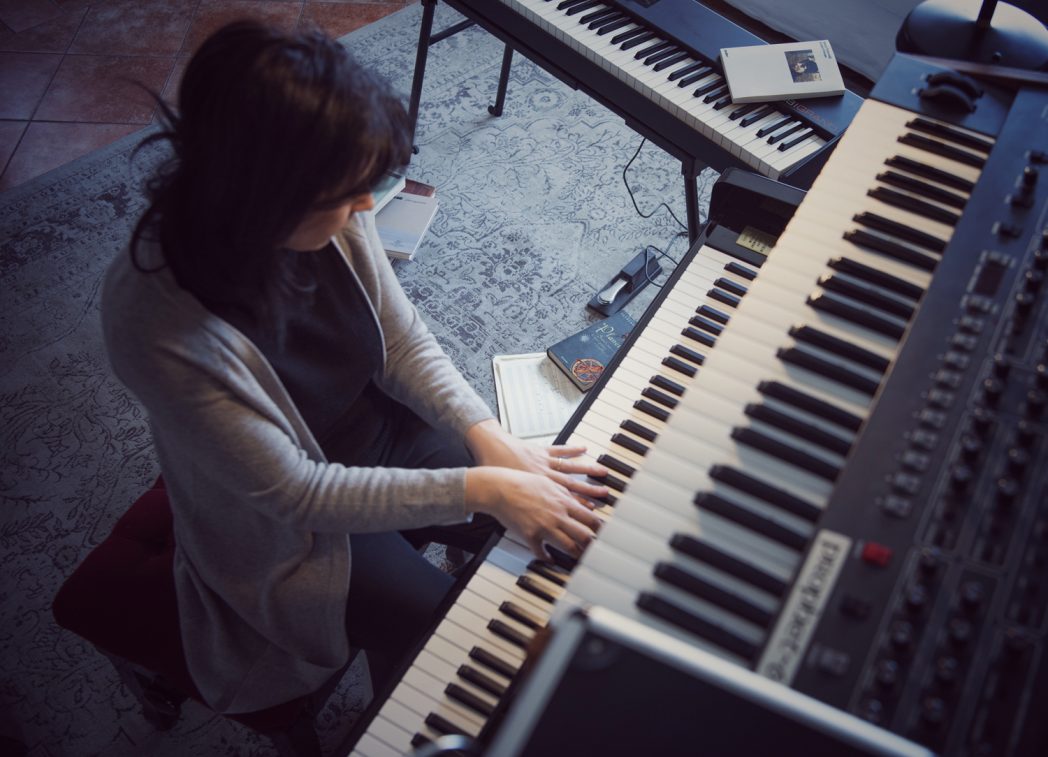 Tell us about your favourite piece of hardware.
It changes constantly, it depends on what I need at a particular moment, what I find in the studio in which I record or what my collaborators offer me. However, I have been using my Logic SL88 for years, made right here near my house, by Fatar of Recanati, and it is indispensable for my creative process.
And what about the software that you use for production?
My first draft is always by hand on the score, then I use Dorico with which I can quickly work out the part. Finally, I play, register it on Cubase through my Logic keyboard and there I can retouch it a lot. When I feel that the song has reached the right form I put it on the microphones and start with the first home recordings. When it comes to making the final recording, I carefully evaluate my needs and from there I choose where, how and with whom.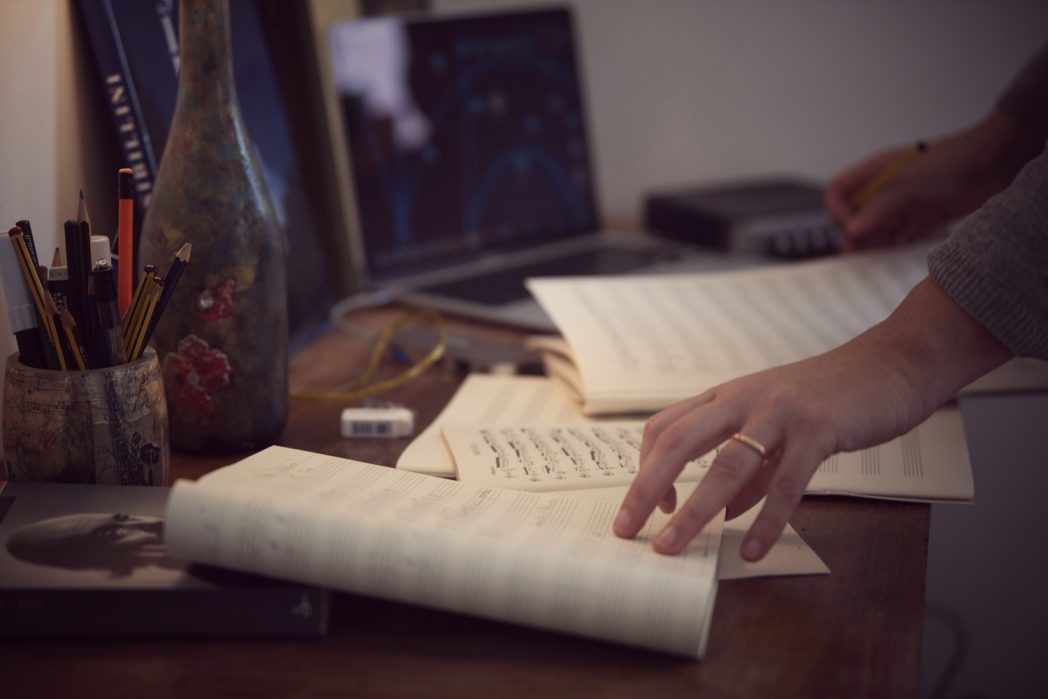 Is there a particular piece of gear that you're just dying to get your hands on and do you think one day you'll have it?
I've always dreamed of having a clavichord: I love the intimacy of its sound and the feeling of being transported to another dimension. I find it very inspiring. Then which pianist doesn't want a Steinway & Sons Model D? I certainly do and I would have many things to modify in the mechanics and in the hammers. Then there are a lot of synths that interest me but I'm lucky enough to collaborate with the "Museo del Synth Marchigiano" where the choice is truly infinite and therefore at the moment I don't feel any other needs. Recently the museum has lent me a Juno 106 and Yamaha CS5 keyboard, which I have in my studio, which I am exploring, and then I'll move on to other wonders, all made in my region.
Can you please share some aspects of sound design in your work?
It all starts with the sound that I can create with my piano in the place chosen for the recording. I spend hours first finding the position of the piano, the right touch, the right tone. Then this sound must be captured with the whole recording system and even here the team spend hours choosing the positioning of the microphones and then, after editing and choosing the best moments, the mixing arrives: infinite possibilities, infinite defeats until reaching a balance that I am satisfied with. Recording is extremely nerve-wracking because it is the constant search for a controlled dream state.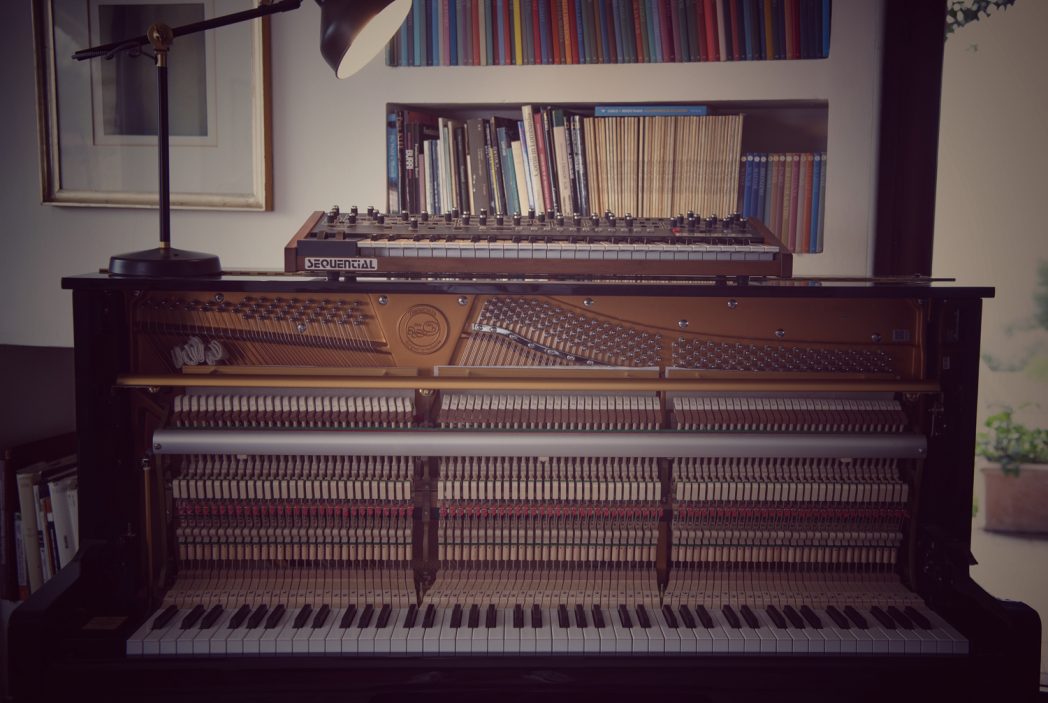 Any particular new techniques that you tried out for your new album?
Perhaps I would say the obsession with continuously looking for recognizable, emotional but modern melodies. I'm not satisfied with one melody, I want entire flows: sometimes I find myself playing 4 voices; or I wrap a simple piano melody in layers with other pre-recorded melodies; my strings sing as protagonists; I don't like it when they just fill.
What does your live setup look like, and what do you bring with you when you travel for an extensive tour?
I still travel very light: my fingers, my computer, my audio interface and my husband who takes care of mixing the sound of the piano and my backing tracks live. Sometimes I can perform with strings.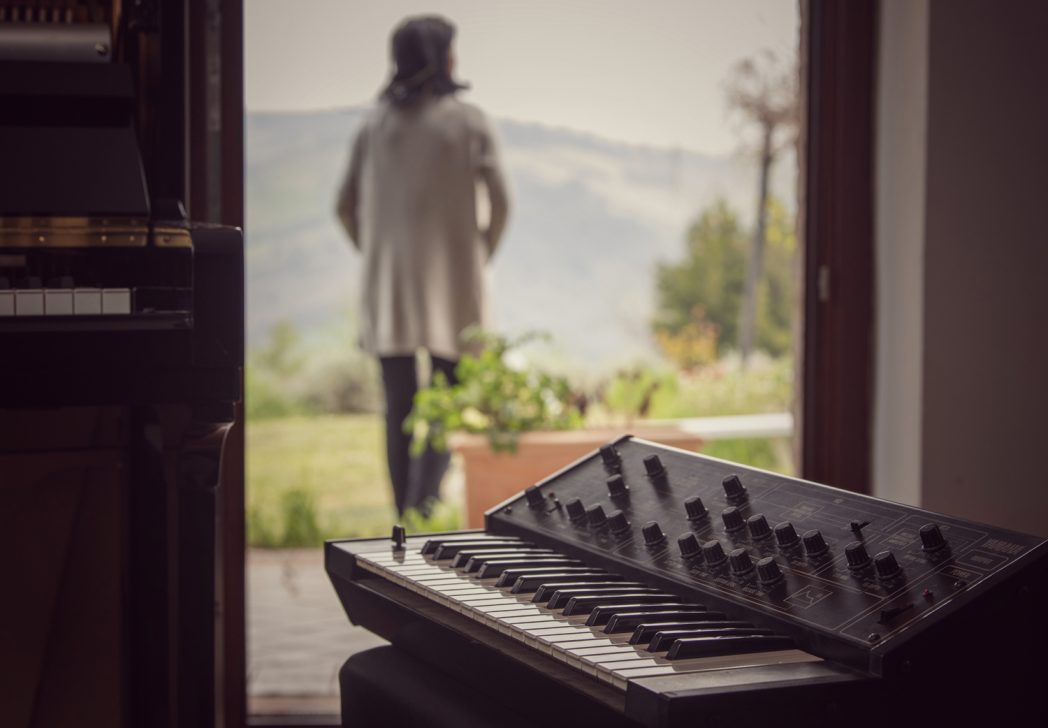 What is the most important environmental aspect of your current workspace and what would be a particular element that you would improve on?
I spend as much time as possible outdoors. Years ago, with my husband, we decided to rebuild a farmhouse in the countryside in central Italy. Here I look after my land, I observe how it grows, how it reacts to climatic conditions, how it changes, how it evolves, listening, breathing it. And all its metamorphoses become symbols that I try to capture and express in sound: nature is also my studio, my "gear".
What can you tell us about your overall process of composition? How are the ideas born, where do they mature, and when do they finally see the light?
Certain ideas can come when and where you least expect them: in the open air, while I'm watching a movie, before falling asleep … and so as not to forget I take notes. But generally I sit at the piano with the desire to improvise, and with something in mind among the many things that inspire me. If something interesting comes out, I take my phone and record it, then I continue to improvise, other recordings on the fly, and so on until I'm tired. In the following days I listen again, I eliminate anything superfluous, what I don't like, and I begin to catalog and transcribe in my notebooks and sheets of music. Sometimes I don't know what I will use these sketches for. Other times, on the other hand, I already know what I will need that note for, especially if I already have in mind the overall picture of an album: I like to think of the album as a single large composition composed of shorter fragments which are the single tracks. I spend a lot of time and work fine-tuning the whole general idea first.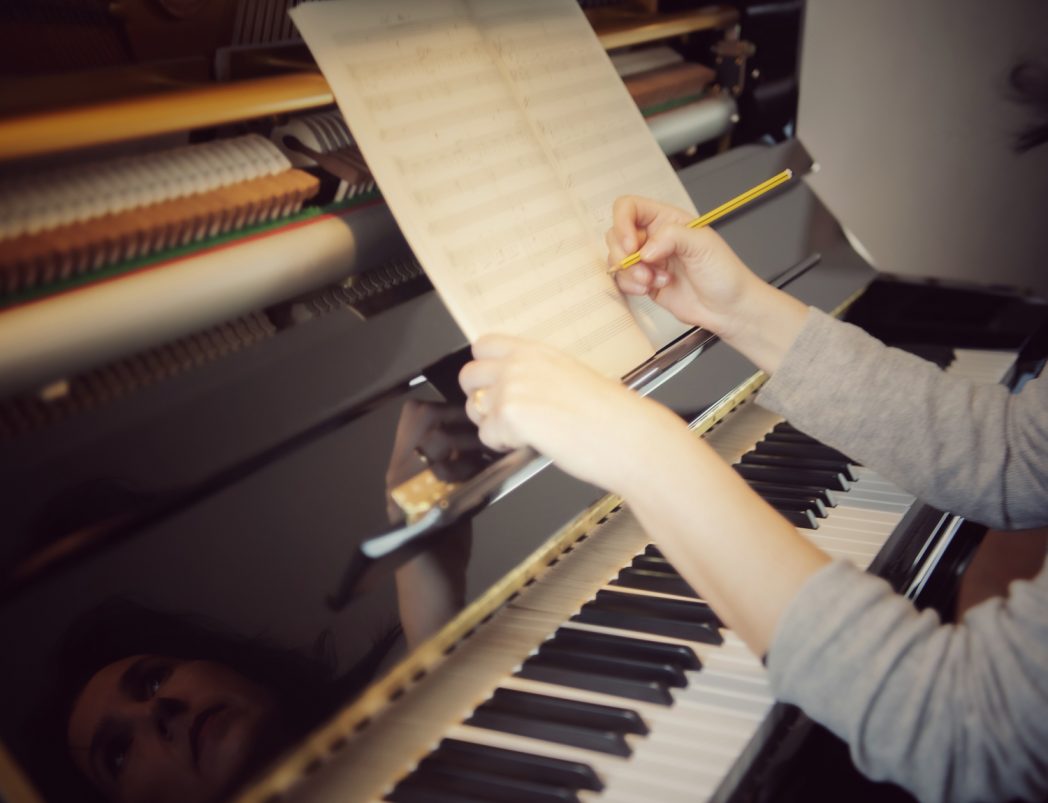 After the piece is complete, how do you listen to the results? What are your reactions to hearing your music in a different context, setting, or on a sound system?
The first listening is with my system and my headphones because this is how I always listen and I have my own parameters. Then I try all the devices I have: cell phone, car, computer speakers, etc. I think it's right to have a good result everywhere because you can't know how your music will be listened to. Of course, I prioritize the quality of important systems, but we are at a time when mobile headphones are also reaching excellent levels. Just think of those made for Dolby Atmos.
Do you ever procrastinate? If so, what do you usually find yourself doing during those times?
No, I struggle. If I decide to procrastinate there must be a profound reason or force majeure. If I don't finish a piece, it makes me nervous and I can't approach anything else. My mind would always be there. Of course, I always take the time to clear my mind and clear my ears of a new piece, deciding if my journey on it has ended, but this is part of the process and not a delay in making decisions.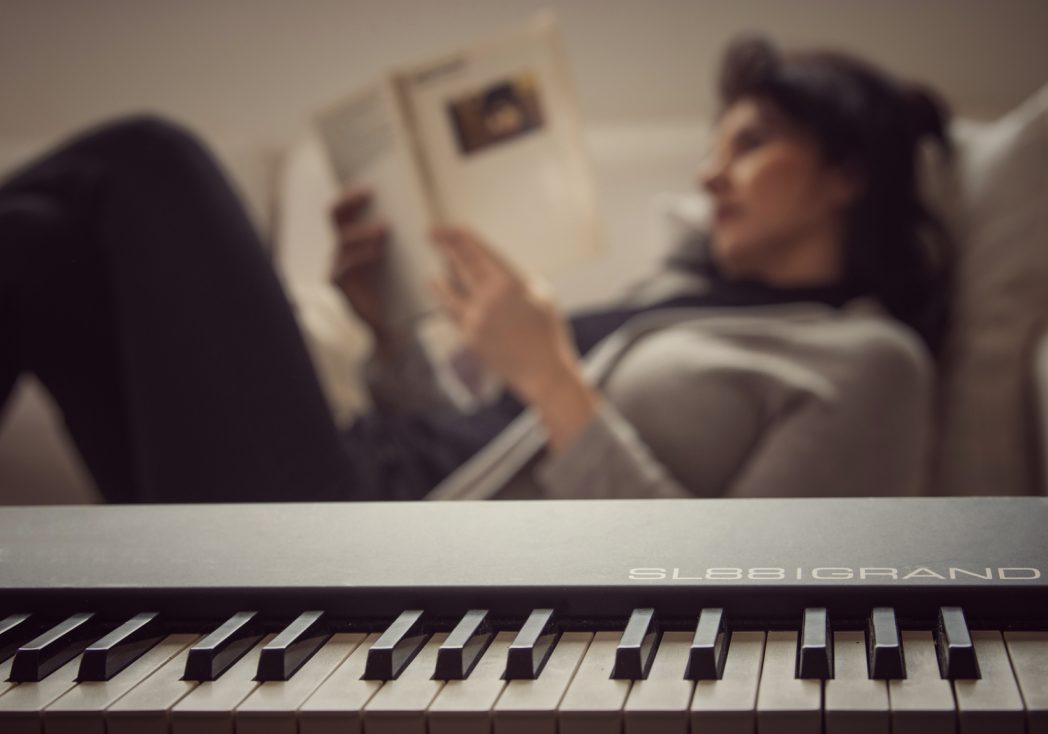 What gets you inspired?
Everything is a source of inspiration: an image, a sound, a perfume, something that I touch or read or taste. A heartfelt phrase, a sensation experienced while walking or reading; a work of art or a landscape. What I seek is to be like an empty vase that I fill by observing and exploring. Then, in the best moments, while I'm at the piano working on a melody or a harmony, a synergy is created, a connection with what I had experienced in other circumstances and when it happens, it's time to go further.
And finally, what are your thoughts on the state of "electronic music" today?
I have always listened to it and it accompanies my readings but it is only recently that I have set myself the task of understanding it fully. A world of infinite possibilities and nuances has opened up to me and I love the fact that there are no longer any borders between musical genres and that electronics can become a voice within a piece of classical form.