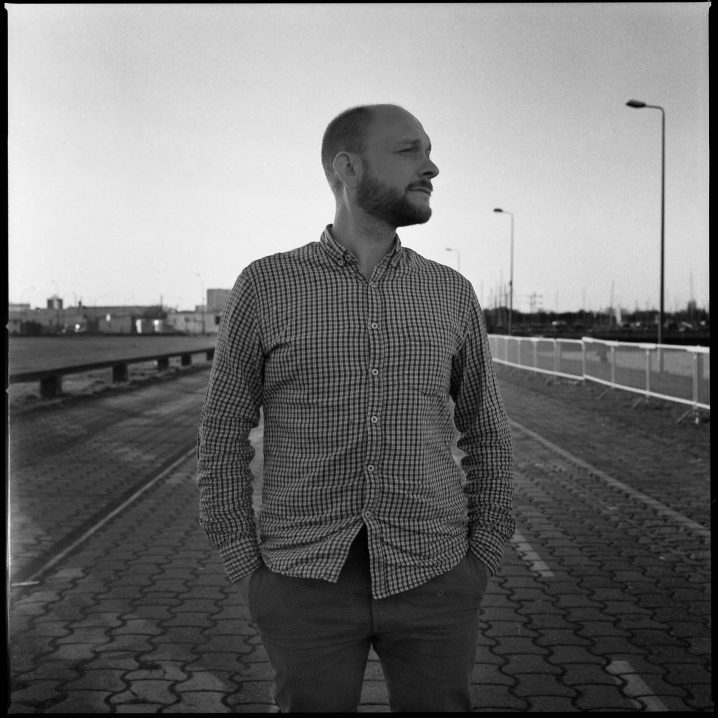 First thing first – how did you begin composing?
I can't remember the first time I started composing. I was this kind of teenager who loved metal and rock band music, so I was playing guitar and piano, composing chords but without having formal music training from a university or conservatory. I can say that I really stared to want to compose instrumental music when I was listening to Arvo Pärt for the first time. It was a shock to my ears, "How could we play so musically without a lot of notes and technical skills?" Before, I was also attracted by the sound, not as a unique note or little piece of music. For electronic music, there was a friend of mine who said to m, "Come on, let's do some music on Ableton Live" and that's how it started. I also made an electronic album with another friend from Bordeaux, but my computer was unfortunately stolen during a burglary… I always compose, even during piano lessons. I constantly analyze the scores that I give to my students and this gives me clues to understand composers and the different styles and manners which they used to compose.
I see different approaches of composition: I love the paper and pen process for instrumental music; the details for the sound design and hours on a sound without thinking of music; I really, really like the Lego approach to construction of electronic music; and the improvisation of jazz.
All of these different ways of composing music are intrinsically linked. When I understand something on one of these points, I try to feed the others with what I've learned. I hope that makes sense.
Who and what are some of your inspirations and influences?
I have a lot of influences and inspirations. But, I don't really listen to a lot of different musicians. I'm a little bit focused on one artist I like, trying to understand how it works etc… I'm a little bit like a watchmaker, trying to understand the different mechanisms of writing. I am also that way when it comes to books… I have almost all of Bukowski's works. For comics, I have almost all of Manu Larcenet… When I love something, I don't count. I want to know. I see myself as a gold digger who finds a place to be and digs a lot to find out what he wants and go further. So it's hard to speak about influences and inspirations. It's all about things I've listened to before, whether I am working with my students or alone, everything I've learned from university and from conservatory on classical, jazz and actual music, it's about nature and city, it's about emotions and intellect. About too many things to reduce to 3 or 4 names…
Tell us about the microphones and the process of recording the piano this close.
I bought my piano recently. I haven't had a piano since I was 28 years old. When the guys put my piano in my flat in the heart of Bordeaux, which is my city, I realized that it was very powerful and could be annoying for my neighbors (working on exercises such as scales, etc). In brief, I used the damper pedal and was really impressed by the sound of the piano. This felty color, like creamy with aleatory sounds and harmonics… I decided to go to my favorite store in Bordeaux and explain to them that I would like to record to my piano very closely. I bought the AKG C414 XLS couple and an Apogee Quartet to record this. It's really hard to record a piano… There's a big scale to take from very low basses to very high harmonics, when you record so closely, there's also lot of problems that I discovered… I would like to buy a Portico Preamp for my microphones but I already went over my budget… I think we are a bit crazy to spend all of this money but when I receive some messages from people who like it and listen to it and take from it emotions, I said in my head that I've won the battle. I don't understand why people continue to listen in mp3 but that's another debate… I don't record in a big studio for the moment but I try to make my best of it give the best quality of sound that I can.
Is there a particular reason why you decided to title all pieces just using roman numerals?
I only used roman numerals because I wasn't looking to give some reading slopes. I mean, when your piece is called "Carnival", you will have some mental images and sounds which will come before listening to the piece. I prefer to let the people imagine their own landscapes or emotions or whatever. This piano album is made of different pieces in the style, there is no story all along, you can listen to it in "random mode".
Do you see yourself composing for a film?
I know that I can create for film and I want to do it. It all depends on subjects, actors etc… I really love when the two perceptions of audio and vision mutually influence each other. The music or sound and synchronicity for film adds value and creates a new way to see and listen. I have a preference for movies which show the real world with humans and their emotional problems, I mean, love, life, etc… These types of works touch me deeply.
What other projects are you currently working on?
I'm currently working with different people on all kinds of music. Electronic, contemporary, pop but you will see this in a few weeks or months. I just would like to say thank you to all the journalists on the web who take their time to write about artists all around the world. Without you, we wouldn't be known and people wouldn't buy or just listen and share our album and give us the possibility to continue doing what we do. You (journalist and listeners) gives us the possibility to imagine that we could live for art, for a better world and it's all that I (we) want.
©
Questions by HC
Photography by David Bross for Noise Chamber