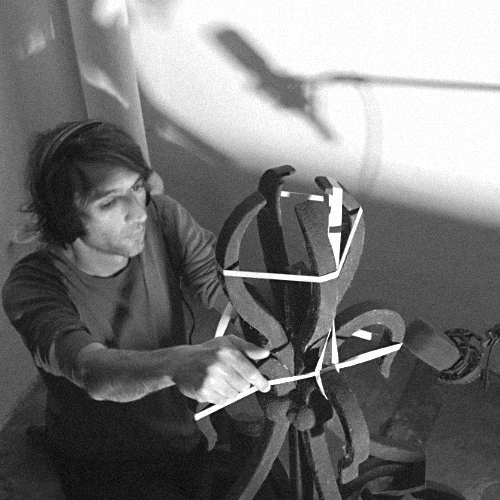 I'd like to start at the very beginning, if that's OK. How did you get into composing music?
Wow, that goes way back. Ever since i was a kid, music and sound could totally absorb me. I'm a musical autodidact, so I never learned to make music properly 😉 But I've always been very curious and hungry music-wise. I started experimenting with an acoustic guitar when I was 10 and the very first day I had my brand new acoustic guitar, I really fainted from excitement (which also broke my brand new guitar the very first day I had it). I've always been very sensitive to sound as well. People that know me, know that I often have difficulties focusing on a conversation, because I'm so distracted by the sounds around me like traffic or animals or whatever environment I'm in. Quiet early I started collecting all these sounds around me with cheap tape recorders. When I later discovered the four-track recorder and realized I could combine these musical elements with my recorded sounds, I was, eh, lost.
What does 'Kaboom Karavan' mean and how did you come up with it?
In music I never listen to the meaning of words, I rather listen to the sound and rhythm. So the name doesn't have a specific meaning to me, but I very much like the sound of the K(a), it appears in many of my song titles (KoliK, KipKap, Karavanserai, ParKa, OmsK…) I also wanted a name that was not too serious and dark. And I have a fascination for caravans.
Tell us about the entire collective. Is it pretty much the same crew, or do you feature rotating musicians?
Well, I don't really consider Kaboom Karavan a collective. It started as and still is mainly a solo project. But there have been quiet some other nice musicians involved over the years. But they were rotating over the years, and depending from the context (studio / live). In the Barra Barra period we played a lot as a trio live, with Stijn Dickel on guitar and amplified objects and Fred Van de Moortel on double bass. They're both very good musicians, who brought a nice energy to the concerts (and you can hear them in some tracks on Barra Barra and on the recent compilation track for Dronarivm). But for now I'm back where I started and I'm playing alone a lot and I really like the intensity of these solo-sets. I very much like the speed of working alone and the fact that there's no need to talk and make compromises. But I also like some interaction from time to time, so I'm quiet sure I'll work with guests again in the studio and live at a certain point.
Can you reveal some of the most interesting instruments and found sounds used in your production?
That's a difficult one. I've got such a huge collection here in my cellar with all kinds of found or self-made noisemakers. But I totally love the physicality and the cartoonesque sound of a Daxophone, I made a rework of it myself recently. And the very deep bass sounds in Barra Barra come from a really huge 'bassdrum' I once found. It turned out to be an enclosure to protect a big military radar, but its construction (a huge resonance box with a stretched membrane) is exactly what a bassdrum is. But because of its giant size, the sound is one of the lowest, deepest I've ever heard. And except for the playing children, 'En Avant !' is entirely made by rubbing my fingers over a (cassette) tape.
What theater productions have you been involved with lately?
Last year my main priorities were finishing Hokus Fokus and preparing/playing Kaboom solo live sets. Besides that I did some work for film/installation, so unfortunately there wasn't much time left for theater productions. But some months ago did a nice collaboration with Cie Soit (of the great Belgian director Hans van den Broeck). We did a hybrid of theatre/installation/music/film in an old warehouse in Brussels, together with his companion and crazy drumster Karen Willems and Stijn Dickel on guitar and amplified objects. But for the near future I'd like to work more on theatre projects again, so good theatre directors who read this : I'm open for all good suggestions 😉
And what about your thoughts for composing a film score?
In terms of collaboration, composing for film is definitely my favorite. Images are very important sources of inspiration for me. Last year I scored "Yuri ( and the frustration of our ponies)", a too unknown but very good film of Belgian director Liesbeth Marit. The mesmerizing images were so thankful to work with and inspired me to make 'Kolik' and 'Lovzar' . But this is an exception because in general my approach to composing for film is quiet different from what I do with Kaboom Karavan. And that's exactly what's was so educational and challenging about it. When working for film I'm a servant of the director's universe : that means that I adapt my whole role, my way of working, my instrumentation etc. to the needs of that specific universe. And it's that universe that tells you what to do, and especially what not to do. Because restriction is definitely the key in composing for film : I'd try to be much more sparse and precise in my instrumentation and more minimal in arranging. While when I work for Kaboom I have the tendency to use many different sound sources and very layered arrangements. When scoring a film a want to look for a maximum enhancement of the image with a minimum of means.
If your life was a movie, and your music its soundtrack, what would be the main character's story?
Ha, I'll tell you a true story that happened to me lately. (And according to Erik Skodvin that story is 'perfectly fitting the whole kaboom world'.) I live in an isolated rural area. One day I was going for a nature walk with my girlfriend. At a certain point we were walking a very long and very very small path. On the entire left side of the path there was a river (with a big 'sluice' [a gate in the water channel] a bit further), on the right side there was a field with big black horses. When we walked the path about halfway an extremely big and aggressive horse came up to us (we were only separated by a very thin and low rope). With each small movement we did, the horse became more and more aggressive and really attacked us. We tried to stand still, hand in hand, shaking from anxiety, but the horse got even wilder. The only way out was jumping into the big cold river to the left of us. Which we did (with the risk of ending up in the sluice and dying an adventurous but painful death). To cut a long story short : we survived. (by the way, the day later that same horse attacked another person and really bit off that person's breast.) Anyhow, I have to agree with Erik : f.e 'Kartoon Kannibal' would have been the perfect soundtrack to our journey 😉
Can you tell us about the cover art of Hokus Fokus?
Oh yes, it's a painting from Tatjana Gerhard, I'm a huge fan of her work, cause it's such a unique mixture of bizarre/odd versus dark, concrete versus abstract, but there's also a lot of humor in her work. And all this is exactly what I had in mind music wise. I found this painting in the very beginning I started working on the album, so that little creature with its cape has been looking over my shoulder the whole time while making Hokus Fokus.
What are you working on right now?
Right now I'm working on a special audiovisual liveset for Mind TheGap Nights, a very nice concert series organised by International Film Festival of Rotterdam and the great magazine Gonzo Circus. For this occasion I'm working together again with director Liesbeth Marit who made some really nice videowork. Also Stephan Matthieu, Keith Rowe, Circle a.o will play there, so looking forward to that. And I also just started preparing a secret project for WMFU Radio. I'll make a cover for the very first time, of a quiet famous popsong from the eighties. And I've got a really nice singer with the perfect voice for that, but it's all still a bit of a secret.
Read Headphone Commute review of Hokus Fokus
©
Interview by HC