"… a powerful and stunningly executed long-form work that continues to explore ideas of displaced sound…"
Release Notes
Label: 130701
Release: Emanate
Date: May 15, 2020
Yair Elazar Glotman is a force to be reckoned with. I called it back in 2014 when he released his debut album on Glacial Movements, titled Northern Gulfs, and, after also hearing of his name as a member of Ketev, I featured it as one of Headphone Commute's Best of the Year release. My convictions went on as I watched him migrate over to Subtext with his 2015 Études, and then when I've witnessed his live performance at Berlin's Atonal as part of his Blessed Initiative act. At last, I was not here alone, and the one and only Jóhann Jóhannsson co-composed a score for Last And First Men (Deutsche Gramophon, 2020) along with the same Glotman, who shared the credits. Similarly, Mats Erlandsson is not a new name to my ears. In 2016 I spotted him on Posh Isolation, and a year later, he collaborated with Glotman on Negative Chambers for Miasmah, which also has peaked on my daily rotations. Today I'm honoured to exclusively premiere a track named "Procession" taken from an upcoming album by this powerful duo, titled Emanate, their second collaborative release, this time on FatCat's 130701 imprint. For their latest, Glotman and Erlandsson arranged an ensemble of brass, strings, and synths to record in a single take their long-form sprawling amalgamation of electronic and acoustic for the study of "displaced sound." Here textures blend, mould, and flow, like a hot molten alloy filling into the crevices of your old fractured frame. Let's join this procession.
The press release for the upcoming Emanate so eloquently puts forth the intention behind this music, that I feel compelled to quote it here, in its near entirety:
"In our oversaturated digital age where omnipresent media connectivity enables instant gratification and a continuous flood of competing interests, we're frequently lead to making snap judgments as we multitask through a mass of incoming information – continually scanning and skipping over surfaces. Technological advances were supposed to free up creative thinking, but this flood has instead lead to an erosion of our creativity and attention. In many ways, the idea of long-form music is unsuited to and out of phase with these times. And yet, there is recent evidence of a reaction against this – witness the rise of the practice of mindfulness and the cultural elements of a 'slow living' movement; the huge success of Max Richter's marathon 'Sleep' project; and the emergence of an expansive musical niche that draws from drone, electroacoustic and classical traditions and prioritizes a more immersive, durational sound worlds – see artists like Kali Malone, Ellen Arkbro, Clarice Jensen, Abul Mogard, William Basinski, Claire M Singer, and labels like Longform Editions and XKatedral. The music here is intended to function not as an ambient backdrop to other activities but as a deep listening, intensive immersion."
"Aligned with these approaches, as opposed to New Age ambiance or the endless soporific, 'chilled' music playlists, Glotman & Erlandsson's work is suffused with a chromatic density and a tendency towards an edgy darkness that puts it closer to Hildur Guðnadóttir's 'Chernobyl' score or Jóhannsson's 'The Miner's Hymns.' It shares that same brassy, bass heavyweight and glowering, simmering sense of tension as well as a similar, sliding feeling of instability – a regular sense that it's slipping inexorably elsewhere. Its authors cite the influence of Renaissance vocal polyphony; Giacinto Scelsi's 'Pranam II'; György Ligeti's 1967 piece 'Lontano' (heard on the soundtrack to Kubrick's 'The Shining' and Scorcese's 'Shutter Island'); as well as American composer Ingram Marshall, and Iceland's Valgier Sigurdsson. Gorgeously recorded, beautifully focused, and measured throughout, 'Emanate' is a texturally rich, deep spectrum exploration that flows and unfolds almost seamlessly throughout its fifty-minute span to create an energy field that feels simultaneously static and yet continually shifting."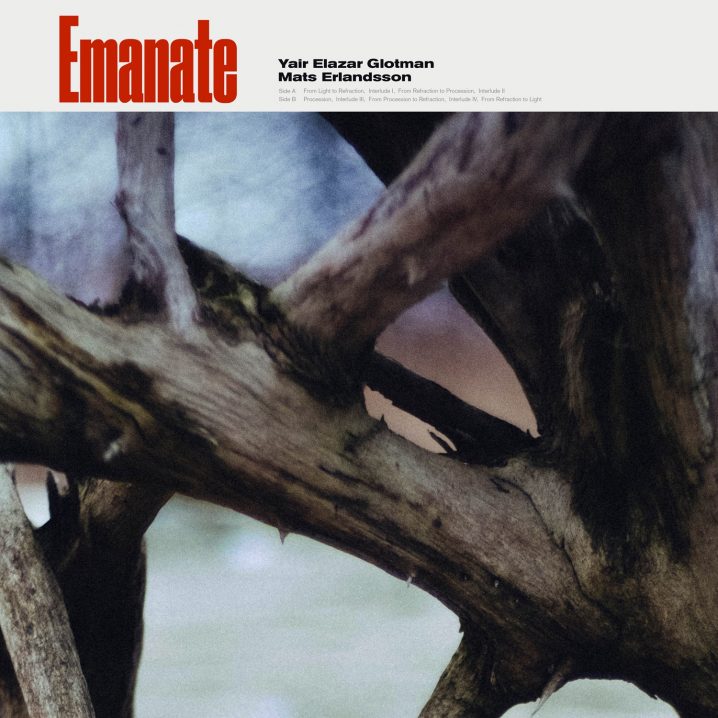 Once again, the album is out on May 15th, 2020. Pre-order directly from the label or on this Bandcamp page. Another amazing win for 130701!