Frédéric D. Oberland
Labyrinth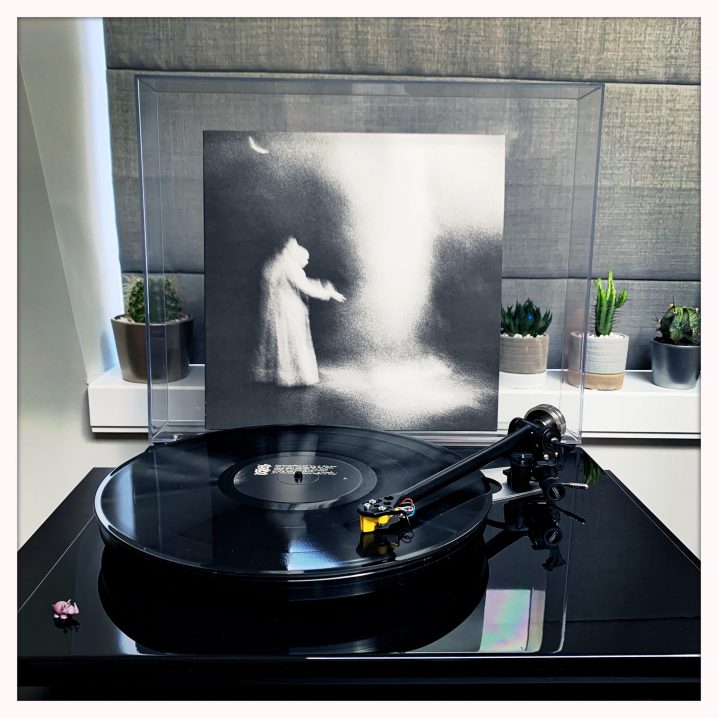 Staying true to my self-assigned task of playing a record per day [and writing about it in the process], I reach out towards my shelves and pull out a vinyl by Frédéric D. Oberland. This release is from October of 2018, pressed by Oberland's very own NAHAL Recordings. I have previously premiered the last piece from the six-track album, titled "E Quindi Uscimmo A Riveder Le Stelle," but I didn't get a chance to talk about the record as a whole. Very fitting for these interesting times, the music is dark, scratchy, and dynamically intense. Mastered by James Plotkin, the sounds are noisy, distorted, and bleak, traversing the claustrophobic passages that lead to a dead-end, forcing you to trace your steps back to another dim avenue. The recordings on Labyrinth comprise of a condensed version of a sound and visual installation created in the basement of the contemporary art space Labanque in Béthune, "inviting us to bear witness to the loss of landmarks and to feel the immersive sense of trance […] In a continuous game of call and response between the intimate and the vast, 'Labyrinth' plays with the dynamics, the silence, and the musical genres, kneading and pulling the form and structure of the tracks in ever-changing attempts towards transfiguring the chaos." Combined with the drumming by Jules Wysocki, the record falls into the open gaps of space between ambient drone, acousmatic post-rock, and electronic experimentation. The limited 12″ itself includes a beautiful silkscreen print of a menacing photograph (see my photo above). Fans of post-apocalyptic expansion and self-destructing inner void, from the likes of Godspeed You! Black Emperor, Saåad, Mondkopf, and of course, Oberland's other project with Gareth Davis et al., Oiseaux-Tempête, should grab this one before it completely sells out.
Deaf Center / Svarte Greiner
Owl Splinters / Twin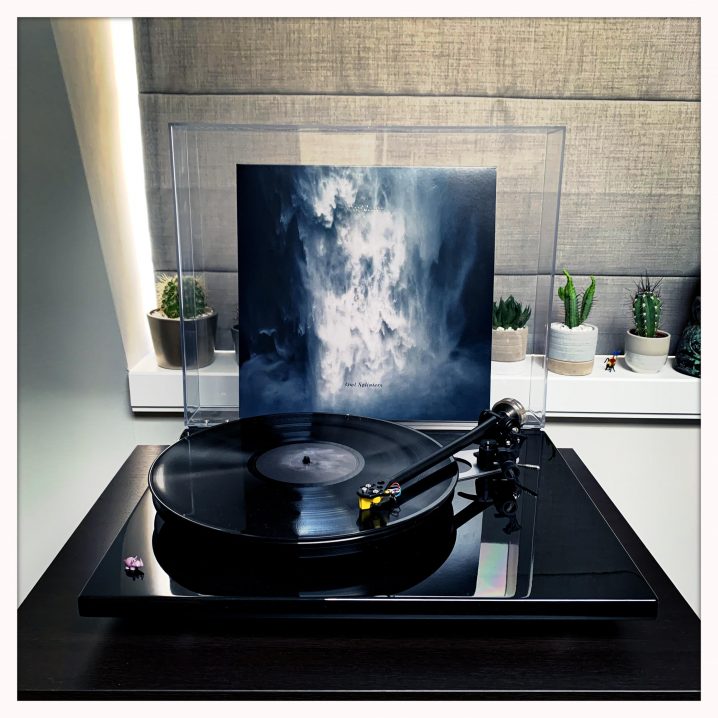 Here's another beautiful limited edition 2×12″ from Miasmah. Well, actually it's two separate records in a single package, compiling Owl Splinters by Deaf Center (originally released on John Twells' Type's imprint in 2011), and Twin by Svarte Greiner (originally appearing in the form of an accompaniment CD, and digital-only release on Miasmah), as a "limping twin brother" of Owl Splinters. To refresh your memory, Deaf Center is the Norwegian duo of Otto A. Totland and Erik K. Skodvin, the latter also recording as Svarte Greiner. I had already given high praise for Owl Splinters, back when it came out in 2011, and called the duo's music as the defining sound of cinematic dark ambient, haunting modern classical and eerie nostalgia for daydreams and false memories. "Like a dusty photograph found in a cardboard box of a small antique shop, it tells a story of the distant memory, left unattended to awake." In this re-issue, Twin is a perfect accompaniment, since it was sliced together by Skodvin from the original unused recordings of its parent album, Owl Splinters. Recorded in Nils Frahm's Durton studio, but since remastered by LUPO, and repackaged in an embossed gatefold with new cover photography by cinematographer Joshua Zucker-Pluda, the 40-minute re-interpretation of the Owl Splinters is an eerie, long-form, electro-acoustic drone, full of scratchy strings, sub-sonic bass, and cinematic atmospheres. The layers of sounds, from cello to voice, move in and around, in stereo field and dynamics, until this entire textural meditation takes on a delirious form, and music emerges within and without. A worthy revisit among all your favorites, especially if you are like me, in love with Deaf Center.
Morton Subotnick
Silver Apples of the Moon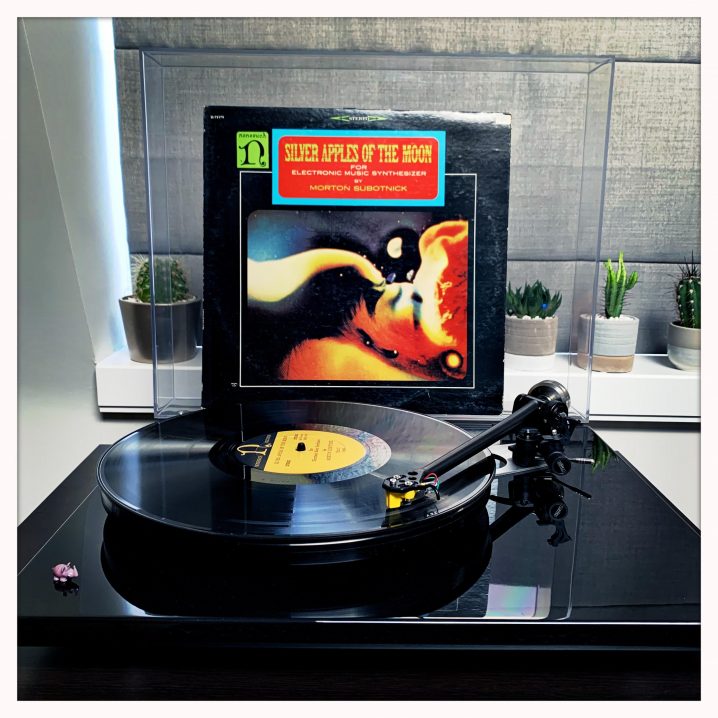 One of the cool things about this "one record per day" project [well, at least I think it's cool] is that I'm listening to not only some of my earlier obtained records but also some of the very old records and early music, like this mother of all electronic albums, Silver Apples of the Moon by the one and only Morton Subotnick, released on Nonesuch in 1967! This was the first album to feature a voltage-based synthesizer, namely the Buchla 100, for which Subotnick specifically wrote his 'score' to be released in an album format. The semi-random sequences that trigger the envelopes and frequencies of the oscillator sound alien and other-worldly, and in some places even rival the sounds of Autechre, as this original analog modular synthesizer commissioned specifically for this American composer [and Ramon Sender], speaks to the audience for the first time. This is not a recording produced in the bedroom studio – "recorded over a 13-month deadline, Subotnick would spend up to ten hours a day working on the composition, hoping to create sounds that other musicians would find hard to recreate." The release is titled after the final lines from Yeats' poem "The Song of Wandering Aengus," and the composition process behind it is as interesting as it is intriguing. The liner notes of the vinyl explain: "The system generates sound and time configurations, which are predetermined by the composer through a series of patches consisting of interconnecting various voltage-controlled devices. It is possible to produce a specific predetermined sound event… and it is also possible to produce sound events that are predetermined only in generalities… this means that one can 'tell' the machine what kind of event you want without deciding on the specific details of the event… and listen… and then make final decisions as to the details of the musical gesture." An absolute must in any electronic music connoisseur's library.