One of the things I'm doing during these times is assigning myself the task of listening to at least one vinyl record per day. From beginning to end. No distractions or digital interruptions. In the process, I'm also exploring the liner art and the many hidden secrets in the sleeve. The fun part about this is that I just reach into my collection and pick up the first thing that catches the eye, which essentially forces me to re-listen to some of my favorites from the distant past. OK, perhaps my current mood also has something to do with the selection. Oh, I haven't heard this one in a while, I think, and then the needle slowly lowers. Since I'm already going through this self-assigned project, I figured I might as well jot down some words. Perhaps they'll trigger you to listen. I've already covered a favorite of mine by Nautilis, so here are three more that I've spun in this manner. One more thing I'm doing for this feature is taking photos of the actual record playing. I think it's more fun that way, don't you?
Marcus Fjellström
Epilogue -M-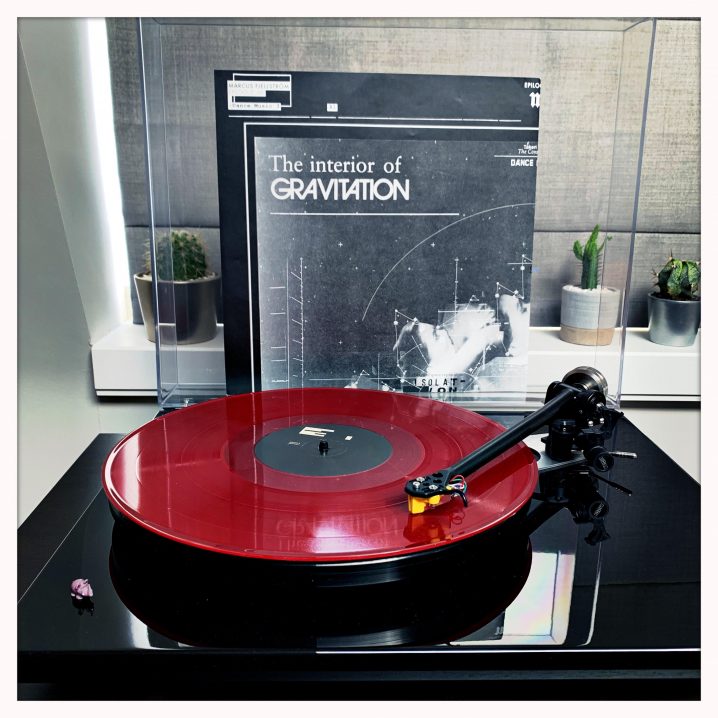 The first vinyl I pull out is by Marcus Fjellström, which I had previously covered in 2013. Let's give it another spin, shall we? This record is a bit difficult to play, because I miss my dear friend, Marcus, very much! At least he doesn't have to worry about all of this insanity right now – if that's a consolation. [Sigh!] Every time that I play Epilogue -M-, I can't help but flashback to that Sunday night in Berlin when in a warm and cozy space that was occupied by Erik K. Skodvin and Monique Recknagel, I first witnessed a live audio/visual performance by Marcus Fjellström himself. During the night, Fjellström manipulated a series of sounds into the beautiful and haunting soundtrack for the story, gradually unfolding on the screen. From my recollection, the music of that night and the one on this EP is very similar in tone; and if I close my eyes, I'm back inside that hazy dream again. The spooky textures create suspenseful atmospheres, paired with the eerie lo-fi ghostly shuffling, creaking background field recordings, and uneasy rhythms. The six pieces are described as "claustrophobic sounds in interstellar beauty," examining the "sinister parallel universe of oppressive and frightening sounds with particularly harrowing and tense undertones." But don't be terrified to explore Fjellström's unique sound. Although you may want to leave the lights on, there's an inner beauty in the construction of the "cold thin space" explored within. The release was the first entry in the Aagoo Records / Rev Laboratories series, which combines print media with sound (they're now up to 9 releases). The visual part of the EP was designed by graphic artist Bas Mantel, who has interpreted the compositions into the "graphic interstellar maps," which have been used for album artwork and two double-sided 24-inch posters that come with the beautiful red vinyl.
Actress x LCO
LAGEOS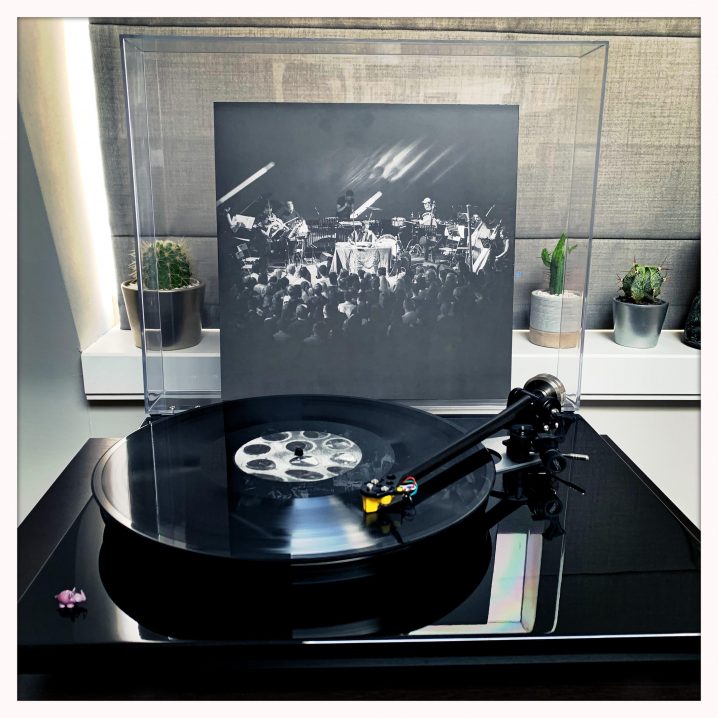 Next on my rotation is a record by Actress and London Contemporary Orchestra courtesy of Ninja Tune. Didn't I cover this as well? I look through my archive and realize that LAGEOS actually came out in May of 2018 and subsequently appeared on my Best Of The Year list in Music For Sonic Installations In The Cavern Of Your Skull, but, jeez, has it been two years already? This 2×12″ gatefold features some closeup photography of sheet music, the individual players, and Darren Cunningham himself on stage with the LCO. The black vinyl is covered with a layer of grime, hum, and noise, eventually fading out on A1 into silence. The captured acoustics are very raw, and you can hear the triggered drum machine echoing in the hall of the Angel Studios, along with the abstract arrangement of strings, piano, harp, and a clarinet. Cunningham shares the composition credits with the members of the LCO, as well as with its co-artistic director, Hugh Brunt. This is a very experimental and lo-fi record that fits somewhere between the neo-classical and abstract techno genres, with both, although appearing to be on opposite ends of the spectrum, co-existing in a cohesive, nearly brutalist space. And that's not a coincidence. Following in the footsteps of Iannis Xenakis (a Greek composer and architect who would create buildings to fit his scores), the members of this project took architectural layouts of the Barbican and created sounds directly inspired by its shapes. "What I wanted to do was use the interior and exterior of the Barbican and the surrounding area and pick out all the shapes […] For me the environment is important, and the landscapes are important, so it seems wrong not to use these really cool shapes and feature that in the music." Put on your listening ears to peel this one apart!
Rrose
Having Never Written a Note for Percussion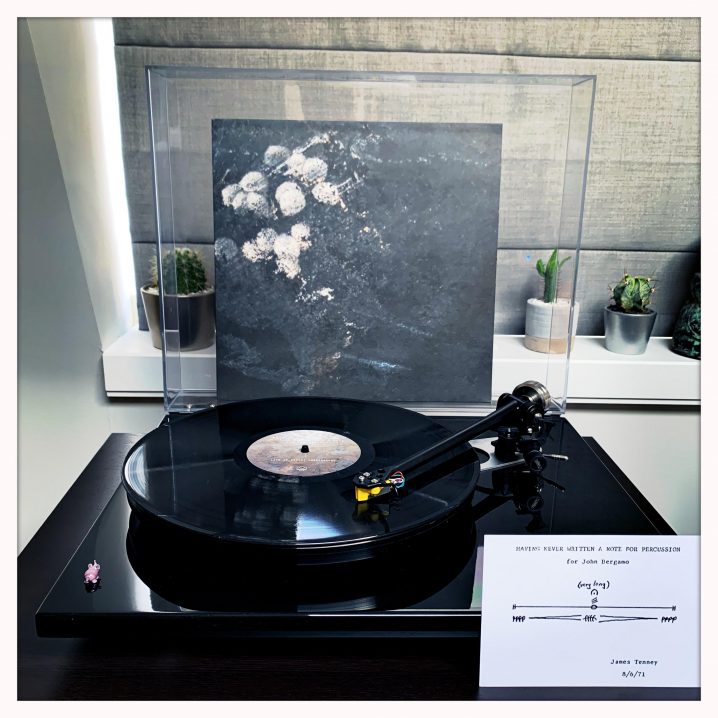 If you're a fan of minimalism and drone, well, it doesn't get any more drony than this. Now that Rrose has revealed her identity to be that of Seth Horvitz (a secret which I closely guarded since the 2011 EPs on Sandwell District, followed by releases on Eaux and, of course, Stroboscopic Artefacts), we can carefully examine the sonic composition and attention to detail in all of these works. Horvitz is no stranger to acoustic and microsound manipulations – just take a listen to his Eight Studies For Automatic Piano released on Line in 2011. Pair that with his experimentations as Sutekh (check out On Bach from 2010), and all of a sudden, the acousmatic sensations derived from his techno connect all the dots. On Having Never Written a Note for Percussion rrose pays tribute to the original composition by James Tenney from 1971. "The score, handwritten on a single postcard, instructs a performer to play an unspecified percussion instrument continuously and gradually from its quietest point to its loudest point, hold for a very long time, then return gradually to its quietest point." The two sides on the 12″ contain two different versions of the piece – one recorded in the Brooklyn Artspace Studio, and the other at Dupont Underground, the unused train tunnels beneath Dupont Circle in downtown Washington D.C. Both were performed live on a 32-inch gong played by two mallets, showcasing not just the intense concentration on the dynamics of this percussive instrument, but also the acoustic response of the space in which it resonates. Careful with your speaker and ears, my friends, especially if you intend to turn this up to eleven, to hear all of the little sounds [including the cars driving by and some mischievous footsteps] and transport yourself into this remarkable time and place. Excellent vinyl mastering Rashad Becker for those low, deep, and full rumbles!