Squarepusher
Big Loada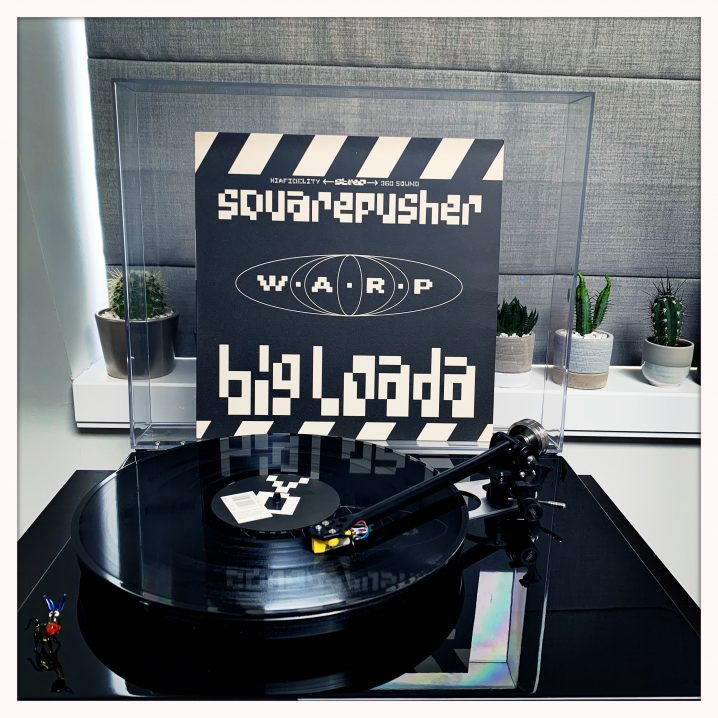 Tom Jenkinson may just have released his 15th album [by my counts!] as Squarepusher, but in 1997, while he was residing in his flat on Albion Road in Stoke Newington, he was "having dreams about the end of the world, alien invasions and catastrophic events almost every night. It was a strange time, quite literally nightmarish." The experimentation with breaks, drill'n'bass, and computer sound fed right into an 8-bit influenced mayhem on some of the Big Loada pieces, which, although only at seven tracks in length, is a vast sonic wonder within a small vinyl package. One of the key tracks on the record is "Come on My Selector," which was subsequently turned into a music video by director Chris Cunningham and even played on MTV [in Europe]. The 30-minute EP released by Warp in the UK is nicely complemented by its US cousin appearing on Nothing Records, with a rearranged track listing and additional five tracks [borrowed from Port Rhombus and Vic Acid EPs], clocking to almost an hour in length. In 1998, Nothing included a track from Big Loada, titled "Tequila Fish" on its sampler compilation, Nothing Changes, alongside Autechre, Plaid, Plug, Meat Beat Manifesto, and The Bowling Green, and attached the CD in its colorful cardboard sleeve to one of the issues of XLR8R magazine! I loved that CD so much, that when my copy got scratched up from being played so much, I had to find another one on eBay [I still have both]. In 1998 this compilation alone had opened up a whole new world of electronic music for me and my endless love for Warp. Now, 23 years later, I'm still listening to and appreciating this music, and I'm sure that it will age well for another decade or two. Highly recommended listening for followers and fans of electronic music history.
Telefon Tel Aviv
Fahrenheit Fair Enough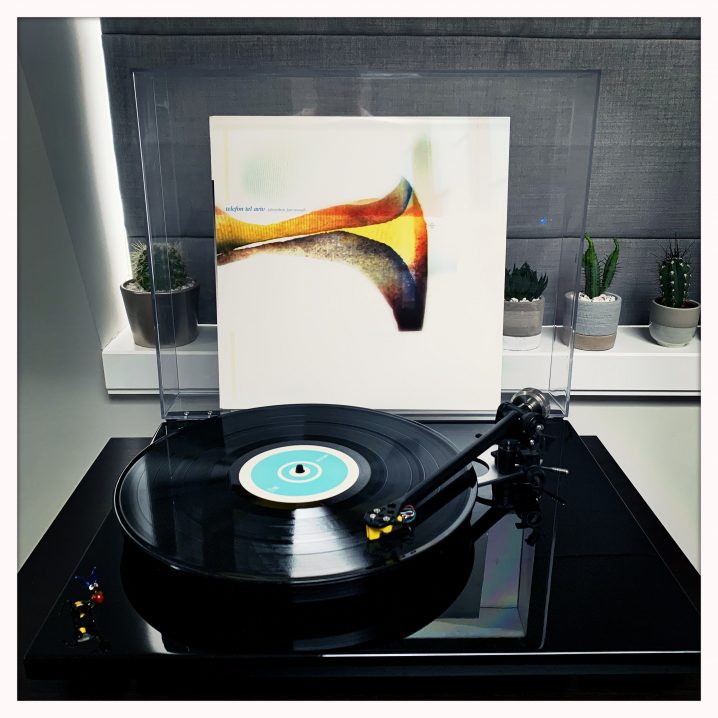 I've listened to this record so many times I almost can't believe that I've never covered it. On the other hand, it makes sense, since Fahrenheit Fair Enough was released by Hefty Records in September of 2001, only nine days after 9/11, and I didn't start to write about music until I moved to Chicago [and where I've finally met TTA in person]. But that fall, I would leave my apartment in Hoboken, put on the lightly glitched-out melodies by Telefon Tel Aviv, and walk to the tug-boat that would ferry me over across the Hudson to downtown Manhattan, still wrapped up in stench and in smog that is still in my mind, implanted forever. This was indeed my headphone commute even than, as it remains nearly twenty years later. I know every tune here by heart, every slightly re-triggered chopped snare, every chord, every bass drop. "The music features delicate Rhodes and guitar instrumentation wrapped in a southern bounce shell, smothered in R&B, and cut up by digital rhythm programming. The tracks were meant to be 'constantly, evolving sculptures.' Fascinated by IDM, the pair sought to inject 'some swagger into it, loosen it up a little but also make it hyper-romantic.'" I've never fallen in love with one album so much. There was something particularly pleasant about this melodic IDM. Of course, through the years, and the many events, not the least of which was the devastating passing of Charlie Cooper, leaving Joshua Eustis to move on alone, the music of Fahrenheit Fair Enough has changed in its themes, in its moods, and the memories which it carried too well. In December of 2016, on the 15th anniversary of the release, Ghostly International [finally!] repressed the album on a sky-colored vinyl. The digital release also included eight bonus tracks of archived material from '99. An absolute timeless classic that continues to resonate through the years.
Aldo Ciccolini
Erik Satie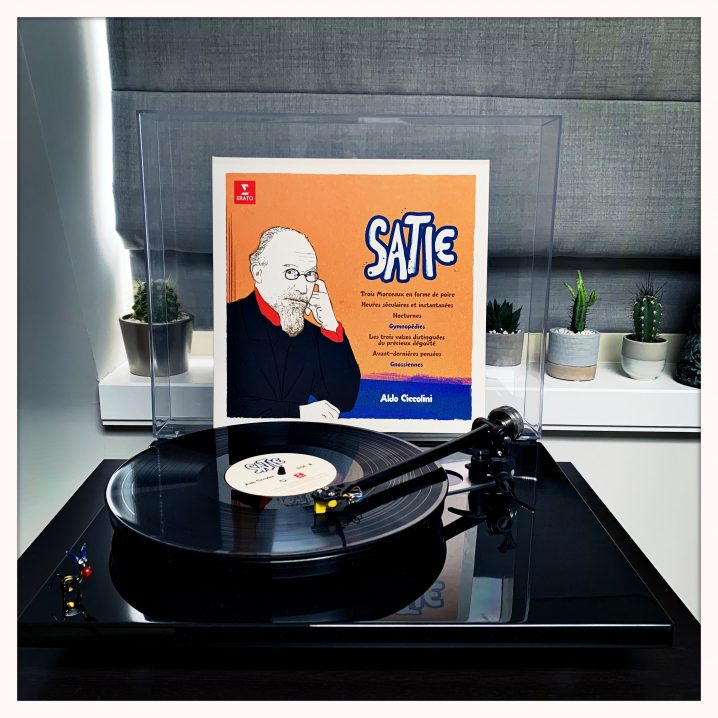 Originally recorded in Paris at La Maison de la Mutualité, and released in 1956 by Columbia, this 180g recording gets remastered and repressed on a limited edition of 1,000 copies for a 2016 Record Day exclusive by the French Erato label. The LP consists of Erik Satie's Trois Nocturnes, Trois Gymnopédies, Trois Gnossiennes, and many other short pieces from his repertoire, performed by Aldo Ciccolini on a Steinway, who is known as "a champion of Erik Satie." In his lifetime, Ciccolini made more than a hundred recordings, including complete sonatas of Mozart and Beethoven, complete solo piano work of Debussy, and complete piano works of Satie (two separate times). So it's safe to say that we're in good hands on this album. Satie, of course, was one of the most influential composers and pianists of the late 19th and early 20th century in the Parisian avant-garde scene. And today's modern classical composers (myself included) still revere in his approach to piano minimalism. Gymnopédies on their own are the three standout famous compositions, using deliberate dissonances against the harmony, weaving a melancholy, douloureux, and instantly recognizable themes. The three Gnossiennes are similarly beautiful, which may be familiar to you from their cover by Vanessa Wagner and Murcof. It's fair to say that many of today's contemporary artists (including electronic, experimental and ambient genres) are inspired by music composed by classical composers such as Frédéric Chopin, Maurice Ravel, Claude Debussy and of course Erik Satie. This particular record is a perfect introduction to his most celebrated compositions if by chance you are new to his works. "Our pieces are guaranteed free of fifths and octaves. Little instrument maker. The firm takes care of harmonic repairs. The firm's composers use only old harmonies well-tried by long use. Conforming to today's tastes."