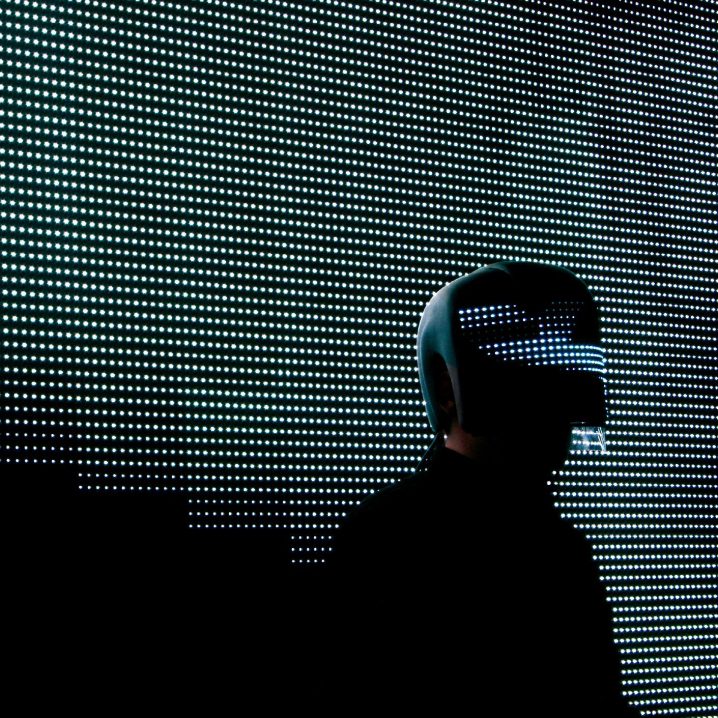 I suppose Tom Jenkinson requires no introduction. Any child of electronica should be familiar with his contribution to the evolution of music since his debut, Feed Me Weird Things (Rephlex, 1996). And even though, Jenkinson joined the Warp family in 1997, way after Autechre and Aphex Twin, his Squarepusher sound is still one of the staple commodities of the British label, and electronic music itself. Those who somehow missed the era of Squarepusher's Amen breaks and broken glitchy drums, need only to dig through his vast catalog to catch up. Among these, I highly recommend Hard Normal Daddy (1997), Big Loada, (1997), Selection Sixteen (1999), Go Plastic (2001), Venus No. 17 (2004) and my personal favorite, Do You Know Squarepusher (2002).
I would have preferred to stay away from regurgitating Jenkinson's vast discography, especially since I consider him an artist prominent enough for you to know, but in this case the storyline is important to revisit, to traverse his ample sonic arc. At the peak of this curve, we find Squarepusher [whose name, he claims, is derived from his past of dealing LSD saturated blotter squares, and hence pushing squares] tweaking the knobs of destructive DSP boxes and slicing up drum loops into a dizzying typhoon of collapsing beats, to what back then, as a precursor to breakcore, felt to be the most mind-warping, accelerated music I have ever heard. With an added sprinkle of AFX-like banter, as is the case with one of my all-time favorite EPs, My Red Hot Car (2001), Squarepusher was unstoppable and without a doubt at the top of his game.
Around 2004, for his Ultravisor release, Jenkinson began experimenting with live sound, layering many juxtaposed pieces with Spanish guitar and his very special fretted bass. The music began approaching future jazz territory, until in 2008, Just A Souvenir found Squarepusher's sound all but unrecognizable among the leftfield, fusion, and art-rock riffs. For the latter, Jenkinson walked away from the computer monitor and performed all live takes, recording the instrumentals for entire tracks all the way through. The 2010 follow-up, in which Squarepusher introduced Shobaleader One's d'Demonstrator, left many fans confused, at times scratching their heads at the brand new chapter that Jenkinson began to write with his electro retro funk. Many walked away disheartened, leaving the album in a pile of flustered shameful dust.
"I look at my work quite critically, I see it as a very splintered, quite messy – specifically with reference to my recorded output which spans 18 years now. It's a great, big fucking mess. In this [one recurring] dream, this one piece of music is the final part of the puzzle which makes sense of the whole thing. The thing is, I've been having this dream for years and the painful thing on waking up is realising that the piece of music actually doesn't exist. Yet it acts as an inspiration for me a lot, you think: I actually want to make that piece. And of course you can't. You never really quite achieve the sense of completeness that it seemed to have in the dream. But still, it's a valid inspirational force." [1]
I managed to stay focused, following Jenkison's development as a musician, always challenged with self-reinvention. Throughout these incredibly unique albums, I navigated every unanticipated turn with mild fascination, marvel and awe, until all of my feelings matured into a total appreciation of his sound. Yes, after admittedly numerous listens, I fell in love with the progression of Squarepusher, eventually doubting, like many others, that he would ever relapse to his [now old-skool] electronic ways. But with the release of his fifteenth studio album, my patience finally paid off!
On Ufabulum Jenkins performs an acrobatic somersault, returning to his roots, while managing to fuse all of the taken detours together. The drills and breaks are back; the analog bass and digital effects are back, the synths and acid lines are back; even the titles of the tracks, like "303 Scopem Hard" all but flashback to the 'original' Squarepusher! Although the world's fascination with dubstep does not appear to have deeply penetrated Squarepusher's sound, the 16-bit arcade style lo-fi bleeps and plops comfortably settle beneath his yesteryear cutting edge sound.
Jenkins maintains his tongue-in-cheek trance stabs and dark humor IDM just above the surface of serious commitment to intelligent programming and visionary sound design. The seemingly toy-like melodies on "Unreal Square" get drowned in simplistic drum machine patterns and dehydrating saw-tooth bass, until that almost-familiar lead line draws a parallel between two worlds, builds in a snare roll and ruptures into a cut-up post-break drum'n'bass, connecting one Squarepusher to the other. It's Squarepusher remixing Squarepusher, if you will, combining all of the invented elements of the past, with not yet discovered production of the future.
The ten-track album, once again released on Warp, had enough ideas to bleed into an accompanying mini EP, Enstrobia, which features three more pieces in the same style, leading me to proclaim that the opener, "Angel Integer" should have been on the actual album. I managed to catch Squarepusher's live performance in New York, and, having purposely not heard the album or read any published reviews prior to the show, I was both, surprised and a little disappointed. The latter dissatisfaction came from my long cultivated desire of seeing Jenkinson play live on his bass. Instead I found him standing behind a large control surface wearing an LED mapped visor, attempting to connect with his music through a touch screen of visual knobs, and the synchronized blinking of lights behind him. That being said, my letdown was quickly dispersed, as I recognized the homecoming of the master, reached into my pocket, and emailed my friend: "he's back!"
Check out this incredible track-by-track commentary on the album, written by Squarepusher himself!
Citations
[1] Murray, Robin. "Dreams Recurring: Squarepusher." Clash April 2012