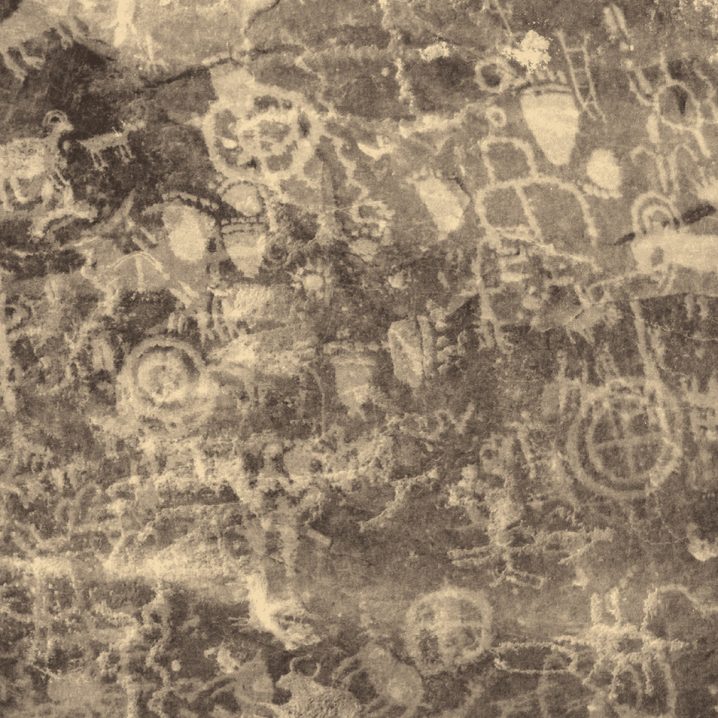 Prolific ambient sound maker Will Long continues his streak with this four-part drone cycle. In light of its languid and patient pacing, it's curious to me as to why Long applied such downtrodden titles to the project — it certainly influences ones assumptions or opinions of the sound compared to a more purely objective listening. [ed. The name, I believe, comes from the same-titled 1951 record by Fred Astaire and Jane Powell, an American show-tune from the film Royal Wedding – a throwback by Long to Americana, which becomes somewhat more obvious via the quoted "Artist Statement"].
A few years ago I took a road trip with my 80-year old uncle through parts of the American southwest. We drove to Moab, where the sunset turned the canyon walls orange in the early evening, and after midnight, passing puffy clouds still showed through the navy blue sky. In the morning, the buttes seemed brilliant bleached in sunlight, and the view from above the canyon was completely silent save for the wind, and birds occasionally flying past. In the Needles district, the centuries-old petroglyphs were mixed with graffiti; spraypaint cans lying half-submerged rusted in the sand below. We drove through the back roads of the La Sal Mountains, and down across the windswept grey Colorado plateau.
"Bleeds and Swell Blends" starts things off in a familiar lull, with a gradual crescendo of a repeating pattern of melancholy pads in time. It recalls pinkcourtesyphone's rhythmic, looping nature but with a gloomier finish, especially considering the dour title of this particular release.
Past the expanses of Monument Valley, on the outskirts of Kayenta, rainstorms loomed in the distance as teenage hitchhikers dotted the roadsides, along which were makeshift souvenir shops, alone like fireworks stands after a passed holiday. Climbing out of the desert, we passed through Aspen, through the ski resorts and celebrity mansions, where the average annual household income is $69,000, compared to $21,000 in Kayenta. The next day, our drive ended near Ouray, the fog rolling over the evergreen-lined roads.
"These Dreams, How Portentously Gloomy," despite its title, shimmers with a bit more mystique than the rather morose opener. Its contrasting loops of midrange pads and higher ones lends it the quality of dark clouds with occasional light breaking through, with a shared ominousness and faint suggestion of optimism. I find it to have a feeling of resignation rather than anger or rage, however, the sort of passive sigh of defeat that brings with it a certain tinge of serenity. "Natural Deflections" feels even more hazy by comparison, repeating Long's approach to minimal, prolonged cycles of looping phrases, continuing into the final movement, "Acrimonious, Like Fiddles," another decidedly dour title for an otherwise languid and patient slice of looped ambience.
Several years later, after leaving California, I put together a collection of tracks made with an electric piano and a wooden flute. Two tracks were copied onto two sun-baked cassette tapes I had found on the dashboard of a car, and the other two from a warped 12″ test pressing. Revisiting these pieces after living in Japan for several years, they instantly reminded me of the trip, and what I left behind in the United States. The tapes fluttered and stuck, drenched in hiss and grime. The record skipped, wavered, and dropped in and out. Yet with these imperfections, it completely reflected my memory of the places, and what they represented. There are sides to everything, whether it causes you to change or not. – Will Long, 2015
When so much of Long's material has felt hushed and small, it's curious to hear these more overtly looping, lulling selections juxtaposed with their surly titles, lending a barely-there catharsis to his dreamy production. Fans of subtly looping and repetitive minimalism from the likes of William Basinski, pinkcourtesyphone, and The Caretaker will likely enjoy the quiet temper of Celer's sounds herein.
williamthomaslong.com | thesingularwe.org/twoacorns
©
Words by Matthew Mercer of Ear Influxion
Additional editorial by HC