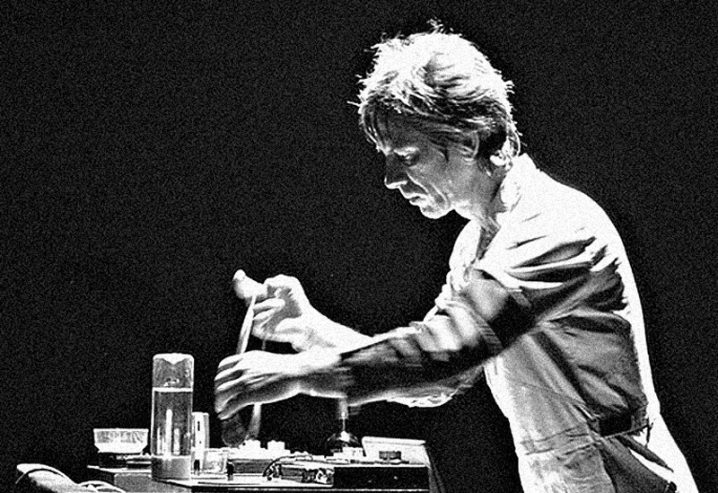 I wanted Cascade to become this crystalline organism like a star or a liquid crystal spaceship, a jellyfish traveling through the galaxy…
Hi Billy! First of all thanks so much for sparing some time to answer a few questions, I'm sure you must be busy between your recent releases. Have you been listening to many records in your downtime lately? What have you heard?
Not much, really, as I'm not a music consumer, but I just heard Jim O'Rourke's latest record… very beautiful. Also recently purchased the newest offerings from my buddies MC Schmidt (of Matmos) and Robert Crouch.
Who were your biggest influences when you first started recording your loops and how, if at all, do you think your approach to making music has changed since then?
I'm still exploring the catalogue of loops I created in a frenzy of activity many years ago… these are my "patches", if you will. Also, a recent development – I've managed to get rid of the guest bedroom and have installed the synth studio from Arcadia that's been stacked up in my garage here in LA for 7 years. We are in the process of trouble-shooting and sending out for repairs as well as looking at options for a new console that can go into the computer so that I can have access to those babies again for sound design and new work I can't do with tape loops. The Voyetra 8 fired right up so that's exciting!
I have to bring up the Disintegration Loops – given their popularity and ultimate legacy, how does that pressure impact your mindset when it comes to starting a new project?
It doesn't. I mean I certainly can't compete with it. It was a once in a lifetime thing. Naturally, I'm thrilled about it and the incredible reception for that work, but it's not like I feel the urge to try to top that bar. I just try to make each new piece come alive in its own way to the best of my ability.
I saw you live last year in the St John's Sessions and it was truly a captivating experience; you clearly don't sit still and allow the loops to play out, so could you expand a little on what you're doing on stage and how you're affecting the sounds?
There were two shows last year at St. John's. I did Vivian and Ondine which is a fun one to perform as long as the tape decks are behaving properly. In that one, I start with the main loop on the laptop (the original loop has now disintegrated beyond repair) and then I mix in, in random order, a dozen "counter-melodies" if you could call them that, up within the threshold of hearing and let them resonate for a period of time depending on how they work in a particular space. Some work well in one space and not so well in another. So for about 40-45 minutes I'm playing around with these loops on stage very much like I do in the studio.
The second show was The Deluge, the live version of Cascade, my latest work. In this performance, I begin with the main theme from Cascade, a 30+ year old piano loop that is now decayed as well, so that begins on the laptop and is processed through a series of different length feedback loops, building into a crescendo of beating frequencies that then dies down and fades away before the denouement: another mix of limpid old piano loops leading to a randomly discovered urgent orchestral loop that creates the final scene.
Your new solo albums Cascade and The Deluge are both really haunting records that rely on the same source melody; could you talk about why you ultimately chose to release both, and do you often create alternate versions of the same sequence?
They are two variations on a theme. I wanted Cascade to become this crystalline organism like a star or a liquid crystal spaceship, a jellyfish traveling through the galaxy. We agonized over it for months but it finally came together and I'm thrilled with the way it turned out. It should have been an easy one but it wasn't. Some children are challenging! (Speaking of Headphone Commute… put Cascade on in the car!)
The Deluge is a different thing, this is the version I perform. It's a narrative… like a film in 3 acts. As a metaphor let's think of Hurricane Katrina that devastated New Orleans for example. It's raining, rain is a precious commodity. It's still raining, the ground is getting saturated, torrents are flowing through the streets. Sand bag the doors. Oh my God, the water is rising. Get upstairs, it's coming in. Shit, get into the attic! It sounds like it's stopping… cut a hole in the roof, get that wooden table top let's get out… suddenly you see the world has changed beyond belief… you are floating on a wooden tabletop with your family looking at the devastation of this great storm. You are in shock… but you are alive. And as the credits roll you realize nothing will ever be the same again. This is analogous to the rapacious profit-driven capitalism that is destroying our planet. If one focuses too much on that sparkly diamond, that high, that profit, that bank account… destruction ensues.
Lastly, you also have a new collaboration with Richard Chartier coming up in "Divertissement", your third joint effort with him I believe; could you talk a little bit about the record and your continuing relationship with Chartier?
It's a very discrete new musique concrete piece we have worked on together over the past, gosh… five years? maybe longer. Richard is a very prolific sound designer and composer. I respect him greatly, plus he's a lot of fun! If Richard is a fast cutting edge catamaran like the monster I just saw recently on the internet, well, just imagine a huge anchor on the back of that caught in the rocks on the sea bottom… that's me. I take forever to get off the pot so to speak. But we finally dredged this thing up and spent a lot of time together working on it last year, weeding a lot of stuff out and finessing. Richard is in LA now so it's easier to get together and nail things down in a timely fashion. Also we can hear the piece over the same pristine sound system at his elegant studio which helps me to hear what he is hearing instead of hearing it on one of my old systems at my place. I like it. It's bordering on his Pinkcourtesyphone persona which I love very much. It will come out this summer on Important Records with another lovely James Elaine cover and gold vinyl, God willing… vinyl production is getting very difficult now so expect delays!
Read Headphone Commute review of Cascade
©
Questions by Chris Doherty-Ingram for Headphone Commute