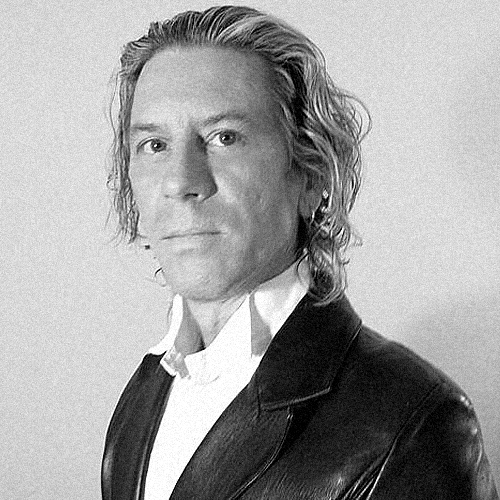 Editor's Note: I have conducted this Interview with the Fabulous (with a capital 'F') William Basinski over an email. In order to preserve his personality in full I have decided to publish it in unedited form. I hope you will enjoy as much as I did! ~HC
Hi Billy! Where are you these days, and what did you do this past weekend?
I'm in London at the moment, it's beautiful here today. I'm going to Amsterdam for a week tomorrow to work with my darlings Evelina Domnitch and Dmitry Gelfand and talk to my buddy Michael Baxter about orchestrating Disintegration Loops 3, then Geneva for La Batie Festival where we will screen Disintegration Loop 1.1 August 31 and The Geneva Chamber Orchestra will perform Maxim Moston's gorgeous transcriptions of Disintegration Loops 1 and 2 under the baton of the talented young maestro, Ryan McAdams on Sept. 1. Then to Moscow for a Nocturnes concert on the 7th and back to LA on the 9th September. Last weekend I was with friends on the idyllic Sicilian volcanic isle of Pantelleria. We had an amazing, much needed vacation swimming in the beautiful Mediterranean. I feel revived. It is such a special place… indescribable! Jamie got some pictures I'm trying to get from him.
'Nocturnes' is another fantastic revisit of your past material. Talk about the decision and the process of its revival.
Thank you. Well, Nocturnes was an early formal tape loop experiment. There is a graphic score and I was layering the loops, multitracking on a cassette deck with tape over the erase head. I think there were about 12 loops made from prepared piano in my studio in San Francisco in 1979. In some of the loops I would start the recorder after the attack so I was experimenting around with that. Unfortunately, I got a little carried away at the end and put in a few loops I wished I hadn't but there was no way to edit it since everything was overlayed on two tracks (stereo). so it took years until digital editing came along and I had time to get to it for me to be able to release it. she needed a little corrective plastic surgery. I finally got around to it last year and decided to pair it with the newer second track The Trail of Tears. For me it is a dark album… a passio, if you will. I love the way it resolves at the end. I'm hoping to release it on vinyl soon.
Tell us about "The Trail of Tears". How did you meet Robert Wilson and how did this project for his opera come about?
The Trail of Tears was done with two loops and a reel of tape spooling between two tape decks. I think it was created live in a performance in Milan a couple of years ago. Basically, using a reel-to-reel tape delay the loops, which start out very distinct and dirge like, melt together into a drone. I then brought in a third loop at the end for the denoument/resolution. Bob Wilson is fantastic; an absolute genius at what he does and learning from him and working with him was a major highlight of my life. He is an absolute doll and has the most amazing stories that come out in rehearsals usually to enhance a point relating to his technique for the actors. I have hours of recording of rehearsals while we built the show over two years and seeing what he does is incredible. his light paintings are scrupulously detailed, incredibly nuanced and he can tell if a light in the syche is off by 1 degree! Bob loves artists and really nurtures young people and young artists. He lets you bring what you've got to the table and it's like giving a kid crayons. he wants the full set! Antony called me in the spring of 2010 I think it was out of the blue with a small request. I said sure darling, anything, what do you need? He said, well, I've been asked by Marina Abramovic to score the new Robert Wilson opera about her life and I need you to help me. I think I dropped the phone I was so stunned. I said, YES! HELLO? really??? so, we worked things out with management and got the books and I began doing research on Marina and the Balkans, Serbian music etc. and came up with a whole box of crayons for Bob to hear when the time came. Antony in his innate brilliance put together the best small band to accompany him on his songs and fill out the color range. Antony and I are both pretty much on the purple blue range but the crazy boys from Matmos brought full red, orange, yellow and white hot in their arsenal so Bob was happy and so was I! 'cause I can't do that shit. The other three outstanding musicians, Gael Ratocondrabe on piano, Doug Wieselman on reeds and shredding guitars and Oren Bloedow on Bass and acoustic guitar have all worked with Antony and the Johnsons and many other famous musicians. The back of the house sound design team are the most brilliant in the world and make it happen every night with loads of computers, wires, monitors, house sound, stage sound, headsets, musicians in the pit, musicians on stage, sound effects and electronic music cues that have to be spot on with the lighting and actors and really one has no idea just how easy everything could go down, but knock on wood… when it matters most these mofos bring it! failure is not an option. Sound designer Nick Sagar, sound design operator, Jon Clarence, and music supervisor, Dan Bora made everything sound sooo good. My boys! so good! then… there's the amazing Svetlana Spajic Group. absolutely fantastic Serbian folk singing group. Svetlana is a musicologist and brilliant singer preserving the history of ancient Sebian folk songs from different regions. What Svetlana, Minja, Zorana and Dragana brought to the show is so beautiful, so powerful, so melancholy. and they are great actors as well, instantly falling into the very difficult Robert Wilson technique and bringing such grace to the show. My girls! Christopher Nell, the fantastic German actor and counter-tenor… brilliant… I could go on and on… really, thinking about this show is making me choke up. I love everyone in the cast and crew. we all became so close. and Marina! "Oh Lord", as Bob says… she's amazing! so loving and caring and precious and Fabulous… with a capital F. I thought she would be so formidable, I was kind of terrified to meet her. Antony wanted me to go to the MoMA show and sit with her but luckily by the time I got to NY it was the last week of the show and all of the sittings were booked. When I did finally meet her it was in Madrid three years ago September I guess where we all came together to sketch out the show in a rehearsal space there. Oh, Madrid in September! so gorgeous. so sexy. the light!!!! ohhhh. anyway, everyone was invited to an outdoor cafe near the palace to meet for drinks the first night we got there. I was sitting next to the beautiful Gael and we were chatting and talking with some of the cast members all of us just meeting for the first time. Marina sashayes in and made her way around the table saying hello and sat at the head of the table with the producers. A few minutes later she came swanning over to me and said in her fantastic Serbian accent and low voice, "I just ask Tracy, who is dat man dere and she tol me it vas you! Beely… Antony played me your music … I love it! i'm so excited. ve vill have fun!" We got her a chair and she sat down and proceeded to put us all in stitches with a stream of bawdy horribly un-PC jokes she collects from all over the world. none of which I can remember enough to repeat thank god! I'll leave that to her. she's a riot! To meet these amazing performing artists from all over the world to put a massive production of this kind together is such a rich experience. I had never done theater so this was all new to me. Bob builds his shows from beginning to end… like a drawing or painting. So we start with the prologue and move our way from scene to scene sketching it out. then fleshing it out and coloring it in… editing a bit at the end to make things really tight. there can be no lag time. behind the scenes are crazy costume and set changes that have to happen like clockwork. In my position as composer, since my work is electronic, I was the one person on the music team that sat in the house with Bob for every rehearsal so I got to see it grow from scratch into this fantastic triumph. I'm so proud of all of us and love the show and everyone in it. Antony came up with these amazing songs on the fly and boom! another piece was added to the puzzle. Bob would say, "that's beautiful, Antony, thank you, just great" and he'd know just what to do with that crayon. And when you see Antony on stage singing well it's just spellbinding. What presence! Watching Bob work with the actors was amazing and watching Willem DaFoe is seeing a master at work. He is off the charts. Bob would give him a blocking idea and he would just take it and fly with it. I learned so much from Willem. At one rehearsal shortly before the premiere in Manchester I think it was, it became apparent that the show was running too long, so the dramaturge decided to cut a big block of this very convoluted dialogue Willem spouts throughout the show and perhaps there were too many people coming at him at once but he got a little frustrated and explained very professionally that it was going to take him a moment to work the changes out as he has a score (just like an orchestral score) in his head that relates to the words. there's a line for his left eyebrow, one for his right, left arm, left hand, right arm, right hand, pelvis, butt, legs, mouth, tongue etc, that he uses to cue his performance. I was so amazed when he said that. Of course! how else could he do that? and if you haven't seen the piece, Willem is sort of the narrator and has massive quantities of ridiculous dialogue repeating and going backwards and forwards throughout the show so it takes a master to pull this off and Willem is a master! he just keeps getting better and better. I highly recommend everyone try to see this show at the Park Ave. Armory in December in NY if there are any tickets left. I can't imagine what kind of pressure the sound design team is going to be under in that huge reverberant space but thank God that's not my job! anyway… just go! google "The Life and Death of Marina Abramovic Park Avenue Armory"
Can you take a moment to speak about your collaboration with Richard Chartier on "Aurora Liminalis"? I really enjoyed that piece!
It turned out really nice I think. We began working on it several years ago when Richard came to visit me in "the pink house" in Venice Beach. we tossed it back and forth a bit then I couldn't hear it anymore and we both got caught up in other projects. Last year he tossed it back with the idea of releasing it and I heard it again and decided it was ok, so I said yeah…sounds good. I managed to come up with a title after a few false starts which I won't mention and Jamie allowed us to use the beautiful picture of his light sculpture in Beijing for the cover art. I'm thrilled with the response as well. It's on it's second pressing so we're all quite happy. Richard has recently moved to LA from Washington, D.C. and we are already working on something new. he recently tweeted an excerpt on Soundcloud. remind me to send you the link if you didn't see that. I was in La for a few days last month and caught a show of Richard doing his "Pink Courtesy Phone" work. so good. he's an amazing sound designer.
How was the reception of your amazing "The Disintegration Loops" boxset? What do you think about the progression of this sound from tapes, to CDs, and finally vinyl?
phenomenal… Jeremy Devine at Temporary Residence did such an amazing job on the artistry and the lovely people at Bellwether Manufacturing did it up flawlessly. I was stunned when I got mine. what joy! you have no idea… at first when Jeremy came to see me in LA to pitch the idea I was wondering about breaking up the tracks so as to fit on vinyl sides, but he reminded me that classical music was done that way for years, so I said, what the hell… go for it! he hit it out of the park. The response has been huge. I'm so happy. so busy this year. damn. touring all year though to Christmas. To have this work in such a classy massive boxset is a mind blower for me. I never thought I would see the day, so it's really something! and getting a 10 on Pitchfork… whoa! when I got the google alert and saw it I looked at the number and thought oh, number 10 of the top ten… cool! Later that day when Shaun his manager told him about it, Antony called me screaming… "Billy, you got a 10 on Pitchfork!!! Do you know what that means??? NOBODY gets even in the nines! The Beatles complete catalogue boxset is the only thing to ever get a 10! Girl!" those guys have been so supportive! love 'em!
Talk about your label, 2062. Where does the name come from and will it ever feature a release other than your own?
The name of James Elaine and my production company is Music and Media Laboratories & Unknown Industries, Inc. or MMLXII. it's hard to say "emm emm ell ex eye eye" so I decided to name the record company 2062 which would be the Arabic numeral translation to MMLXII if it were a Roman numeral. I like the numbers together graphically as well. as far as releasing other people's work, I get asked that all the time and I tell everyone, I've got my hands full with my own work, so for the time being no but down the road… who knows? we'll see… It's so much work to release an album and run a label. I only have time now to concentrate on mine.
I'm looking forward to your performance in New York. What could we expect from your live show?
I'm looking forward to resonating that gorgeous space at Issue Project Room again. I've got a beautiful new video by James Elaine to go with the Nocturnes show and a little something new/old for the end to ease everybody back. an accident that happened in the studio this year when I was having to compensate for a naughty new tape deck that got damaged in transit. thanks TSA. anyway, something cool came out of it when I was making new loops to play on the girl that decided she would only play on a speed faster than the required one. crack ho… she did it again a couple of weeks ago so she is out of commission for the time being. can't have her throwing loops into the audience!
How has your relationship with music [and indeed its loops] change throughout the years?
I don't know how to answer that one, darlin'. Listening to a new mixtape Jamie made for me called The El-Bow Room featuring alternating tracks of Elton John and David Bowie from the 70s… so fine! so divine! ciao bello, Billy
Read Headphone Commute review of Nocturnes