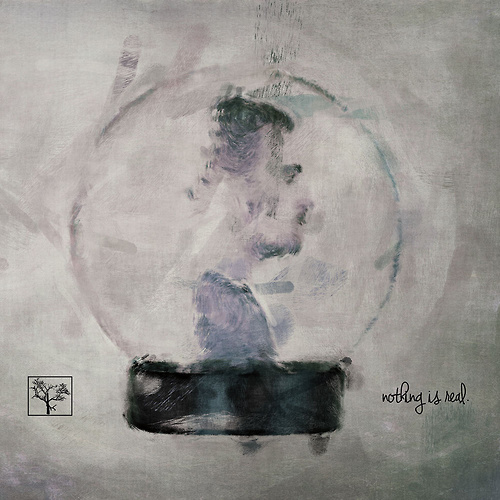 Benn Lee Jordan's music as The Flashbulb has really evolved over time, starting off as a somewhat petulant drill'n'bass producer with ADHD (hot on the heels of Aphex Twin and Squarepusher styles) and then migrating progressively into more and more lush and accomplished production. Nothing Is Real continues along the same trajectory, with a whopping twenty-two pieces that veer from unique, cinematic ambiance to more melancholic dancefloor crossovers. More elaborate, beatless arrangements like "Troubled Plains," "Mysterious Wall," and "I Can Feel It Humming" show off Jordan's talents as a pianist, guitarist, and arranger, with swooning string arrangements and tight, detailed production to seal the deal.
One thing that's proved so satisfying about recent Flashbulb albums (much like those of Chris Clark on Warp) is that he continually pushes himself to try new things, to be unafraid to tackle new ideas, fuse together conventions in interesting ways, not feel tied to any specific pace, mood, or vibe. Nothing Is Real is a rousing success for all of those reasons, sounding whole by virtue of its variety. Its pieces and parts don't feel unrelated, but they do offer up a high amount of variety. There are shades of Hauschka or Christian Löffler on slightly pulsing numbers like "Prayers Without Gods" or "Nothing But Lines," but these are a healthy bridge between the aforementioned more cinematic pieces and more beat-laden works like "Rose Hierarchy" or "Neon Wireframe Landscape."
[The album] is described by Benn Jordan as a 'homage, or soundtrack to chronic derealization and depersonalization disorder'. Musically, it is a diverse, yet continuously flowing album, often featuring vintage synthesizers blending with airy atmospheres and complete orchestral movements (performed entirely by Jordan through large multitrack sessions).
Only on "Hymn to the Unobtainable" does he appear to fully indulge his drumming skills, with what sounds like a more acoustic kit in the mix (on Arboreal it popped up a bit more regularly). Nothing Is Real is far less IDM-influenced than its predecessor, more at ease with letting the bottom drop out while the more delicate components of his pieces remain in tact more clearly, allowing their own prettiness to flourish fully without the counterpoint of touches of acid or breaks, and instead simply roaming and being the more ephemeral sounds they need to be this time around. It's a satisfying and twisting and turning hour-plus of quality music, worth checking out for fans of inspired electronic and instrumental listening.
If you're a fan of The Flashbulb, be sure to also pick up  Solar One, a single-track 60-minute journey, composed using theta waves and autonomous sensory meridian response. The latter comes with the following warning: "Please DO NOT listen to Solar One while driving, riding a bicycle, or while partaking in any activity where your attention and alertness is required for your safety."  Headphone Commute was also fortunate enough to take a peel back the curtains of Benn Jordan's production in this In the studio with Benn Jordan special.
theflashbulb.net | alphabasic.com
©
Words by Matthew Mercer of Ear Influxion
Additional editorial by HC