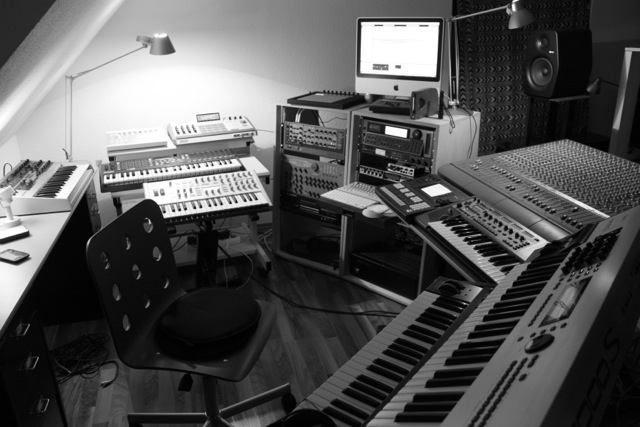 Uwe Zahn has been recording under his Arovane moniker since the early days of City Centre Offices. In fact, Occer / Silicad was the first label pressing back in 1999. I was particularly swept away by the Arovane sound with his 2004 album, Lilies, in which Zahn has said "Good Bye Forever" to his fans on the very last track. For almost a decade Zahn has been quiet, and one indeed thought that he completely left the scene. But I suppose a real musician can't ever stop composing, and in 2013 Arovane returned with Ve Palor on n5MD. Today we step into Zahn's beautiful studio and geek out on his gear, in hopes to peak even deeper into the inner workings of his mind.
Lets start at the very beginning. Can you tell us how you got involved in composing, and what was your very first piece of gear?
I built my own instruments (zupfinstrumente) back in the early eighties and used cheap microphones and two cassette recorders to record my first sounds and compositions. I placed the microphones in different rooms of a basement to capture the acoustic characteristics. I took my cassette recorder and made field recordings and to record found objects and kitchen equipment. sounds inspired me to compose music. I remember a day back in 1974. I was sitting in the kitchen, listening to the radio playing Kraftwerk's Autobahn. I was totally fascinated by the car sound with 'the Doppler Effect'. My parents bought me a Casio keyboard with bad sounding presets. I started some kind of circuit bending to edit the presets and to make it sound more interesting. My very first synthesizer was the Korg MS20 that I bought in 1984 with a cheap analogue delay. I composed tracks with 'pingpong' recording method, from one recorder to the other. I've manipulated the tapes speed, cut and spliced them and played tapes backwards. I was fascinated by minimal music and early electronic music at that time.
How many different studio iterations have you gone through, and what does your final setup look like right now?
It has taken a long time and numerous iterations to built up my studio. Everything changed in 1988 when I bought my first digital synth, an Ensoniq ESQ1. I've tested a Yamaha DX7 at the local electronic shop and I was blown away by the sonic possibilities. The ESQ was cheaper and it has a straight forward sequencer which I used the next years for composing my music. I moved to Hannover in 1988, bought a Hohner HS 1e, equivalent to the Casio FZ 10m sampler and a Casio VZ 8m iPD synthesizer. I moved to Munich in 1989 and joined SAM, Six and More. The concept was to improvise electronic music, live on stage. I remember a concert at the Kunstverladehalle in Frankfurt with 30 (!) musicians. In 1991 I moved to Berlin and my equipment grew with a Tascam m2600 24 channel, analogue mixing desk, a Waldorf Microwave and a four track recorder from Tascam. I was experimenting with breakbeats and shifting patterns at that time. The next step was a sampler from EMU, the e6400 and a Logic sequencer software from Emagic, running on a Performa Mac. I tried to write and record music with a computer but I was frustrated by a lot of Midi and timing issues. I decided to buy a hardware sequencer, the Yamaha QY700, a workhorse in my studio to date. the QY700 is running in parallel to Ableton Live9, controlling and sequencing an EMU e4 XT Ultra, a Waldorf Q and Microwave XT, an Access Virus Indigo2 and Virus TI, a Kawai K5000s, a Nord Modular G2 and Nord Rack2. I've bought the first Korg Wavedrum in 1994 and the Clavia Nord Modular in 1998 to expand the sonic possibilities in my studio. Later in the 2000's I received the first version of Ableton's Live from Christian Kleine to run on my Apple Powerbook Pismo.
In 2003 I've ordered a Kyma Capybara system from Symbolic Sound for my studio. I've created a bunch of spectrum waves for Axel Hartmann's Hartmann Neuron Synthesizer. I added a Motorfader box, a CM Automation to control the parameters in the Kyma software and some more outboard equipment like the TC Electronic FireworX effect processor and Alesis' Wedge, a pair of Genelec 1031a and started to experiment with software from Ableton and Native Instruments. I sold the Kyma system to buy a motorbike, a KTM LC4 Supermoto.
Today, basically, I'm running a hardware and software studio in parallel. Ableton's Live9 Suite as the DAW in combination with a Native Instruments Komplete Audio 6 Audiointerface and the QY700 as a hardware sequencer. Live9 is hosting a bunch of software from Flux, GRM, Native Instruments, Madrona Labs, Izotope, FabFilter, Akai, Audio Spillage, Little Endian, SoundGuru; Steinberg, U-He, Sugar Bytes, you name it. I'm using Ableton's Push Controller, Native Instrument's Maschine, AkaI's MPC Renaissance and Studio for creating beats and musical structures. All the software is running on an Apple iMac and Macbook pro, Core i7, retina display.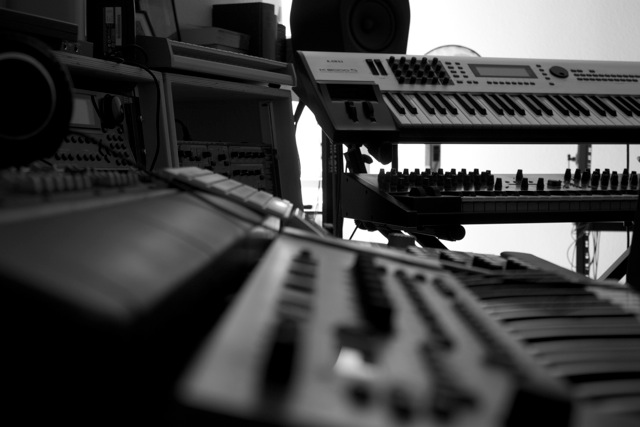 Tell us about your favorite piece of hardware.
Hard to say. The hot, red Clavia Nord Modular G2 is my fave' in the studio. It is a versatile piece of hardware. Very cool, because you can patch everything with the software, unplug the USB and go with the keyboard, the endless dials and displays on the hardware without the computer. Great concept. And it sounds amazing. I love the clean, punchy, analytical sound of that machine. It is a kind of a weapon in sound design in my opinion. I like to program patches where you can feed in audio, mangled by modules controlled with sequencers are synched to the midi clock or built up FM patches for percussion patterns tweaked with the endless dials of the hardware. I've built tons of patches over the time.
And what about the software that you use for production?
Do you mean, my fave software? Hummm, hard to say as well. I like to create sounds and music with all kinds of synthesis methods like, granular synthesis, FM, additive synthesis, resynthesis at example. I like to play with Native Instruments Absynth's Granular OSC's and Robert Henkes Granulator II, inspiring. It is quite interesting to use samples from field recordings in that software. It is like using a microscope, looking into the tonal, molecular structure of sounds and build something new out of those molecules. I like Little Endians Spectrumworx very much. It is a kind of a modular toolbox for spectral editing. You can add modules to pitch, filter, bend, delay, mangle the sound in a very special way. I love to use delays, FabFilter's Timeless2 is a great piece of software as like U-He's MFM2. Absolutely great would be a software version of the Technos Acxel Resynthesizer (http://www.synthtopia.com/content/2007/06/26/technos-acxel-resynthesizer/) I've been in contact Pierre Guilmette asking him for a new version of this fantastic instrument but I'm afraid that it will never happen, unfortunately.
Is there a particular piece of gear that you're just dying to get your hands on and do you think one day you'll have it?
Oh well, yes. I'm planning to buy a Kyma system again, It is just a question of time.. The Pacarana it is now called. I would die to put my hands on the Acxel2 Resynthesizer.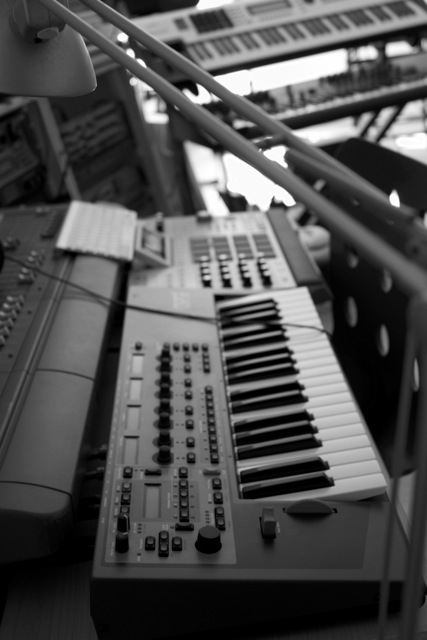 What does your live setup look like, and what do you bring with you when you travel for an extensive tour?
I like to use a minimal setup that fits in one case, when I'm playing live. Apple's Macbook pro running Live9 and Ableton's Push is a very good team. Maybe a small Faderbox in addition to that.
What is the most important environmental aspect of your current workspace and what would be a particular element that you would improve on?
It is all about ergonomics. It is very important for me. I've placed all my equipment to have direct access to knobs and faders. I've placed the iMac and the mixing desk under ergonomic aspects. The studio is arranged in an octagon shape. The three sections, mixing desk, the racks and the keys are illuminated separately. For the future I will place some special acoustic elements in the room to improve the acoustic.
What can you tell us about your overall process of composition? How are the ideas born, where do they mature, and when do they finally see the light?
Most of the times I start with improvised melodic structures, record into the Yamaha YQ700 or Live9. After I recorded the melodic structures, I build up the bass, percussion parts and the beat. Sometimes I have a very clear idea of a track or a whole album, like for 'Tides' and 'Lilies'. The 'Tides' sound was inspired by field recordings I've made in France and the idea to use harpsichord sounds. Christian Kleine played his guitar to improvise to some early track ideas and the album was nearly done. I like to play with sounds. Sounds from field recordings I've made or synthesized sounds or a combination of both. It is a great inspiration to me. A single sound can be an inspiration for building up a whole track. A lot of tracks or sketches I've recorded over time are stored away on DAT's. I play new tracks to my friends and ask them for their opinion but the most of the time I know which tracks will be released and which are not. I remember two tracks – 'Amoe/Cane' I recorded under my moniker 'Nedjev' right after I bought the QY700. I played it to Michael Zorn (he was starting his label Engelszorn together with Mark Engelhard). I was not planing to release it but Micha convinced me to. A lot of tracks I've made in the past are 'stuck' as drafts and are later used as source material for sound design or new tracks.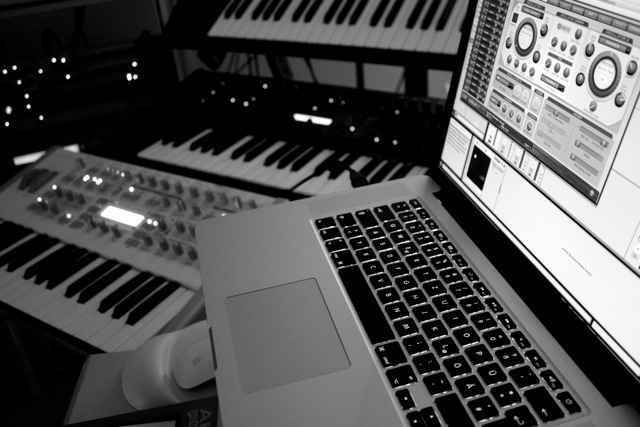 After the piece is complete, how do you audition the results? What are you reactions to hearing your music in a different context, setting, or a sound system?
I remember a a remix I' did for Din and FatCat Records, the No.8 AMX. I'd gotten some basic, arrhythmical sound material for doing a rework and it was quite hard to start with. Right after I finished the remix I was so happy and I listened over and over to the track. Usually I listen to a new track a few days after recording in my studio to get an acoustic distance to the music and the mix. The last time I played my music live, like in Dresden at the Transmediale, Cynetart 2013 was very impressive, because of the high end PA in the 'Große Festhalle'. A pure pleasure to hear that 'big' sound in full frequency range, very clear and precise.
Do you ever procrastinate? If so, what do you usually find yourself doing during those times?
Oh well, I do procrastinate sometimes, especially with 'office work', when I have to categorize hundreds of sounds for example. I found a very good piece of software, the 'Audiofinder' from Iced Audio, to help me. Usually I try to avoid procrastination and concentrate on my project/work. I switch off all devices like the Cellphone or my iPad and the Internet connection on my computers. It is a kind of isolation to concentrate on my work. I love to read, to garden, to cycle, to meet friends or to motorcycle after I finished a project.
For more check out this Interview with Arovane, his Headphone Commute Mix and our review of Ve Palor.