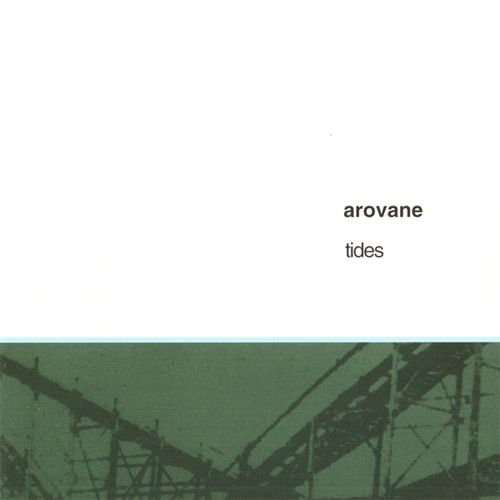 With only five albums and a handful of EPs and even some 7-inchers, Berlin-based Uwe Zahn, signed off from producing music altogether, with the last track on Lilies (City Centre Offices, 2004), titled Good Bye Forever. But Arovane's music doesn't age. In fact, it is one of those rare occurrences where it gets better and better as time passes. Today, as part of my Nostalgic Flashbacks series, I wish to revisit Zahn's sophomore album on City Centre Offices, released in the summer of 2000, titled Tides.
As the title of the album may suggest, in Tides, Zahn is exploring the incoming waves and their outflow, perhaps in relation to music, perhaps in relation to life. The ambient sounds are accompanied by intricately produced beats, re-sampled guitars, Arovane's staple-sound harpsichords, and organically layered developments. And those melodies… The melodies are simple, delicate and elegant.  The sound is melancholic and contemplative.  The downtempo slowed down hip-hop beats have lost their bouncy aggressiveness, and instead become loungy, laid back stretches of yawning morning rhythms. The arsenal of elements is limited, yet immediately effective.
At only a little under forty minutes long, the album remains one of Arovane's timeless compositions. I remember being overwhelmed by the sound then, and returning to Tides now, I can confirm that Zahn was ahead of his game, and one of the dominant pioneers of sound in the genre. But his journey towards this position was not rapid.  Beginning his music experiments since he was 15, Zahn worked with acoustic instruments (clarinet), microphones, synthesizers and turntables, and in the early 90s began producing d'n'b influenced tracks and breakbeat. During his work at a Berlin radio station, Zahn was discovered by Torsten Pröfrock and his label, DIN. Arovane released his first 12″, I.O. on DIN in 1998. This EP was soon followed by Icol Diston (DIN, 1998) and a limited 7″,  Occer / Silicad on City Centre Offices in January of 1999. The year 2000 finally yielded not one, but two full-length albums from Arovane. DIN released Atol Scrap in January, and as noted earlier, Tides came on the scene only six months later from City Centre Offices.
The stage was set for Zahn to shine, and so he did. Gaining quick recognition among notable international labels like Lux Nigra [under his Nedjev moniker], and Morr Music [remixes of Accelera Deck]; collaborating with Vertical Form, Phonem, Christian Kleine, Jake Mandell, and Markus Schwill [in a duo group Research Garden]; and touring across the world, Zahn established himself as a one of the top producers behind intellectually melodic, and rhythmic ambient sound. Zahn's short biography on City Centre Offices signs off with stating that "he is currently very much into motorbikes and might start recording a new album pretty soon." Please… Let's hope as much… The world needs more beautiful music. Until then, enjoy Tides and my all time favorite, Lilies.