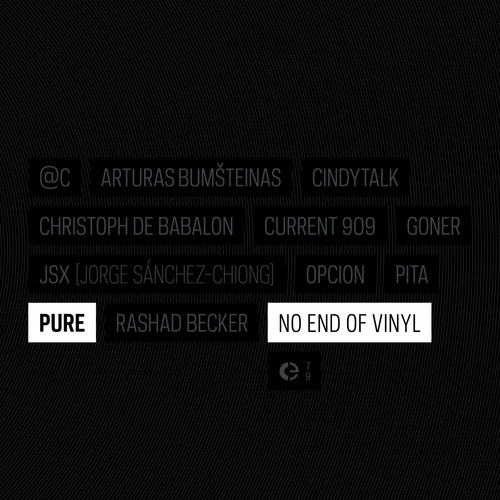 13 years ago, Mego label released Pure's the.end.of.vinyl on a 3" CD. The release marked a shift in Pure's sound from more dancefloor-oriented productions toward something more abstract and experimental. Ironically, the release was pressed on CD because it was the prevalent format at the time; the name describes the techniques used to create the music (working with vinyl run-out grooves as the primary source material). Now the CD format has waned to such an extent that it appears to be on its way out, while vinyl has continued to flourish as a format for avid music listeners.
No End of Vinyl organizes several formidable artists to revisit, rework, remix, and reinterpret Pure's original recordings into new tracks. The approach varies from sculpted noisescapes to more beat-driven excursions, a range that is not only broad but also quite nice in terms of listening dynamic. To fully appreciate the process of the album, I recommend downloading the original the.end.of.vinyl, which is available as a free download from Crónica. It's quite good on its own, but it's also interesting to hear the source material that inspired this new collection.
Several artists opt to remain in the same highly abstract arena in which the source material existed, including the swirling, manipulated "Zeiundneunzig (für Pure)" by @c or the post-industrial, shimmering haze of "Miyamizu" contributed by Cindytalk. Elsewhere, a handful of contributors steer the material more in the direction of beats and hooks. Christoph De Babalon, someone from whom I haven't heard new music in years, contributes my personal favorite, with a shimmering, hazy refrain and sputtering drum patterns. As a point of contrast, a close second favorite of mine is Pita's surprisingly meditative "This & That Edit," buzzing with beatless tension but oddly serene considering his tendency for noisier material. JSX and Goner each use Pure's source material as a starting point for fairly dense, more industrial and rhythmically musical workouts, while Rashad Becker stands apart in manipulating the source material into the weirdo chorus of synthetic organism voices that characterize his recent solo album.
"the.end.of.vinyl" was one of the early releases on Mego, the Vienna-based label that in the end of the millennium showed us what the music of the future could be. In 1999 its title resonated with post-analog angst, recalling the transformation (maybe even the demise) of the music market and of the cultures that it had helped to breed. It announced and perhaps confirmed an end that is still latent.
It's a decidedly mixed bag of material, but the scope of styles and sounds within maintain a healthy balance between worlds of abstraction and accessibility. Fans of the original Pure work will no doubt find at least a few tracks that fall in line (different enough to be interesting but similar enough to feel of the same world) with several others that might broaden their horizons. The compilation is released on Crónica, a Portugal based label and is available on CD as well as digital download.
©
Review by Matthew Mercer of Ear Influxion.