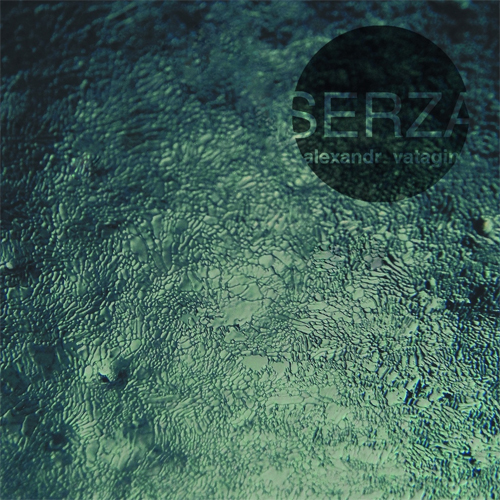 Alexandr Vatagin is the Ukraine-born, Austria-based artist and founder of the label Valeot Records. His new album Serza marks the 15th release of the label and his second on the label after Shards. Alexandr is also known for his involvement in a plenitude of collaborative projects namely Tupolev, Slon, WERNER KITZMÜLLER TRIO, port-royal and Quarz. Other collaborations include work with Bernhard Fleischmann, Philippe Petit (strings of consciousness), Bernhard Breuer (elektro guzzi, metalycee) and Peter Kutin (dirac).
I met Alexandr in November 2011 during a series of performances I did with port-royal in Europe and the UK. Back then we discussed the pros and cons of the use of electronics (controllers, software) in live performance and composition. I was intrigued by his grounded ideas on using a programming language like Max in conjunction with an instrument (a cello in his case). So far, I hadn't heard any of his solo work so I couldn't actually verify the strength of his argumentation. I knew, however, about his collaborative projects and his work for Valeot so it made perfect sense to me to assume that Alexandr was probably as serious for his solo work and composition methods as for his other music-related activities.
Serza found me diving into a pleasant surprise. This 8-track album contains a balanced understanding of what is experimental and what is sonically hearthy. In its 50 seconds, the opening track "Eliza" melts fragile melodic glitches with a warm cello duet making it a perfect entrance point to the rest of the album. "Bows and Airplanes" brings an element of tension and release in its stringed instrumentation, touching areas of folk melancholy and abstract cinematics disrupted by bursts of sustained distorted notes. One of the strengths of Serza is its flow, the way tracks unfold one after the other. The ebbs and flows of "Elbe" fit perfectly with the closing mystery of "Bows and Airplanes" where the gradual appearance of the drum sounds leading to the end of the track sit in harmony with the more song-based "Mantova", a track that reminded me a lot of Labradford's mellower moments.
The subtle interplay of brief silences and shifts in motifs and instrumentation is used very wisely throughout Serza. A good example of this is "La Douce", a track made of three movements: an opening piano sequence followed by the cluster made of cello, xylophone and hissing sounds fading into silence only to give way to a wave of reversed piano notes whose motion is followed by the rest of the instruments from the second movement. The sudden disappearance of the third movement leaves again a silent territory where the drone-like patterns of "March of the Dancing Barriers" slowly unravel and grow their textures around a solitary piano melody.
The succession of form and non-form is a very interesting structural feature in this album. It keeps the narrative coherent and confronts the listener with a series of unexpected events. "Insomnia with port-royal" and "Different" are both based on this concept; the former in its somnambulist pace made of glitches and repetitive piano and the latter with its adventurous progression of sustained chords, razor-like bowing fading into a softer ambient sonotopia that ends abruptly.
Check out this extensive Interview with Alexandr Vatagin
vatagin.klingt.org | valeot.com
©
Review by Maria Papadomanolaki exclusively for Headphone Commute