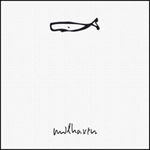 I remember when I first discovered the sound of post-rock with the inevitable introduction to Godspeed You! Black Emperor. And I thought that I'd never get into 'rock' music. Since then, I dug through countless albums, each with their unique elements, building up on the foundation laid down by the masters. I don't want to say that after a while the sound got dull. That would be the wrong word. Nevertheless, it just stood there, still, in all its beauty, unhindered by change. The formula staked into the stage and jagged by every band in different directions. But always bouncing back to the original sound. And the problem with that is that you either sound like the originals, or you don't. Which one would you prefer?
Enter Milhaven – a four member band from Bochum, Germany, consisting of Christoph Freudenberg, Jens Reichelt, Hannes Zagermann, and Andreas Fanter. Milhaven doesn't care about being labeled, or further experimentation, or … that always sought out individuality… They just care about making great music. And if it means that their sound is more traditional, and in a sense classical, then so be it. Perhaps that's precisely what makes it sound so fresh – finally someone recording great post-rock with zero regrets.
This is the band's second full length release, self-titled Milhaven, after the debut Bars Closing Down (12rec, 2004) and I. M. Wagner EP (12rec, 2006). A quick note here for the collectors – the aforementioned music was released on German 12rec net label, which means that you can download the music legally for FREE! And the music is worth your time! Beautifully crafted guitar riffs and melodies soar above precision controlled drums, and just enough reverb to create that floating feeling… Unapologetically delicious flashback to the warm currents of nostalgic 90s. Flawlessly executed. Recommended if you like Mogwai, Explosions in the Sky, Mono, and Stars of the Lid.
Milhaven is released on Austrian Valeot Records, owned and operated by Alexandr Vatagin, who also introduced us to Port-Royal's Afraid To Dance (Resonant, 2007 / Valeot, 2008). Be sure to pick up Vatagin's own release, Shards (Valeot, 2009), as well as releases by a band Slon [where Vatagin is also a member] – Antenne (Valeot, 2009) and Nachtnebel (Valeot, 2009). Keep your eye on this label for more solid output to come. This album is limited to 500 hand-numbered copies in a hardback cover, available in the US through n5MD, and in UK through Norman.
See also Two and a Half Questions with Milhaven
milhaven.org | myspace.com/milhaven
valeot.com | myspace.com/valeotrecords