The clock tick-tocks, and the music just keeps coming in. There's no way that I can keep up (I've said these words before, I'm sure). Thankfully, a few bits and bytes are picked up by Elizabeth Klisiewicz for this installment of Sound Bytes. Meanwhile, Peter van Cooten tirelessly continues his journey through previously undiscovered music with his Ambient Blog. One of his entries is republished here with permission. I know that this entry is short, but I promise you that the music in here is indeed sweet 🙂
Listening Mirror – The Heart of The Sky (Bathetic)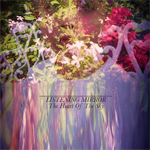 "Midnight at Teques, Storm Approaching" opens Listening Mirror's upcoming release, The Heart of the Sky, out in September on Bathetic Records. Listening Mirror is spawned from the fertile imagination of English artist, Jeff Stonehouse. Disembodied voices waft in and out as an ominous wash of organ-like sound sweeps you into its uneasy mix. Jeff painstakingly pieced his creations together with unusual musical methods, such as using the harmonics of a semi-acoustic guitar and processing it through a blend of treatments and effects. You then reach "The Words Just Won't Come", which winds sinuously through the nooks and crannies of your mind. It is underscored by ominous chimes, the perfect soundtrack for a horror movie on a stormy night. Stonehouse created this by using a distorted piano loop played through the strings and pick-ups of an electric guitar before cutting, looping, and stretching it. And then comes "Ah Pukuh is Here", which could easily accompany me on a journey at sea, its melody rolling through me like a disembodied foghorn. Jeff ends with "Mixtli Sleeps", a collaboration with Alicia Merz from New Zealand's Birds of Passage. Her gauzy voice floats up from a deep well of sound, accompanied by thick layers of machine noise and swatches of melody. It is a fitting conclusion to a lovely, ambient record, one that seems far too short and leaves you wanting for more. Recommended for fans of Birds of Passage, Hammock, Harold Budd, Brian Eno, Mazzy Star, and Peter Christopherson.
Read Two and a Half Questions with Listening Mirror
Adrian Anioł – Arrythmia (self)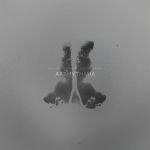 Like me, you have probably not heard about Adrian Anioł before – unless maybe if you're from Poland. But if you are looking for haunting, dark, electronic soundscapes I strongly advise you to check out his debut release Arrythmia – which is available as a free download from Bandcamp. Adrian Anioł is a music producer, composer and graphic designer writing music for installations and movie soundtracks. Arrythmia (medical term for 'irregular heartbeat') is an "artistic indie film, an independent production considered to be released". (Note the 'considered'). Horror noir, Lynchian style: "The movie is about strange dark dreams, sexual perversity slowed down just to show us abrupt violence in several versions." That does not sound like this movie might be a very pleasurable watch – but the soundtrack is very much worth listening! These 15 tracks together convey some very strange, somewhat industrial, atmospheres – sometimes disturbed by some loud and downright startling percussive effects. Navigating between contemporary ambient/electronic music and atmospheric movie soundtracks (this could've also been great game music, by the way), Adrian Anioł definitely creates his a distinct musical style that deserves to be heard – and NOT only in arthouse cinema theatres! Note if you're downloading this album from Bandcamp: my (Windows) PC had some trouble navigating the subdirectories, due to the non-standard 'ł' character. Simply renaming 'Anioł' to 'Aniol' fixed this issue.
God is an Astronaut – Age of the Fifth Sun (Revive)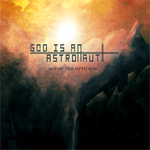 God is an Astronaut, whose name was derived from the Clive Barker film "Nightbreed", are based in Glen of the Downs, Ireland and record on their own label, Revive Records. The band was formed in 2002 by the Kinsella twins, and word of mouth on the Net has helped boost their popularity. Their latest release is an ambitious melange of instrumental space rock and dark ambience. Coming first out of the gates is the stately "Worlds in Collision", which could easily fit into the score for an epic movie. I see destriers charging across a blood-soaked battlefield and can imagine the clang of swords hitting shields. It is not unlike some of VAST's (Jon Crosby) guitar-fueled instrumentals, which are similarly cinematic in scope. "In the Distance Fading" is equally grand, moving us across the screen with the sun at our backs and the wind whipping our hair like a kite in a gale. The listener then downshifts to the somber "Dark Rift", which marries deep bass tones with sprightly washes of guitar and keyboard. "Age of the Fifth Sun" is a beautiful backdrop that will please existing fans and may draw in newer followers of electronica spiced post-rock. Recommended if you like This Will Destroy You, Caspian, The American Dollar and Explosions in the Sky.
Reviews of Listening Mirror and God is an Astronaut by Elizabeth Klisiewicz.
Review of Adrian Anioł by Peter van Cooten. Republished with permission.