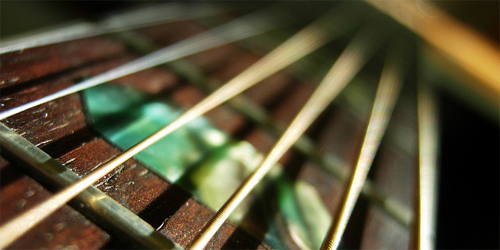 Muttley is a self-described freelance writer, mixtape creator, promoter and archivist, who has created mixes for a variety of sites and podcast stations in the past. This time, he's got an exclusive mix for Headphone Commute listeners, compiling tracks that use guitar as the prominent instrument.
"Exponents Of The Guitar" was inspired by my father's plans to get lessons for the instrument – to advance his skills, and make the hobby more pleasurable. The tune selection – perpetuated from a sketched timeline of recently discovered cuts – Leo Abrahams, GYBE's "Yanqui U.X.O" installment on Constellation – and older acquisitions, such as my favourite by guitar virtuosos Gordon Giltrap with Martin Taylor: "Green Lady", the former I saw live at Alvescot Village Hall, Oxford in 2008, are paired and generally left to reveal their rewards.

This said, there are a few layered sections – notably the starting blend matures to four tracks playing at once, and the Giltrap collaboration work inherits a doubled scale of chords when blended with Zelienople's "Family Beast". From reverb-heavy washes – Robin Guthrie's "Everlasting" – to folky acoustica – Rameses III's "No Water No Moon", "Exponents Of The Guitar" covers a lot of stylistic bases, and I feel privileged to contribute this to Headphone Commute.
Cover art: Morning Guitar by Peter Roome


[ S T R E A M ] | [ D O W N L O A D ] | [ P O D C A S T ]
Track Listing:
[00:00] Hildur Gudanottir, BJ Nilsen & Stillupsteypa – Temple Of The Holy Tooth (from Second Childhood, Quecksilber, 2007)
[04:55] Shaula – Gate Of Fulfill (from Oneiroi EP, Audio Gourmet, 2010)
[09:46] FNS – I Think She's Asleep (from FNS, Miasmah, 2010)
[10:23] Peter Broderick & Machinefabriek – Rain (from Blank Grey Canvas Sky, Fang Bomb, 2010)
[15:10] Gordon Giltrap & Martin Taylor – Green Lady (from A Matter Of Time, mbop Global Prestige Records, 2002)
[16:58] Zelienople – Family Beast (from His/Hers, Type, 2007)
[22:23] Godspeed You! Black Emperor – 09-15-00 (Part Two) (from Yanqui U.X.O, Constellation, 2002)
[24:12] Leo Abrahams – Playground (from Honeytrap, Absolute Zero, 2005)
[27:09] Rameses III – No Water, No Moon (from I Could Not Love You More, Type, 2009)
[29:04] Robin Guthrie – Everlasting (from Everlasting EP, Soleil Apres Minuit, 2006)