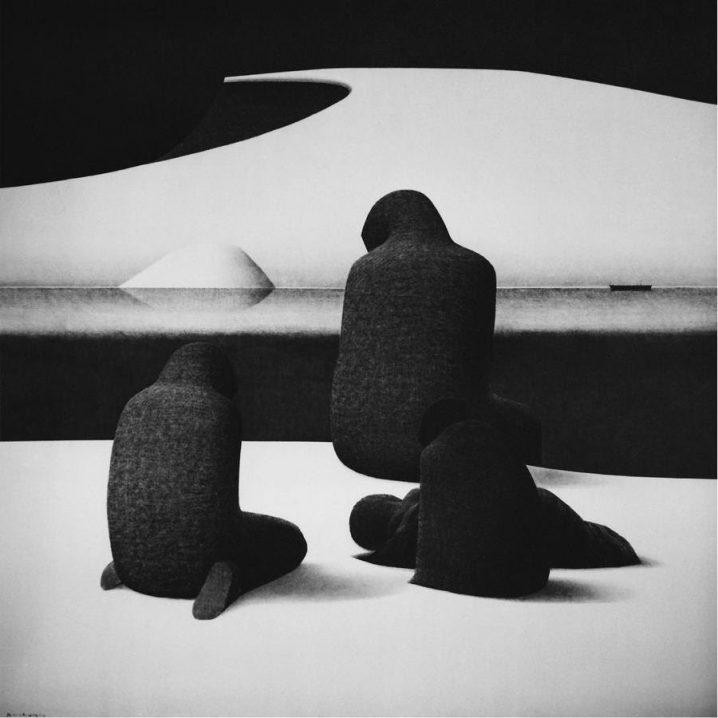 CFCF is Montreal-based artist Michael Silver, an indie electronic producer who established himself as an inventive remixer before his musical debut in 2008. For those in the know, Silver has long been attracted to night bus (named after a Burial track), which is loosely defined as mid-tempo, minimalist post-dubstep, or even leftfield trip-hop. Stretching beyond those boundaries, Silver has assembled multiple Night Bus mixes that include a wide variety of artists. Through the years, Silver has come up with a series of creative releases, and now we arrive at this latest album, Radiance and Submission.
One listen to his Driftless Ambient mix on Soundcloud is enough to reel you into his dreamy soundscapes, populated with soft, gentle billows of keyboards mixed with found sounds and straight up vocal mixes. It is sleepy soundtrack music for a lazy, Sunday morning, with watery textures chiming sweetly in the many layers of his tone poems. Given all this, what can you expect with his very latest release? It is gentle, hypnotic music self-described as 'a soundtrack of non-time, non-being, non-death'. Timeless is the watchword here, for this album will draw you in so deeply you'll temporarily forget all but its essence. It can as easily be early morning music as it can be calming music for the still of night.
Radiance and Submission […] is a loving transmission from the in-between, a soundtrack of non-time, non-being, non-death. […] It is the sound of eternal flux, the joyous crash from life to death and back again, endlessly returning.
"In Praise of Shadows" opens things up almost tentatively, like a small ripple growing in a crystal clear lake. Mixed into the gentle ambiance is the sound of many voices speaking in foreign tongues, and that is gradually brushed aside by hushed strings and lightly brushed acoustic guitar. It almost operates on a jazz fusion level (think Pat Metheny), with notes rippling down like falling water. "Sculpture of Sand" is rather disquieting, with up front notes stirring the pot a bit, marring the pristine waters a bit. Other instruments join the fray, from a textured bass line to other delicate motes of sound. "A Various Language (From The Same Hill)" is back to sun-dappled waves of pastoral sound, with bells and chimes joining the quiet plucks of an acoustic guitar.
"Tethered In Dark" is more about light than night, with a buzzing haze that surrounds your ears like a cloud of insects. A ringing, percussive track persists from beginning to end while other sounds join and fade away. One could be reminded of boat oars pushing through lake water. Images form like cumulus clouds, shrinking and growing with the music; I even hear the ocean retreating and advancing. Silver is a master of exquisite detail on this and all songs here, each note and layer meticulously placed for your listening pleasure. "The Ruined Map" includes his light vocals, perfectly matched to the lovely music buoying it up, and is almost Native American in its feel. It is uplifting, spiritual music, and is refreshing in its brevity.
"Blanketed in Snow" is straightforward piano, harp, and guitar, and while it lacks the complexity of other tracks, Eric manages to layer in pretty sounds that I cannot quite grasp, as they are of short duration and never gel completely in my brain. It is another short song that ends too quickly. Then we have "La Soufrière", another of Silver's vocal turns, and his warm voice spreads out, melting into the gorgeous, sonic tapestry, yet taking its discrete place in the mix. It too ends quickly.
"Two Mirrors" is the album's final composition, slightly longer at just over 5 minutes. populated with Silver's usual array of acoustic instruments, and it has the air of a final note to listeners. Themes repeat and circle back on themselves, yet there is always something intriguing in the background that draws you back in, slowly fading like the most beautiful of summer sunsets until a sharp, cry erupts just before the end. In summary, this is a beautiful album of pastoral, ambient music that fans of this genre will greatly enjoy.
Words by Elizabeth Klisiewicz