With this installment of Sound Bytes we are accomplishing two things at once: introducing your ears to the music of Samadhisound, a label setup by David Sylvian and Steve Jansen; and welcoming on board a new contributor to Headphone Commute – Peter van Cooten, the man behind the wonderful AmbientBlog, featuring mixes, podcasts, and reviews of some of our favorite sounds. We hope to publish many more reviews from Peter, as well as feature his mixes on Headphone Commute's Podcast.
Jan Bang – … And Poppies From Kandahar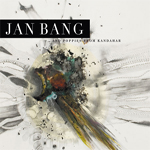 Any album including contributions of Jon Hassell, Arve Henriksen and Nils Petter Molvaer would get my immediate and unreserved attention! It's no real surprise that Jan Bang can bring these names together: he has worked with them on their respective albums, as 'samplist' and/or as producer. There are a few more impressive contributors here (such as Sidsel Endresen, Peter Freeman, Eivind Aarset and Lars Danielsson), as well as a range of credited samples, including Kammerflimmer Kollektief , Richard Wagner and Robert Schumann. Jan Bang has a distinct, very personal way of using these samples in his music. He is not afraid to stop/start them (in such a way that even the background hiss drops out for a second), and to combine them with alienating found sounds ('exhaust fan') or cut-up vocal fragments (Sidsel Endresen). The result is remarkably coherent, unearthly and alienated, but also warm and personal. Bang seems to draw from thousands of sources, though all sources are hard to identify. But all fragments perfectly fit together and sound as if they were meant to fit this samplist's puzzle. …And Poppies from Kandahar (David Sylvian is credited for the titles) is one of the more impressive albums I have heard in a long time. It proves that there are always new roads to travel, that there is still a lot of new music to explore.
Toshimaru Nakamura – Egrets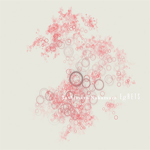 Next to David Sylvian, it's Arve Henriksen linking Toshimaru Nakamura's album to that of Jan Bang. However, Henriksen's trumpet handling is quite different here: it includes the sound of the instrument itself (like the clicking of the valves), as well as the breathing of the player. This perfectly fits the music of Toshimaru Nakamura – who is a household name in the Japanese onkyo (noise) and improv scene. Apart from playing guitar, Nakamura's main instrument is the 'No Input Mixing Board': a mixing board without external input: the output directly connected to the input – the player manipulating the resulting feedback. Nakamura has released quite an impressive array of albums experimenting with this technique, which explains that that "NIMB" (No Input Mixing Board tracks that are numbered 42 to 45). He is able to control the feedback from the board very subtly. On 'Semi', he improvises to the seemingly generative guitar playing of Tetuzi Akiyama. The tracks with Arve Henriksen sound like a dialogue of two musicians communicatie 'from the gut of one instrument to the other'. To me, improv music often feels like 'musician's music' – it does not really seem to include me as a listener. Not on this album, however: Nakamuru is able to create a musical environment I can connect to and get involved with. But again: this does not mean this is 'easy listening' music…
Akira Rabelais – Caduceus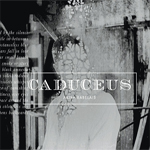 If I would compile a list of all time favourite albums, Akira Rabelais' Spellewauerynsherde (also released on Samadhisound) would definitely end up in the highest regions. Thus, expectations were mile-high when Samadhisound announced the release of a new Rabelais album called Caduceus. But Rabelais is not someone to repeat a successful formula twice. Though the process of creating the music may be similar (using the Argeïphontes Lyre software he created himself), the resulting sounds on Caduceus is remarkably different from Spelle… On first listen, judging Caduceus in relation to Spellewauerynsherde, I found it hard to grasp what Akira Rabelais was trying to achieve here. The liner notes did not really help: "Time occupied by the same nature in mind, symbolism or a thing, a radiance of observation, synthesis succeed one thing and makes them of the soul, a dark room also occupied by thinking itself". As Rabelais says: "As with just about everything I do it's mostly a matter of listening and waiting for the tracks to reveal their intentions." So I guess that this album will not work for you if you're not receptive to what the music transcends. Feeding guitar (and AM/FM sounds) through his AI software, some of the tracks have the same quality as the music on Spellewauerynsherde: hardly graspable, ethereal sounds, like spirits circling all around you and tempting to lure you into regions unknown. But on Caduceus, accumulating spirits can also become a legion of demons, with the unnerving sounds of thousands of nails scratching a blackboard. Caduceus has two faces: it incorporates harsh loud noises as well as ethereal heavenly sounds. "Outside of the full-on audio assault, there's unsettling disquiet in its quietude" (liner notes). It won't be a surprise that I personally prefer the "pieces of quietude" – but fans of noise music will probably prefer the screeching loudness of the other tracks. From this Samadhisound batch, Caduceus may be the most 'difficult' album to get into. It also requires to be judged unrelated to earlier releases. But once again Akira Rabelais delivers some very fascinating sounds!