We've been loyal followers of Brooklyn based Temporary Residence Limited for a while now… It seems that every year, the label manages to push our listening boundaries and introduce us to new music, that inevitably makes it on to our "best of the year" lists. In 2006, we were devastated (in a good way) by a collaboration between MONO and World's End Girlfriend,  In 2007, we fell in love with releases from Explosions In The Sky, Tarentel, and Eluvium. The next year brought us more gems from The Drift and Grails. And last year, the label made it on our Best of 2009, Music For Walking And Not Crying In The Autumn Rain, with another instant classic from MONO. We're into November of 2010 now, and it seems that there are more than a few contenders from the label once again… Hope you enjoy this installment of Sound Bytes, in which we highlight some of our favorite releases from Temporary Residence Limited.
The Books – The Way Out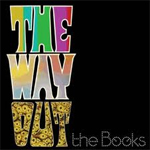 Listening to the latest album from The Books is like absorbing a dose of lysergic acid diethylamide, while Ram Dass reads excerpts from a book he never had the time to write. Full of inner depth on the reflection of oneself, and kaleidoscopic hysterical psychedelia, The Way Out is a musical trip through genres, time and space between the microscopic atoms that make up your eyes. Nick Zammuto and Paul De Jong have been producing since their debut, Thought For Food (Tomlab, 2002). After two more albums on Tomlab, a split EP and a collaboration with Prefuse 73, Prefuse 73 reads the Books EP (Warp, 2005), the duo lands a release on none other than Temporary Residence Limited. At times playful, funky, and contemplative, The Books create a collage of found sound, abandoned recordings, and unclassified pieces that retain my listening attention for many consecutive listens. Like an instructional album on becoming awakened in this world of random rules and borrowed ideas, the music by The Books forces the listener to reflect on everything that is absurd around them… and then let one choose his own way out… Can't stop listening to this one. Be sure to also pickup their self released Music for a French Elevator.
MONO – Holy Ground: NYC Live With The Wordless Music Orchestra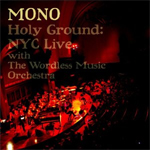 Not many live sets are covered on here… But then again, not many artists we cover release their music as live sets. Thanks to Temporary Residence Limited for organizing a concert in New York City for MONO, celebrating their 10th anniversary as a band. Here is a collection of some of our favorite MONO tracks, as well as selections from their latest album, Hymn to the Immortal Wind, performed live with a 24-piece orchestra, featuring excellent recording and quality mixing by Matt Bayles (Mastadon, ISIS, Minus The Bear). The Tokyo based instrumental post-rock group, in collaboration with the esteemed Wordless Music Orchestra, captured all of my favorite moments, compiling a "best of MONO" album, if you will, into a stunning performance, with all of its soaring, moody, and dramatic quality. The only thing that's missing from this album is the sound of my own applause. I really wish I was there! To make up for this once-in-a-lifetime opportunity, the label has published this release with a bonus DVD, documenting the entire 90-minute performance. In addition, you may obtain this album as a limited 3xLP release (DVD included as well). This is an absolute must for all MONO fans.
Systems Officer – Underslept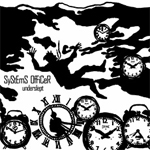 To loyal readers of these pages it should be no surprise that I am a bit partial towards instrumental music. I tend to steer clear of male driven vocals, pop rock accompaniment, and a template structure of the song. So why is it that I keep returning to the album by Systems Officer? Could I possibly be hypnotized by the melody or the lyrics? It is only when I find myself playing the album full blast in the car, singing along with every word, wondering in which memory bank of my mind the lyrics are stored, that I accept that the answer to that earlier question is 'yes'. Every track has been worked out to turn the pop concept inside out, and present the listener with a song with incredibly high replay value. Five years in the making, Underslept is the solo creation of Armistead Burwell Smith IV (aka Zach),who is a multi-instrumentalist, a song writer, and a founding member of Pinback and Three Mile Pilot. I don't claim to be knowledgeable when it comes to progressive or indie-rock, but I do know a good track when I hear it. I hope that you'll agree. Thanks to Temporary Residence Limited once again, for pushing my comfort listening boundaries.
The Black Heart Procession – Blood Bunny / Black Rabbit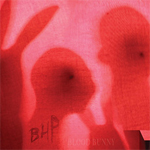 The Black Heart Procession is another new band to me. Although in existence since their self titled 1999 debut, this indie rock band from San Diego is introduced to me, once again, through Temporary Residence Limited. Having recently released their latest, Six (2009), this mini-album collects three new tracks, and five remixes of previously released, by Mr. Tube, Lee "Scratch" Perry, Jamuel Saxon and Eluvium. With two of members of the band, Pall Jenkins and Tobias Nathaniel also making up Three Mile Pilot, this collection of tracks and remixes truly feels like "one continuous composition, sounding every bit like an LSD-influenced DJ set in the kind of terrifying but strangely alluring vampire sex den commonly seen in True Blood." Being a true remix album, the music traverses more than a few genres, climaxing somewhere around psychedelic beats, and down into the beautiful piano abyss of Eluvium, treating us to a ten minute modern classical interpretation of BHP's "Drugs". Although on my first listen I attributed the stylistic departures to the experimentation of the band, I am not disappointed to learn that this is a remix project, and will pick up their previous full length releases as well. If you haven't heard of this band, I recommend you do the same!

Eluvium – Similes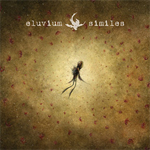 In this last entry on this Sound Bytes label special featuring Temporary Residence Limited we cover an album from Eluvium. Matthew Cooper has been on our playlist since his 2003 debut, Lambent Material, and remained a top artist among the modern classical composers with An Accidental Memory In The Case Of Death (2004), Talk Amongs The Trees (2005), Copia (2007) and his 7xLP box set, collecting all of the above plus a few more EPs, Life Through Bombardment (2009), all released by the beloved Temporary Residence Limited. On this long awaited return since Copia, Cooper introduces the Eluvium followers to something completely new: his voice. "Written, performed and recorded as always by Matthew Cooper in his own Watership Sounds studio, Similes marries Eluvium's trademark dream-like aura with Cooper's unique, laconic vocals, akin to an especially contemplative Ian Curtis with trace reflections of Magnetic Fields and Brian Eno." Not all the tracks include this song structure, and a few all instrumental pieces are sprinkled around the album. The execution reminds me a bit of a similar attempt by Keith Kenniff, who introduced the voice of Helios (and I suppose Goldmund) on Ayres (Type, 2007). The reception of such brave departure could be mixed. You either love it, or you don't… Let's hope the fans will follow through!
Make sure you also read our Temporary Residence Limited Label Profile