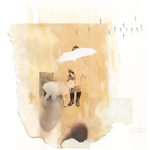 Her Name is Calla hail from Leicester, Leeds and York in England, and create a splendid mix of quiet, loud, and expansive music that is rarely heard anymore. They describe themselves as a post-rock band striving to make music that reaches the listener's emotional core. With The Quiet Lamb, they have far exceeded those expectations.
The opener, "Moss Giant", unfolds like a flower slowly unfurling itself to dawn warmth. It draws you in with eerie sounds that fly past you with stealthy intent, morphing into spare piano notes that strike at your heart with a plaintive air. As you move through this forest of sound webbing your senses, a far distant call of monks twists and turns you until the track's end.
By the time "A Blood Promise" starts up, you are treated to a slightly more conventional tune laced with perfectly twining vocals, trumpet, and electric guitar brought high into the mix. The song just as quickly drops to a slumber-like pace and sets you back down gently.
Her Name is Calla – Pour More Oil

"Pour More Oil" is a folky, reflective piece whose musical structure starts with beautifully harmonized vocals and softly strummed guitar. The hushed singing serves the deeply recessed music well. Sophie Green's mournful violin appears and pushes the guitar and trumpet to center stage. What starts as a soundtrack for a gray autumn day transforms into a deeply felt emotional piece that wouldn't be out of place on a Frames album.
In the lengthy "Condor and River", you sense the power building up behind the quiet opening progression. The music ascends before receding to a single piano and voice. Trumpet and violin are added to the mix, and another wave of sound washes over you. "Long Grass" is a simple framework of guitar, banjo, and Tom Morris's voice. Further layers of chiming keyboards, organ, and strings appear before subsiding back to stillness. "Homecoming" follows up with slightly warbled vocals and plunks of banjo, marrying bits of Shearwater and Grizzly Bear with a completely original spin on a well-worn genre. "Thief" is utter gorgeousness with its lovely washes of violin, unusual percussion, and organ. Try to imagine Asian chamber folk and you'll be in the ball park.
Her Name is Calla – Thief

"The Union: I Worship a Golden Sun" is part of the album's final trio of songs. The organic scree of keyboards distinctly resembles a squeaky fan belt, and it tumbles into "The Union: Recidivist", a furious swirl of violin dueling with a maelstrom of feedback. "The Union: Into the West" is the album's coda, an unusual instrumental blend that mashes mariachi styled trumpet with loping guitar that gallops off into the sunset of a Spaghetti western. From quiet spaces to dark places, The Quiet Lamb is cinematic in scope, and veers from storm-crashing guitar down to sparse, dusty piano motes. It is a challenging yet uplifting journey from a seasoned group of talented musicians, and will reward listeners with its multifaceted sonic hues.
Review prepared by Elizabeth Klisiewicz for Headphone Commute.
Check out Elizabeth's Interview with Her Name Is Calla
hernameiscalla.com | myspace.com/hernameiscalla
denovali.com | myspace.com/denovali