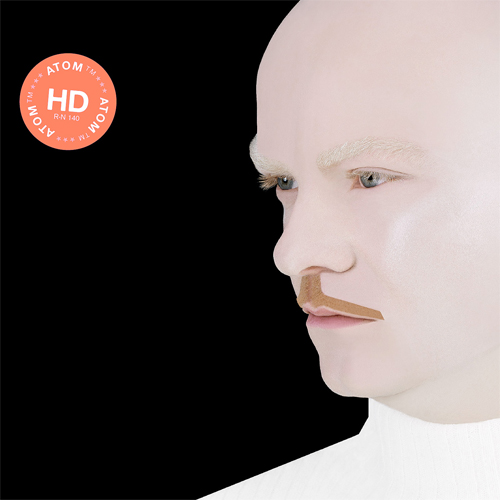 After only a few listens of the latest magnum opus by Atom™, I find myself waking up in the middle of the night with the lyrics of "Pop HD", "Stop (Imperialist Pop)", and "Ich bin meine Maschine" stuck in my head. And I think the very first striking aspect of the album is the fact that there are lyrics! The vocal appearances on HD include that of Jamie Lidell, Jean-Charles Vandermynsbrugge and even chilean pop star's Jorge Gonzalez. One of the founder's of the leading Raster-Noton label, and indeed one of the most popular names in German electronic music, Carsten Nicolai, appears on the album as well, credited with additional programming as Alva Noto. And although there are a lot of adjectives attributed to HD, as spiritual, musical and scientific work, one of the words should definitely be included – HD is fun. "Pop HD"
The album has been in the making since 2005. Back then, the man of many faces, aliases and monikers, Uwe Schmidt, had a different working title for the collection of pieces – "Hard Disc Rock". The songs evolved over the years, being replaced and updated with the times, until the collection of tracks became something completely different. The album retains its original tongue-in-cheek political reference to the state of pop music, crediting some of the commercial powerhouse labels (Sony, Warner, RCA, Universal, BMG, and BMI) with "sonic invasion from nation to nation",  "fascist control," and my absolute favorite phrase, "corporate sound in Dolby surround." And although Schmidt or other journalists may initially deny a particular message associated with this release, it is undeniably there. "Stop (Imperialist Pop)"
I find it impressive how world wide media is controlled by a couple of companies and how incredibly full of shit nowadays mainstream media actually is. In fact, it is way beyond just being 'bad'. I am wondering how, if and when mainstream, which in my opinion is the aesthetic surface of post-capitalism, together with the rest of it all, will finally disappear.
As with most Raster-Noton releases, the production is extremely clean, tight and surgically precise. This is the obsessive-compulsive, elegant and systematic German music that we can expect from one of its pioneers, the father of electrolatino, and acitón (acid-reggaeton) music – a style that is unique to Schmidt's sleek/slick outer appearance. Whether he's bending the definition of romanticism, pushing forward the evolution of Latin music, or simply standing on a stage while the ASCII art of his immaculate image is rotating behind him on the screen, Uwe Schmidt plays an exceptional, principal and influential role in the development of electronic music. "Ich bin meine Maschine"
Schmidt's discography is incredibly vast, and, as mentioned above, spans over sixty moniker's since the early 90s, including the most notable Atom Heart, Señor Coconut, and of course, Atom TM. You can find plenty of releases on Schmidt's own Rather Interesting label, which was quoted to be a sub-label of FAX by Pete Namlook. Unfortunately, with Namlook's untimely passing in 2012, Schmidt decided to shut down his label. In addition to HD, I highly recommend you pick up the past two Atom™ releases on Raster-Noton: Liedgut (2009) and Winterreise (2012). "Pop HD"!
Be sure to read our exclusive Interview with Atom™