Celebrating Headphone Commute's 15th anniversary, I am highlighting albums that I covered 15, 10, and 5 years ago. I do this by going back through my archives and selecting a favourite for the current month. But I'm not just copying and pasting the words here; I'm also refreshing these write-ups a bit to bring them up to date, and, of course, I'm listening to all this music! And so should you!
Autechre
Quaristice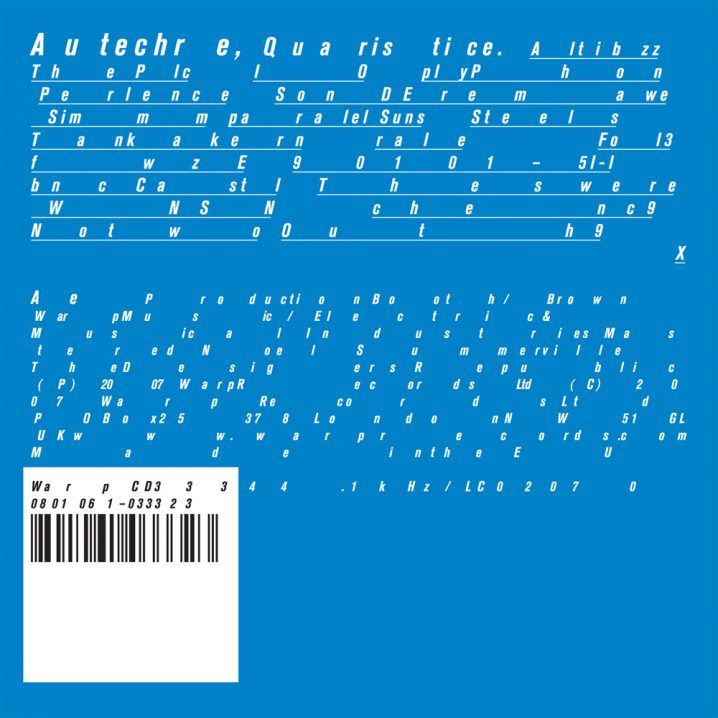 It's hard to believe that Sean Booth and Rob Brown have been experimenting with sound for over 30 years now. That's right! Their ever first release, Inccunabula, was released on Warp Records in 1993! It is perhaps their unique programming approach with analogue and digital synthesis, custom Max/MSP patches, micro granular processing effects, and mathematical random-meets-predictable rhythms that always pushed the envelope of sound exploration, which are unparalleled to this day. And does this Rochdale-based (Great Manchester, UK) duo appear to evolve and reinvent their sound with this 9th full-length album? I'm pretty sure that even now, 15 years later, the answer is a loud, resounding "yes". The twenty tracks on this release, which, back in 2008, I snatched from bleep.com (including exclusive artwork for each track!), maintain that indisputably unique Autechre sound. The beats are chopped, the sound waves decomposed, and the structure is erratically twisted. But unlike Autechre's previous LP, Untilted, this 2008 release is warmer, less noisy, and at times even melodic (there are even strings buried deep in one of the tracks). The genre starts to glide closer to abstract and minimal experimental sound, with an occasional glitchy quality of otherworldliness. There are snippets of some very sparse explorations as if they're the foundations for the next big thing, but these ideas quickly fade out, only to be replaced by new interesting twists. If, by some miracle, this is your first Autechre experience, brace yourself for a unique and unforgettable experience. For the rest of us, it's just a necessity for our complete anthology. Too bad that the special, limited to 1000 copies edition, with an additional CD and a photo-etched steel casing, sold out within the first 12 hours of the announcement. Perhaps you can still find it in the marketplace (there is an edition on Discogs that you can buy for only $1000!). Quaristice is also available as a 2×12″ LP or via all your favourite streaming platforms.
2023 UPDATE: Autechre is still a very active voice in experimental music. Albeit most of their output appears to be a digital outpour of their live performances archive spanning pre-lockdown shows anywhere between 2015 and 2018 [and if you've been to one of those, you'd love these recordings], there was an official dual of LPs in 2020, collectively titled PLUS + SIGN. And, as recent as this week, there is a re-press of Confield and Draft 7.30, which you can preorder as a 4×12″ bundle for £48 from autechre.warp.net [I have the originals on vinyl].
Atom™
HD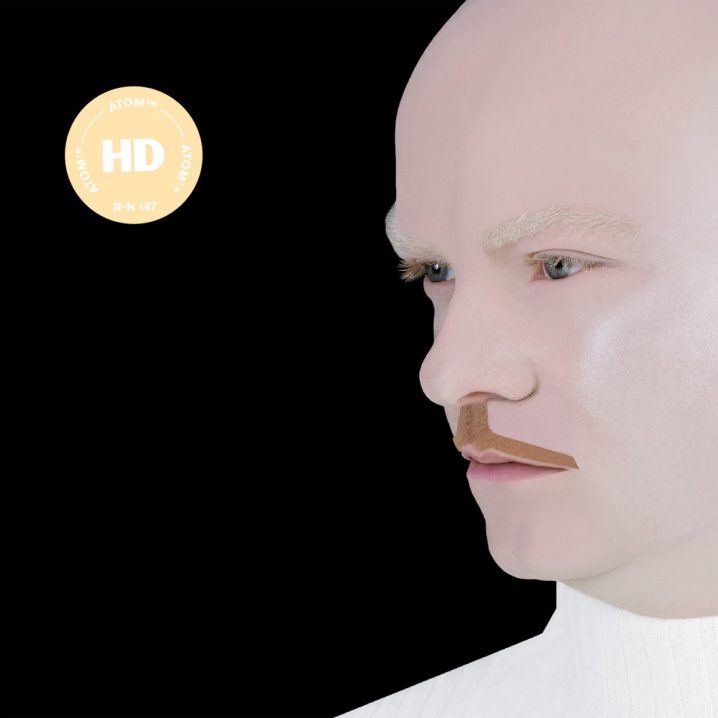 After only a few listens of the magnum opus by Atom™, I find myself waking up in the middle of the night with the song lyrics stuck in my head. And I think the very first striking aspect of the album is the fact that there are lyrics! The vocal appearances on HD include that of Jamie Lidell, Jean-Charles Vandermynsbrugge and even Chilean pop star Jorge Gonzalez. One of the founders of the [then named] Raster-Noton label, and indeed one of the most popular names in German electronic music, Carsten Nicolai, appears on the album as well, credited with additional programming as Alva Noto. And although there are a lot of adjectives attributed to HD, such as spiritual, musical and scientific work, one of the words should definitely be "fun". The album is built around a tongue-in-cheek political reference to the state of pop music, crediting some of the commercial powerhouse labels (Sony, Warner, RCA, Universal, BMG, and BMI) with "sonic invasion from nation to nation",  "fascist control," and my absolute favourite phrase, "corporate sound in Dolby surround." And although Schmidt or other journalists may initially deny a particular message associated with this release, it is undeniably there. As with most Raster-Noton releases, the production is extremely clean, tight and surgically precise. This is the obsessive-compulsive, elegant and systematic German music that we can expect from one of its pioneers, the father of electrolatino, and acitón (acid-reggaeton) music – a style that is unique to Schmidt's sleek/slick outer appearance. Whether he's bending the definition of romanticism, pushing forward the evolution of Latin music, or simply standing on a stage while the ASCII art of his immaculate image is rotating behind him on the screen, Uwe Schmidt plays an exceptional, principal and influential role in the development of electronic music.
2023 UPDATE: As referenced in the updated version of this write-up above, HD originally appeared on Raster-Noton, which split up in 1999. Alva Noto reactivated his Noton imprint, which in January of this year released an incredible boxset of his collaboration with Ryuichi Sakamoto (five remastered albums as the v.i.r.u.s. Collector's Box). Meanwhile, raster is alive and kicking as well, which retained the rights to this album, as well as current works by Schmidt, who continues to produce genre-bending music as Atom™, including his 2022 album, Neuer Mensch and the follow-up 4-track Nacht EP, which came out on February 3rd, of 2023. Be sure to read this In the studio with Atom™.
Constantine
Hades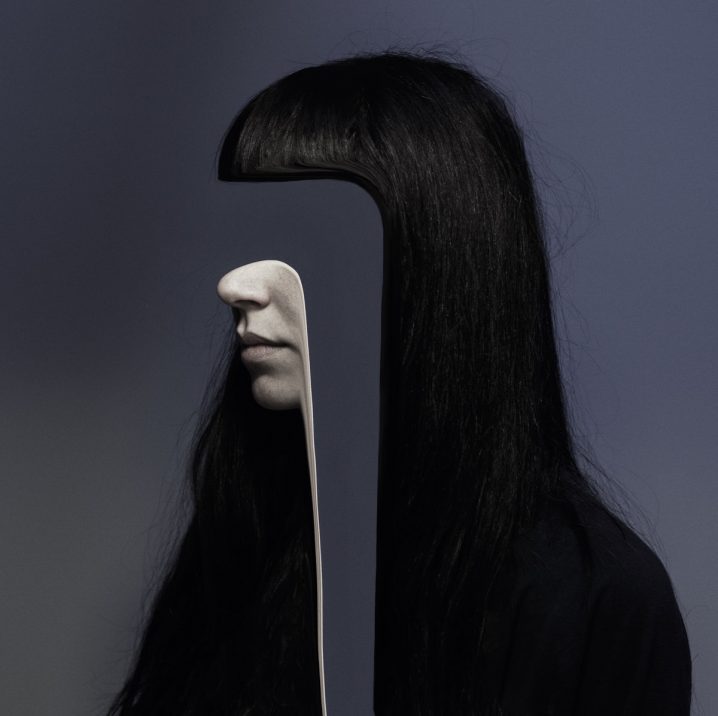 Once in a while, an album comes around that simply blows me away. Its particulars are not often well put into words, as its sonic aesthetic synergizes only with the neural paths, somewhere in between, where words already lost all meaning. I've been looking for more of that, of course, since I enjoy that feeling of discovery of the unknown, to be plunged into a strange dark world, a universe of atmospheric textures where I feel anxious about being lost while constantly holding on to the only known sound. And Hades does exactly that from the very first track. Begin with "Cosmos" and see if you're not incredibly sucked into its vortex of the void, where the aural experience alone is unlike any cinematic visual, and the best director of this film is the one behind your eyelids. Everything about this record is mysterious and fresh. Yet the sounds evoke that memory of when I first heard music by Ben Frost, a sound pressure tension of immense proportions, with its cliffs and valleys, with its climbs and drops. Carefully orchestrated layers of emotion lure the listener into its deliberately misleading comfort zone, where everything is architected around its climatic peak. But unlike the dynamic onslaught of music often focused on its power, the sounds are rounded, warm, and safe. That's the danger that I'm speaking of. The sweet poison of a shaman luring you into his lair where the emptiness awaits. You start to play the tracks from Hades, and then it's just too late. This magically haunting world is the dreamscape of a Greek composer, Constantine Skourlis. Fans of surround modulations of epic proportions will be happy to lose themselves in the labyrinths of vibrations that Constantine sculpted for his worlds… just be prepared to let go and let yourself collapse into its vacuum of sound.
2023 UPDATE: This album came out on Salem Rashid's Bedouin Records. Four years later, Constantine released a follow-up, Eternal Recurrence, which made it onto my Best of 2020 list. As far as I know, Constantine is still alive and kicking [we last connected only a few years ago]. I'm still a big fan of his output and really looking forward to seeing what he will come out with next. Meanwhile, I recommend you watch this documentary from 2020, in which filmmaker Galaxias Spanos captured this composer's process.