This month Headphone Commute turns 15 years old! To celebrate, I am repurposing one of my older columns to highlight albums I covered 15, 10, and 5 years ago. I do this by going back through my archives and selecting a favourite for the current month. But I'm not just copying and pasting the words here, I'm also refreshing these write-ups a bit to bring them up to date, and, of course, I'm listening to all this music. And so should you! I can't promise that I'll keep this column going on a regular basis (I've failed on promises before), but for now, please enjoy the second spin around!
Pan Sonic
Katodivaihe / Cathodephase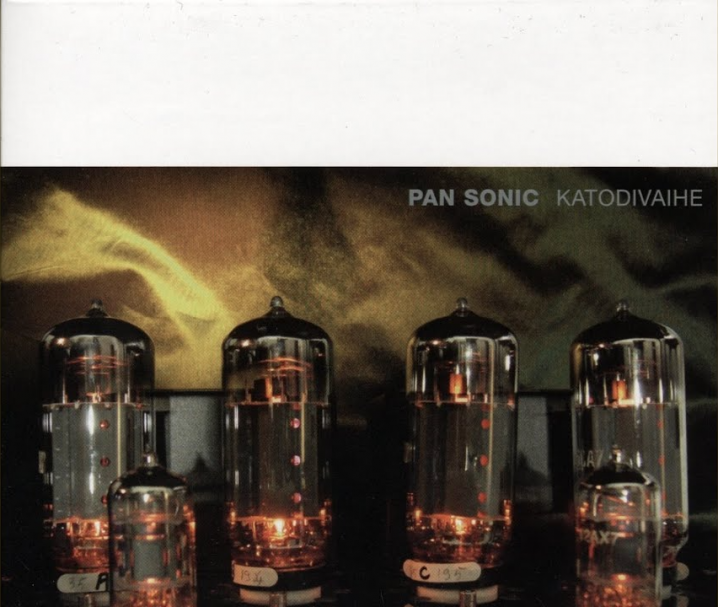 Fifteen years ago, I was enjoying Katodivaihe / Cathodephase, released by Blast First Petite. Always ahead of the game, Mika Vainio and Ilpo Väisänen have been experimenting with sound and noise since 1993. Here's my advice to all the artists looking to create innovative sound – Pan Sonic has done it, and this is over fifteen years old – so don't go chasing the latest gear, draw on inspiration from within! The abstract and minimal sound design constructed through custom-made instruments and recorded live straight to DAT (that's right, I said live!) only gets more of my respect over the years. I've got a quote from Mika describing the equipment: "We have a synthesizer which is one big box that has twelve oscillators on it; you can connect them to each other and modulate them together. We also have this small synthesizer which is built on an old typewriter — we call it a 'Typewriter'. We have several drum modules to make rhythmic sounds which we are using with an 808." On the album, pure tones, ultrasonic pulses, and sine waves are joined by Hildur Guðnadóttir's eerie cello treatments on three astonishing tracks. The thick and low-rumbling deconstructed techno beats rip with the dying circuitry and remind me of the very first all-electronic music score by Louis and Bebe Barron for their 1956 Forbidden Planet (I'm a proud owner of that vinyl soundtrack). Recommended if you follow the evolution of sound with Autechre, Alva Noto, and Fennesz.
2023 UPDATE: Sadly, Mike Vainio passed away in April 2017. In addition to Pan Sonic, he also recorded under the aliases Ø, Kentolevi, Philus, and Tekonivel. Pan Sonic itself officially disbanded in 2010, with their final album being Gravitoni, released by Blast First Petite. Ilpo Väisänen continues to make music, with his most recent release being a 2-track 180g record, Keskipäivän Hetken Sumea Vaillinaisuus, released in 2022. Check it out on Bandcamp.
Brian Eno
Lux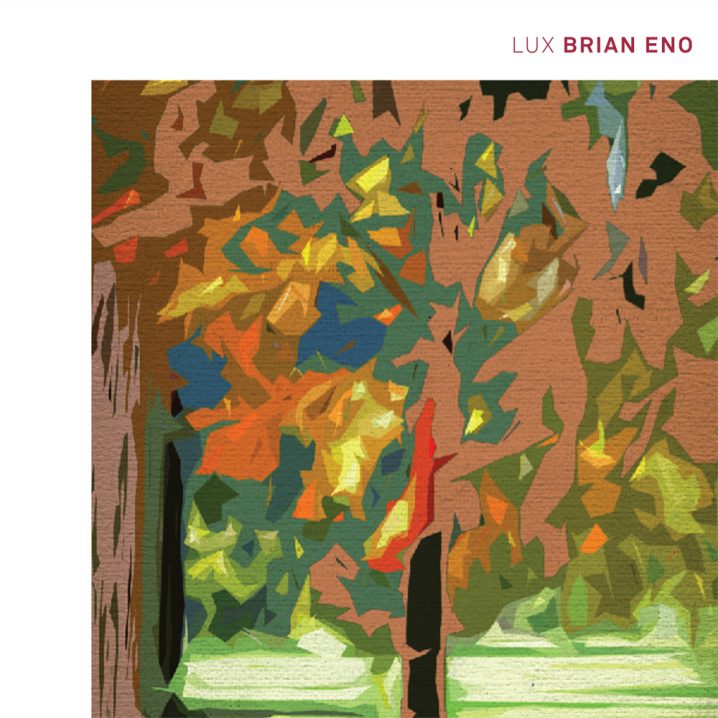 It's easy to see why Brian Eno is still a relevant name in electronic music. After all, the father of ambiance continues to redefine the genre. Where others have taken a mimicking approach, Eno advanced on exploring the boundaries of sound, often gravitating towards generative music. There have been many releases to date in Eno's 40+ year career – too many to attempt to mention in this write-up. Let it suffice to say that my favourite pieces still remain Ambient 1 – Music For Airports (Polydor, 1978), Thursday Afternoon (EG, 1985), and Neroli (All Saints, 1993). On Lux, single notes slash tones slash vibrations slowly fall on the scale like droplets of rain. Individual sounds of various volumes, weights and velocities make up the harmony of variable intervals in rhythm and time. The undertones resonate together in that feel-good design, the very same way all casinos tune slot machines to C-major. Something about this architectural synergy takes the edge off my misfiring neurons. Perhaps Lux should be played in airports after all. I try to tune into the music and carefully listen. And then I attempt to forget that it's there. Something, I'm sure, that Eno would definitely like. There are only four pieces on Lux, all seamlessly blending into each other [note to self: attempt to play the album on random], but the whole 75-minute composition is made up of twelve sections. I'd love to dig deeper and perhaps deconstruct, but it feels like I will be peeling back the veil of magic that always surrounded music for me. Instead, I let the music fill up my room, dissolving in its geometry, weather, and space.
2023 UPDATE: I'm happy to report that Brian Eno is still pretty active. In 2019 he was inducted into the Rock and Roll Hall of Fame (as a member of Roxy Music). In 2020 he collaborated with his brother, Rober Eno, on an album, Mixing Colours which got picked up by Deutsche Grammophon. And in 2022, he released a vocal-based album titled Foreverandevernomore on his very own Opal Records. You can learn more about it on brian-eno.net.
Otto A Totland
The Lost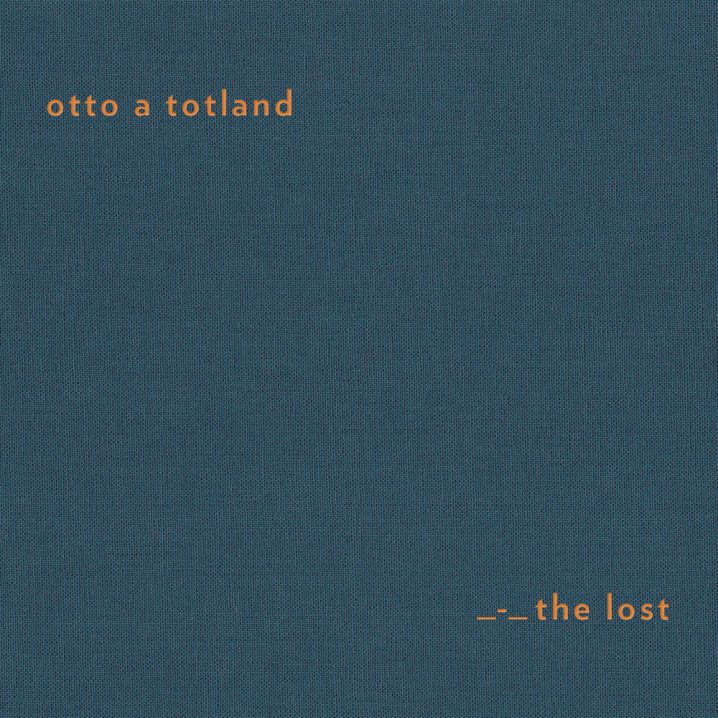 Otto A Totland's second record in the trilogy, titled The Lost, travels through my being for only 42 minutes, filling the empty space of "me" (that space that's left when you can't zoom in any closer) with fifteen gorgeous tracks. And even though each piece subsists for only two or three minutes, each one comes with its universe of a unique creation. Although I've heard many of Totland's melodies in the past, especially as his work with Erik K Skodvin on a beloved project named Deaf Center (I can't believe that Pale Ravine is from 2005!), I am especially drawn towards his solo piano works for many reasons. Totland was a true inspiration to my own solo piano works, and it was, in fact, his music that finally motivated me to hit that "record" button. So when The Lost arrives, I glance at the album from a distance before I listen. I need a proper setting, I need a proper mood to actively consume. At last, I find a quiet hour in my life, I put my headphones on and close my eyes. "There's a lightness felt while listening, and yet an overwhelming feeling of melancholy and nostalgia captures you through the length of the album. Leaves are falling, and times are changing. The horizon seems dark. Otto seems to capture both the questions and feelings we have about our surroundings. Not judging them but easing us into a mindset that feels hopeful. A sort of quiet relief that things might actually work out no matter how dark it can look." An absolutely gorgeous Sonic Pieces release, which you can still obtain on vinyl or a compact disc directly from the label. This is just a snippet of a longer review, which you can read in detail here.
2023 UPDATE: as already mentioned, the album was part of a trilogy of records, which actually make up a sentence when you read them all together as so: pinô_-_the lost companion. I love to play all three of them from the beginning, traversing a journey over the course of seven years acknowledging the piano as Totland's finest friend. We haven't heard [officially] from Otto since 2021, but I do stay in touch and can report that he is fine and well!