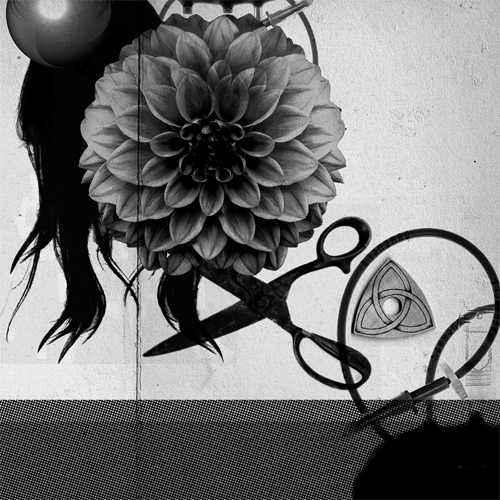 By now Demdike Stare is more than just an occult new project from Miles Whittaker and Sean Canty. In the last couple of years, since the initial release of Symbiosis (2009) followed by Voices Of Dust (2010), Liberation Through Hearing (2010) and Forest Of Evil (2010), the duo has swept the music scene off of its seemingly stable base with a collection of dark ambient, experimental, and crate-digger's delightful tunes. The collage of sounds gathered, treated, and re-spun in every single release has gained critical acclaim across a range of genre specific output, at times yielding its very own – hauntology.
Elemental is a series that is split into four parts: the first two parts, Chrysanthe and Violetta, are released together in 2011; and the last two, Rose and Iris, are sold and released separately in 2012, each pressed on a limited colored vinyl and available together in a double CD. The sounds of Elemental are even darker than the predecessor, Tryptych, series. Something supernatural, opaque and ghastly crawls beneath the crackling surface of the record, slithering like a fuzzy centipede inside your ear canal.
"The material itself features some of the most dense, eerie and evocative pieces ever recorded by Demdike, leavened by an almost industrial sense of rhythmic structure and atmosphere-building that creates a jet-black aesthetic only intermittently illuminated by shards of light."
The haunting ambiance of Elemental will scare even the angriest ghosts away, shattering their fragile bones with the growling bass, and piercing the eye sockets with deadly shrapnel of sound. While concrete percussion seems to be absent, there's a skeleton of techno and even dubstep rhythm filled with hypnotic, ethnic and exotic elements. A beautiful addition to the celebrated catalog of obscure, esoteric and collectible sound.
Modern Love wants to point out that the material on the vinyl edition is altered from the double CD version compiling the series. This unique cutting contains some hidden locked grooves and specially commissioned artwork by Andy Votel. Highly recommended along with previous releases from Whittaker and Canty! Check out Headphone Commute review of Tryptych.
Be sure to check read our exclusive Interview with Demdike Stare!